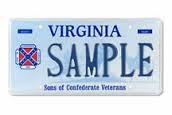 DANVILLE, Va. (AP) _ A federal judge says Virginia can ban the Confederate flag from any specialty license plates the state issues in the future but made no decision on existing tags. U.S. District Judge Jackson L. Kiser said after a hearing Friday that he will set aside a 2001 injunction that allowed the image of the Confederate flag on vanity plates honoring the Sons of Confederate Veterans. He did not rule on whether the state can revoke the approximately 1,600 Confederate flag plates already issued. That matter will be addressed in an official order to be filed later. The Virginia attorney general's office asked Kiser to dissolve the injunction after Gov. Terry McAuliffe said in June that he would move to have the plates phased out. The Sons of Confederate Veterans opposed the move.
SWEET BRIAR, Va. (AP) _ Sweet Briar College alumnae have made the second of three payments required under a settlement to keep the school open. The Richmond Times Dispatch reports that the school's new administration confirmed Thursday that it received a $3.5 million payment from Saving Sweet Briar Inc. several days ahead of the deadline established under the mediated settlement. Saving Sweet Briar has now paid $8.5 million of the $12 million it was required to raise by Sept. 2. The college says nearly 300 students are enrolled for the fall semester. Convocation will take place Aug. 26, the day after the school would have been shut down by the previous leadership. Classes will begin Aug. 27.
RICHMOND, Va. (AP) _ Virginia Democratic Gov. Terry McAuliffe says he'll make a renewed push to expand Medicaid now that Republican primaries are over and the U.S. Supreme Court recently issued a decision upholding the Affordable Care Act. McAuliffe said Thursday in a conference call with reporters that the Republican lawmakers who have previously blocked Medicaid expansion will be more open to compromise during next year's legislative session. But a spokesman for GOP House Speaker William J. Howell said the party's opposition hasn't softened and higher-than-expected costs of expanding Medicaid in other states have validated Republican concerns about the cost of expansion. Expanding Medicaid is a key provision of the Affordable Care Act, and more than half of the states have chosen to expand the government-funded health care program for the poor.

RICHMOND, Va. (AP) _ Virginia State Police have concluded their review of an arrest that injured a University of Virginia student and prompted allegations of racism. State police spokeswoman Corrine Geller said Thursday that the report was submitted to the state secretary of public safety's office. She said she could not disclose the report's findings. Gov. Terry McAuliffe ordered the review after Virginia Alcoholic Beverage Control agents arrested Martese Johnson outside a Charlottesville pub in March. Photos and video of the bloodied 20-year-old were circulated widely on social media. Johnson, who is black, could be heard on the recordings calling the officers racist. Last month, a prosecutor said a separate criminal investigation found no evidence that the incident was malicious or racially motivated. The officers weren't charged. The charges against Johnson were dismissed.
RICHMOND, Va. (AP) _ The Republican Party of Virginia is calling for an audit of Democratic Gov. Terry McAuliffe's political action committee. Republican officials said Thursday that an outside agency should review donations to the governor's PAC to verify that there are no foreign donors. The call for an audit comes a day after The Associated Press reported that McAuliffe was returning a $25,000 donation from a company with links to Angola's state-owned oil company because the company wouldn't certify that the donation was legally made. Foreign donors cannot give to campaign accounts in the U.S.  A McAuliffe political aide said the PAC properly vets its donors and mocked the Republican Party's "anemic fundraising."
BLACKSBURG, Va. (AP) _ For the first time, a subset of Virginia Tech fans will be able to buy a beer while watching a football game at Lane Stadium. Multiple media outlets report that the university plans to introduce beer and wine sales in the indoor club seats this season. University athletics spokesman Pete Moris confirmed Wednesday that the alcohol would only be available in the club seats, meaning an estimated 2 percent of ticketholders will have the opportunity to purchase alcohol. The decision follows an emerging nationwide trend as college athletic departments look to generate more revenue to cover the rising cost of doing business, including cost-of-attendance stipends for players. Club seat tickets cost $2,350 each, which includes a $500 scholarship donation, a $1,500 capital improvement gift and the $350 season ticket.
ANNAPOLIS, Md. (AP) _ Authorities are continuing to collect evidence in the case of two sisters who disappeared more than 40 years ago from a shopping mall in Maryland. Capt. Darren Francke of Montgomery County police said Wednesday that a search warrant was served at an Anne Arundel County home where a woman named Amy Welch lives. She is the granddaughter of Richard Welch, who has been named as a person of interest in the investigation into the murder of 12-year-old Sheila Lyon and her sister, 10-year-old Katherine, in 1975. The items were seized Tuesday. Francke says police can't provide additional details on the warrant at this time. Earlier this month, police charged Lloyd Welch Jr., an imprisoned sex offender, with two counts of murder in the case. He is Richard Welch's nephew.
RICHMOND, Va. (AP) _ Court documents show that three University of Virginia graduates and members of a fraternity profiled in a debunked account of a gang rape in a retracted Rolling Stone magazine story are suing the publication and the article's author. The three graduates filed suit Wednesday in U.S. District Court in New York. They are also suing Rolling Stone's publisher, Wenner Media. A lawyer for the men said they suffered "vicious and hurtful attacks" because of the inaccuracies in the November 2014 article, which was written by journalist Sabrina Rubin Erdely. A top U.Va. official dealing with sexual assaults at the Charlottesville school is also suing the school. Rolling Stone and the author couldn't immediately be reached for comment Wednesday.
RICHMOND, Va. (AP) _ Virginia Gov. Terry McAuliffe's political action committee is returning a $25,000 donation from a company with ties to Angola's state-owned oil company. The PAC's director, Brian Zuzenak, said Tuesday the contribution is being returned because Houston-based Glinn USA Investments was unwilling to sign a letter acknowledging that the contribution was legal. A lawyer for Glinn USA says the company asked the PAC to return the contribution because the company's owners did not want to be involved in a political controversy. Federal law prohibits federal, state and local political campaigns from accepting money from outside the U.S. McAuliffe's decision to return the money comes after The Associated Press questioned the governor's PAC about the legality of the donation. Glinn USA has ties to Sonangol, the state-owned oil company of Angola.
RICHMOND, Va. (AP) _ Virginia business leaders say the Old Dominion has an urgent need for a more diversified economy and say new state-funded incentives aimed at promoting regional cooperation would help. Business, university and government officials unveiled a new initiative called "Go Virginia" Tuesday at news conferences around the state. The plan calls for new state incentives to assist in regional collaboration, details of which will be unveiled in coming months. Go Virginia members stressed that there would be no need for new taxes to pay for the initiative. It would instead draw from existing sources of state funds. Among those spearheading the effort are Dominion Resources Inc. CEO Thomas Farrell II and former Landmark Communications chief executive John O. "Dubby" Wynne.