The region can now begin drying out after a week and a half of almost steady rains — with some astonishing totals of up to 24 inches.  The National Weather Service is reporting rainfall amounts for the 11-day period through yesterday,  and they include:
Lynchburg Airport: 7.23″
Amherst: 7.14″
Moneta: 8.98″
Mabry Mill, Floyd County: 24.11″
(Continue reading to see the full list of rainfall totals)
A Flash Flood Watch is now in effect through Saturday evening, and now, a High Wind Watch is also scheduled to take effect Friday evening and continue through Sunday morning. A watch means a potential exists for severe weather; it is different from a warning, which means a severe condition is either imminent or occurring. The High Wind Watch is in effect because expected speeds may be enough to uproot trees in ground already saturated.
A Bedford County area woman is charged with fatally shooting her brother early today County, the apparent result of an lengthy late-night dispute in the Chamblissburg area. The Sheriff's office says 54-year-old Vicki Clarke faces a second degree murder charge. Deputies say her brother, 55-year-old Paul Thomas was dead when they arrived around 2:00 am. The sheriff's office says the victim had twice damaged Vicki Clarke's private road in the hours immediately before, once in a car, the second time in a tractor.
(Continue reading for the full Bedford County Sheriff's Office news release.)
The risk of flooding has gone away for now, but with the threat of heavy rains returning by this weekend, so does a continued risk of high water. More from WLNI's Evan Jones.
Even with all the soaking rains of recent days, the National Weather Service says it has no reports of any flood damage. But that may change in coming days as tropical downpours head in our direction. More from WLNI's Evan Jones.
A local TV reporter sought a protective order — and he got it — against a Franklin County man who told him "You're dead" not far from the spot where Alison Parker and Adam Ward were fatally shot during a live broadcast.  It happened earlier this month as WSLS10's Duke Carter was covering a fund-raising event near Smith Mountain Lake — an event for Vicki Gardner, who survived the televised shootings. The Roanoke Times reports Carter told a judge yesterday that 28-year-old Donald Visel yelled at him from a nearby truck:  "You're dead" and then made a shooting motion with his hands directly at Carter. Carter told the judge he was frozen in fear, coming as this did shortly after the Smith Mountain Lake shootings not far away. He asked for a protective order that would keep Visel away from him, and the Times reports the judge granted one. Visel must avoid contact with the reporter for two years, and he cannot own a gun during that time. Visel has not been criminally charged in the case.
The public observances mourning the loss of two WDBJ7 journalists neared an end this morning as James Madison University — Alison Parker's alma mater — held a vigil on campus. It started at 6:45, the time one week ago that Parker and Adam Ward were fatally shot during a live broadcast. And as WLNI's Evan Jones reports, Liberty University is honoring both this weekend on the field.
Virginia Tech news release: Virginia Tech Athletics will continue to honor the memory of two local television journalists who were tragically killed in a shooting on Wednesday. The Virginia Tech football squad will wear special helmet stickers for the season opener against Ohio State on Labor Day night. There also will be a moment of silence before the game. Alison Parker and Adam Ward were doing a live broadcast for Roanoke CBS affiliate WDBJ-7, on Wednesday morning at Smith Mountain Lake, a little more than an hour from Tech's campus, when they were killed. The players will wear a helmet sticker that features the No. 7 and teal and maroon ribbons, along with the initials of both victims. Teal was Parker's favorite color, while the maroon ribbon represents Ward, who graduated from Virginia Tech in 2011.
(Continue reading for the rest of the news release.)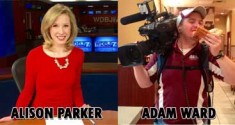 The mourning process moves to a new phase today as the family of slain WDBJ7 photojournalist Adam Ward receives visitors at Salem High School. This comes one day after a service honoring both Ward and reporter Alison Parker.  WLNI's Evan Jones has the story.
The former WDBJ7 News Director who hired — and fired — the man who fatally shot reporter Alison Parker and videojournalist Adam Ward says Vester Flanagan was a "professional victim" with a history of personal conflicts. Flanagan was better known by his on-air name of Bryce Williams. Dan Dennison says Flanagan had numerous conflicts with colleagues at several stations — and never understood he was the source. WLNI's Evan Jones has the story.
(Associated Press contributed the Dan Dennison audio to this report)