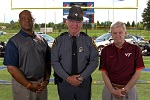 Football coaches Frank Beamer and Mike London are helping State Police get a message out, one police hope will reduce Virginia traffic deaths by 15% per cent in the next year. The two coaches appear in a traffic safety public service announcement, and as WLNI's Evan Jones reports, police hope it will capture public notice and attention.
Click here to see the full Public Service Announcement
Tuesday was a terrific election day for any state legislator running for re-election — not one of them was defeated. Experts say the way district lines are drawn is a key factor, and  critics says it's a clear case of gerrymandering that protects incumbents from credible challenges. WLNI's Evan Jones has the story.
Virginia Republicans have maintained control of the state Senate after scoring key victories in Tuesday's legislative elections, allowing the GOP to keep control of both chambers of the General Assembly and remain a potent foil to Democratic Gov. Terry McAuliffe's legislative priorities. More from WLNI's Luke Church.
New charges were filed today against the driver of a car that crashed early Saturday morning in Forest, leaving two passengers seriously injured. On-line court records show Christian Riddle is now charged with DUI, two counts of maiming while driving intoxicated, and driving with a revoked license. The accident left 18-year-old Ivy Adkins critically injured and her 14-year-old cousin hospitalized. Riddle is due in Bedford County Court Monday on the new charges. Police say Riddle was driving a stolen car when it crashed, and he also faces felony grand larceny charges in Lynchburg.
The Virginia Department of Motor Vehicles says speeding and running off the road are the primary reasons for teenage traffic deaths this year  — and the number is up 19% from a year ago. More from WLNI's Evan Jones.
Click here for the full DMV news release.
RICHMOND, Va. (AP) _ The Virginia Department of Motor Vehicles says 25 teenagers have died to date this year in crashes, a 19 percent increase over last year. The DMV says speeding and running off the road are the leading causes of deadly crashes involving teenagers. More than 50 percent of those fatal crashes involved both factors. The department also said nearly two-thirds who were killed were not wearing seat belts. The statistics were compiled to mark National Teen Driver Safety Week.
The Department of Motor Vehicles reports close to 90% of people holding Sons of Confederate Veterans license plates are not returning the recently-replaced ones — those that included the Confederate flag. It's been illegal to drive with those old plates since October 4th, and the state had asked plate-holders to send them back once they were replaced. More from WLNI's Evan Jones.
From the City of Lynchburg: Beginning Tuesday, October 27 and continuing through Friday October 30, 8:00 p.m. – 6:00 a.m. daily, the north and south bound lanes of the Lynchburg Expressway (Route 29) will be closed in the vicinity of the Kemper Street Bridge. Both directions of traffic will be detoured to single lanes via the on and off ramps near the bridge. This road closure is necessary to accommodate the installation of the waterline on the bridge that crosses over the Lynchburg Expressway. Motorists should expect delays while traveling through the area and are reminded to be alert to the traffic pattern changes and temporary construction signs. Emergency vehicles must follow the posted detour routes.
The family of slain photojournalist Adam Ward is thanking the Salem community for contributing more than $40,000 to the Salem Educational Foundation and Alumni Association in Adam's honor. The money will fund a scholarship in his name.
Statement from the Ward Family: Please know how much we appreciate your support. The last several weeks have been very difficult, but we are so grateful for your help in finding an appropriate way to honor Adam. The prayers, respect and expression of love we have received from people around the world, many of whom we will never meet, have been incredibly humbling. We are overwhelmed by the generosity so many of you have displayed in honoring Adam's memory through the Salem Educational Foundation and Alumni Association Scholarship that was established in his name. We are incredibly thankful for the kindness the community has shown.