Even with all the soaking rains of recent days, the National Weather Service says it has no reports of any flood damage. But that may change in coming days as tropical downpours head in our direction. More from WLNI's Evan Jones.
A local TV reporter sought a protective order — and he got it — against a Franklin County man who told him "You're dead" not far from the spot where Alison Parker and Adam Ward were fatally shot during a live broadcast.  It happened earlier this month as WSLS10's Duke Carter was covering a fund-raising event near Smith Mountain Lake — an event for Vicki Gardner, who survived the televised shootings. The Roanoke Times reports Carter told a judge yesterday that 28-year-old Donald Visel yelled at him from a nearby truck:  "You're dead" and then made a shooting motion with his hands directly at Carter. Carter told the judge he was frozen in fear, coming as this did shortly after the Smith Mountain Lake shootings not far away. He asked for a protective order that would keep Visel away from him, and the Times reports the judge granted one. Visel must avoid contact with the reporter for two years, and he cannot own a gun during that time. Visel has not been criminally charged in the case.
The public observances mourning the loss of two WDBJ7 journalists neared an end this morning as James Madison University — Alison Parker's alma mater — held a vigil on campus. It started at 6:45, the time one week ago that Parker and Adam Ward were fatally shot during a live broadcast. And as WLNI's Evan Jones reports, Liberty University is honoring both this weekend on the field.
Virginia Tech news release: Virginia Tech Athletics will continue to honor the memory of two local television journalists who were tragically killed in a shooting on Wednesday. The Virginia Tech football squad will wear special helmet stickers for the season opener against Ohio State on Labor Day night. There also will be a moment of silence before the game. Alison Parker and Adam Ward were doing a live broadcast for Roanoke CBS affiliate WDBJ-7, on Wednesday morning at Smith Mountain Lake, a little more than an hour from Tech's campus, when they were killed. The players will wear a helmet sticker that features the No. 7 and teal and maroon ribbons, along with the initials of both victims. Teal was Parker's favorite color, while the maroon ribbon represents Ward, who graduated from Virginia Tech in 2011.
(Continue reading for the rest of the news release.)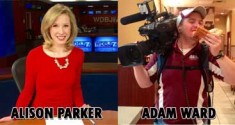 The mourning process moves to a new phase today as the family of slain WDBJ7 photojournalist Adam Ward receives visitors at Salem High School. This comes one day after a service honoring both Ward and reporter Alison Parker.  WLNI's Evan Jones has the story.
The former WDBJ7 News Director who hired — and fired — the man who fatally shot reporter Alison Parker and videojournalist Adam Ward says Vester Flanagan was a "professional victim" with a history of personal conflicts. Flanagan was better known by his on-air name of Bryce Williams. Dan Dennison says Flanagan had numerous conflicts with colleagues at several stations — and never understood he was the source. WLNI's Evan Jones has the story.
(Associated Press contributed the Dan Dennison audio to this report)
As funeral arrangements are announced for one of Wednesday's WDBJ7 shooting victims, the station says the gunman had not shown any visible hostility to any employees since his termination. WLNI's Evan Jones has the latest.
A new Roanoke College poll shows Democrat Hillary Clinton leading Republican Donald Trump by 13 percent among Virginia residents, but when up against other GOP presidential candidates like Jeb Bush, Marco Rubio and Scott Walker, the margins are much narrower — anywhere from one to four per cent.  There is a big gender gap, with men slightly favoring any of the Republican contenders and women strongly in favor of Clinton. She trails Bush, Rubio, and Walker among Independents by 10-17 points, but leads each among moderates by margins ranging from 25 to 35 percent.
(Click here for full poll results and methodology.)
Lynchburg Police say the weekend shooting death of 16-year-old Jessie Paige is connected to a series of several other shooting incidents going back to last March. Lynchburg Police Captain Ryan Zuidema says all those incidents are drug and gang-related, and all are targeted attacks between specific groups and specific people. Zuidema says there is no threat to the community at large, but police are nonetheless concerned that an innocent citizen might become the victim of further incidents. WLNI's Evan Jones has more:
Here are Captain Zuidema and Commonwealth's Attorney Michael Doucette at today's news conference:
ATHENS, Ga. (AP) _ The Athens-Clarke County District Attorney's Office has filed a felony theft charge against a Virginia man accused of obtaining in-state tuition rates for his daughter while she attended the University of Georgia. The Athens Banner-Herald reported Monday that the DA's office filed an accusation in Clarke County Superior Court on June 23 charging Pierre P. Mortemousque of Lynchburg with a single count of theft by deception. Police say in tuition application documents, Mortemousque gave an address in Atlanta, where he owns an apartment that he seldom stayed at. In June 2014, university police obtained warrants charging him with four counts of theft by deception, among other charges. During the probe, police say Mortemousque reimbursed the university for the $37,020 in savings he owed, and his daughter transferred to another college.