Many school districts in the region are sending students home early today, with rain, snow and sleet all in the afternoon forecast. Counties north and west of Lynchburg are under a winter weather advisory that goes into effect at 2:00 pm.
Click here for the latest list of school announcements.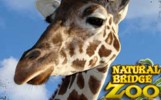 The Humane Society of the United States accuses the Natural Bridge Zoo of abuse and neglect, leading to the deaths of a giraffe and other animals. Click here to see our earlier story. The zoo owner calls the accusations "slanderous". WLNI's Evan Jones has the story.
Click here to see the the Human Society of the United States report and video.
The General Assembly begins its first full week of this year's session. And in the remaining six weeks, you can expect to hear plenty of debate with an eye toward this fall, when all Delegate and State Senate seats are up for election. WLNI's Evan Jones has the story.
Ethics reform is one issue likely to gain bipartisan support in this year's General Assembly session, but there are critics of some proposals to lower caps on gifts to state lawmakers. The story from WLNI's Evan Jones.
The McAuliffe administration has launched a new program to provide health insurance for thousands of Virginians now without it. These are low-income residents with "serious and persistent" mental health problems. State health officials believe spending the money now on mental health care will save Virginians much more later on. WLNI's Evan Jones has the story.
The Commonwealth Transportation Board today awarded contracts for two Lynchburg area highway projects. One is for extending Odd Fellows Road and building a new interchange with US 29/460 at a cost of about $30 million. Work on this project is set for completion in the summer of 2018. On the other side of Lynchburg, a second contract will widen another stretch of Greenview Drive from two to four lanes between Hermitage and Leesville Roads, with completion scheduled for summer of 2017. This project will cost about $11 million.
Click here for full VDOT information on both projects (PDF file)
(Continue reading for the full VDOT news release.)
As state lawmakers return to Richmond today, the two parties already appear to agree on a couple of key issues that include state spending and SOL changes. But sharp disagreements are likely once again on social issues that include abortion regulations and rewriting state marriage statutes to conform with court rulings declaring the same-sex bans unconstitutional. WFIR's Evan Jones looks ahead to this year's session.

It's been five years since a massive earthquake struck Haiti, killing well over 100,000 people and displacing more than one million others. The head of a Concord-based relief agency has no trouble remembering the response that followed — and the immediate problems they encountered. WLNI's Evan Jones has the story.
We are awaiting word from the Bedford County Fire Marshal's office identifying the person who died in an overnight mobile home fire. The call came in around 4:40 am to Saber Court, which is just off Blackwater Road in the New London area.  Forest Volunteer Fire Department Spokesperson Ryan Burnette says the home was fully engulfed when responding units arrived:
There is no word yet on the cause.
(Continue reading for the Bedford County Fire & Rescue news release.)
Attorney General Mark Herring says even if a Rolling Stone article had some discrepancies, it has drawn needed attention to sexual violence on college campuses. Herring leads a governor's task force already working on the issue. WLNI's Evan Jones has the story.