SWEET BRIAR, Va. (AP) _ The non-profit formed to save Sweet Briar College says it's making good on its latest installment to keep the women's college afloat, and with dollars to spare. Saving Sweet Briar Inc. says it will make a payment in excess of $3.5 million on Wednesday. The group says the final sum was still being tallied late Tuesday and would top that number. The installment was part of a series of payments that were spelling out in a mediated settlement structured this summer to save the small liberal arts college from closure. Saving Sweet Briar was formed after the college's former leaders said the school could not overcome financial challenges. Skeptical former students disagreed, and started raising money to ensure the start of classes this academic year.
A personal finance research firm has released rankings on the strictest states for high risk drivers — and Virginia came in third behind Arizona and Alaska. WLNI's Luke Church has more.
RICHMOND, Va. (AP) _ Former Virginia Gov. Bob McDonnell will not have to go to prison while the U.S. Supreme Court considers whether to consider his appeal of his public corruption convictions. The court on Monday overruled a lower court's decision on McDonnell's incarceration. McDonnell made a last-ditch plea to the high court to stay out of prison shortly after the 4th U.S. Circuit Court of Appeals in Richmond refused to grant the same request. The Republican former governor was facing the possibility of having to report to prison within the next several weeks to begin his two-year sentence, handed down in January for doing favors for a wealthy businessman in exchange for more than $165,000 in gifts and loans.
Virginia Tech news release: Virginia Tech Athletics will continue to honor the memory of two local television journalists who were tragically killed in a shooting on Wednesday. The Virginia Tech football squad will wear special helmet stickers for the season opener against Ohio State on Labor Day night. There also will be a moment of silence before the game. Alison Parker and Adam Ward were doing a live broadcast for Roanoke CBS affiliate WDBJ-7, on Wednesday morning at Smith Mountain Lake, a little more than an hour from Tech's campus, when they were killed. The players will wear a helmet sticker that features the No. 7 and teal and maroon ribbons, along with the initials of both victims. Teal was Parker's favorite color, while the maroon ribbon represents Ward, who graduated from Virginia Tech in 2011.
(Continue reading for the rest of the news release.)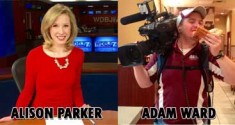 The mourning process moves to a new phase today as the family of slain WDBJ7 photojournalist Adam Ward receives visitors at Salem High School. This comes one day after a service honoring both Ward and reporter Alison Parker.  WLNI's Evan Jones has the story.
From the Bedford County Sheriff's Office: On Saturday August 29, 2015 at 1: 30 p.m., Bedford County 911 dispatchers received a call to 1284 Breezy Hill Road, Vinton. The caller, who was calling from Botetourt County, advised that her daughter, Ashley Brogan, age 28, was at this residence and was possibly being assaulted by a Willard Hale. A Bedford County deputy responded to the address and spoke with Willard Hale's father, who invited the deputy into the residence. He said the two were in another part of the house. After checking the residence the deputy could not locate either. The father then advised the deputy they must have went out the back door.
(Continue reading for the rest of the news release.)
Rising Consumer Sentiment is usually a harbinger of good times ahead and more spending, and a Roanoke College poll seems to indicate that trend, as WLNI's Gene Marrano reports.
BLACKSBURG, Va. (AP) _ Virginia Tech's Board of Visitors is expected to discuss potential state budget requests during a quarterly meeting in Northern Virginia. The board is scheduled to meet on Monday at the Virginia Tech Research Center-Arlington in Arlington. The agenda also includes a capitol project to expand the Virginia Bioinformatics Institute Data Center and a review of plans for future research facilities at Kentland Farm.
The former WDBJ7 News Director who hired — and fired — the man who fatally shot reporter Alison Parker and videojournalist Adam Ward says Vester Flanagan was a "professional victim" with a history of personal conflicts. Flanagan was better known by his on-air name of Bryce Williams. Dan Dennison says Flanagan had numerous conflicts with colleagues at several stations — and never understood he was the source. WLNI's Evan Jones has the story.
(Associated Press contributed the Dan Dennison audio to this report)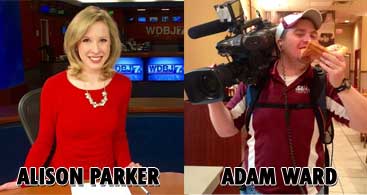 ROANOKE, Va. (AP) _ Virginia medical officials say a TV news reporter and cameraman who were killed during a live broadcast both suffered gunshot wounds to the head. The medical examiner's office in Roanoke office said Friday that WDBJ-TV reporter Alison Parker's official cause of death was gunshot wounds to the head and chest. Cameraman Adam Ward's cause of death was gunshot wounds to the head and torso. Homicide is listed as the manner of death for both Parker and Ward. The medical examiner's office did not specify how many times Parker and Ward were shot during Wednesday's attack.