An investigation that stretches back to last fall, has led to the arrest and now indictments of three former employees of the City of Danville Utilities. Danville's City Manager requested the investigation to look into "irregularities" following a department audit. 41-year-old Benjamin Paul Hairfield and 46-year-old Marshall Scott Wilkerson were arrested on Monday; 41-year-old Dennis Wayne Booth the Second was arrested Tuesday; a grand jury indicted all three on grand larceny charges on Friday. The charges stem from three separate incidents that occurred in 2013 and 2014.
An accident on Route 29 in Lynchburg last night, resulted in one man being arrested for drunk driving. Authorities tell media outlets, that around 11pm Tuesday, they responded to the Stadium Road Exit and found a car overturned. Initially, the Lynchburg Police and fire department were told the man was trapped inside but passerby's were able to help him out before first responders arrived on the scene, he claimed there was a second person in the car that had been ejected. ABC-13 reports, no one was found when officials searched the woods; and witnesses claim only the driver was in the car; that driver, now faces DUI, reckless driving, and driving on a revoked license charges.
Police have a man custody in connection with an early-morning shooting in Lynchburg. The LPD tells media outlets, that dispatchers received a call about an incident at 2355 Light Street, off Campbell Avenue, just before 7:30 this morning. Authorities say a woman was transported to the emergency room with non life-threatening injuries. The suspect was arrested. The names have not been released while the investigation is ongoing.
From the City of Lynchburg:  In order to accommodate the final phase of construction at the intersection of Harvard Street and Wards Road, Harvard Street will be closed as follows:  Beginning Monday, November 24 and continuing through Friday, November 28, Harvard Street will be closed, and the only access to the Central Virginia Community College (CVCC) campus will be from Wards Ferry Road. Access to CVCC from Wards Road will not be allowed. Beginning Monday, December 1 and continuing for approximately 60 days, Harvard Street will be closed to all through traffic. The entrance and exit to the main campus of CVCC can be accessed via the intersection of Wards Road and Harvard Street into Parking Lot #1 and then into the remaining parking lots adjacent to buildings on campus. The entrance and exit to Parking Lots #2 and #3 can be accessed from Wards Ferry Road. During this time, CVCC will be installing traffic calming measures on Harvard Street.
WILLIAMSBURG, Va. (AP) _ Education leaders from across Virginia are gathering in Williamsburg for the annual convention of the Virginia School Boards Association. More than 1,000 school board members, superintendents, division administrators, education officials and others are scheduled to attend the three-day convention that begins Wednesday. Officials say the event provides school division leadership the opportunity to learn about nationwide and statewide trends, meet key policy officials and learn new best management practice. The convention will include professional development workshops, a student achievement fair and an exhibition of school architecture. The group of Virginia school boards promotes excellence in public education through advocacy, training and services.
RICHMOND, Va. (AP) _ Virginia Gov. Terry McAuliffe says spending by the film industry increased 16 percent last year compared to 2012. The governor's office issued a news release Tuesday saying the economic impact of the film industry in Virginia was $382 million in 2013. The state has an incentive program that offers tax credits and grants to film projects made in the state. The Associated Press reported Sunday that Del. Peter Farrell and his father, Dominion Resources Inc. CEO Thomas Farrell II, made a movie last year that received $1 million in assistance from the state. Other projects filmed in Virginia last year include the National Geographic channel's "Killing Kennedy" and AMC's television series "TURN."
CHARLOTTESVILLE, Va. (AP) _ Authorities have ruled the death of a University of Virginia student a homicide. The Albemarle County Police Department released the cause and manner of death for 18-year-old Hannah Graham on Tuesday. According to information from the Virginia medical examiner's office, Graham's death was "homicidal violence" but the exact cause was unknown. A final autopsy report has not been issued. In a statement, county police and prosecutors said they would not be answering any further questions or providing additional information. Both said they "remain committed to the investigation."  Graham's remains were found Oct. 18 near Charlottesville after a month-long search. She disappeared Sept. 13 after a night out with friends. The man Graham was last seen with, 32-year-old Jesse Leroy Matthew Jr., is charged with abduction with intent to defile Graham.
From Liberty University: Liberty has recently been named the most popular college based on growth in admissions applications, by Mic, a news website geared toward young people. The site looked at the top 25 colleges where the number of applications increased the most from 2003-2013, with Liberty earning the top spot at an exceptional 993 percent growth. Liberty outperformed the rest of the schools, with second-place St John's University in New York City coming in far behind with 321 percent growth. The article also included U.S. News and World Report's annual ranking for growth of applications during the same period, showing that Liberty is far outgrowing Princeton University (No. 1 at 65 percent), Harvard University (No. 2, 67 percent), and Yale University, (No. 3. 87 percent).
(Continue reading for the rest of the news release.)
NORFOLK, Va. (AP) _ Fracking will be allowed in parts of the largest national forest on the East Coast under a new federal management plan. The U.S. Forest Service originally planned to ban fracking in the 1.1-million-acre George Washington National Forest. But energy companies cried foul after a draft of the plan was released in 2011. It would have been the first outright ban on the practice in a national forest. Robert Bonnie is the Agriculture Department's undersecretary for natural resources and environment. He says fracking is already allowed at other national forests throughout the country, and the forest service didn't want to change the policy. Environmental groups fear drilling could pollute mountain streams that provide drinking water to 250,000 people in the Shenandoah Valley.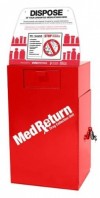 There's a new way for Bedford County residents to get rid of unwanted, unused or expired medications any time of the day or week. It's a red and white collection box in the front lobby of the sheriff's office. WLNI's Evan Jones has the story.
Click here for the full Bedford County Sheriff's news release.