Campbell County News Release: The Campbell County Sheriff's Office is seeking Daniel Lee Bessette, 35, who is wanted on six warrants. He is wanted for two counts of felony assault on a family member, third offense; one count of felony probation violation; one count of felony failure to stop for law enforcement officer; one count of misdemeanor reckless driving; and one count of misdemeanor driving suspended. Bessette is known to have lived in the Concord and Evington areas. If you have any information on the whereabouts of Bessette, please call the Campbell County Sheriff's Office at 434-332-9580 or Central Virginia Crime Stoppers at 1-888-798-5900. You could earn up to $1,000 in reward.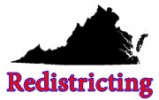 The U.S. Supreme Court is hearing arguments today in a case where black voters claim Republicans created House of Delegates districts with more reliable Democratic black voters than necessary to elect their preferred candidate. WLNI's Ian Price has more on the redistricting dispute:
RICHMOND, Va. (AP) – A former CIA employee serving a 3 1/2 year-prison for leaking government secrets to a reporter is taking his case to a federal appeals court.A three-judge panel of the 4th U.S. Circuit Court of Appeals will hear Jeffrey Sterling's case Tuesday.A jury convicted the 49-year-old on all counts last year after he was charged under the Espionage Act for leaking details of a CIA mission to New York Times journalist James Risen.Prosecutors portrayed Sterling as a disgruntled former employee who exposed a plan to stall Iranian ambitions to build a nuclear weapon in an attempt to discredit the CIA.Sterling's attorneys and other advocates claim prosecutors only went after Sterling because Risen's story made the CIA look foolish.
We were joined by Mike Tilley this morning for the Mike Tilley Sports Report on The Morning Line. 
WLNI's Janet Rose spoke with with the father of one of the patients due to be transferred towards the end of the month.  Atul Gupta says they are very concerned about the future of thier 16 year old daughter who has lived at CVTC for 13 years. 
RICHMOND, Va. (AP) – A Virginia man who police say set his girlfriend on fire, killing her, has been arrested in the Richmond area. Media outlets report that Lewis Edward Reeder was arrested Thursday, one day after the death of his alleged victim, 64-year-old Delores Williams. Fairfax County police say officers responded to an Alexandria home on Nov. 19 for the report of a house fire and a disorderly man. Firefighters extinguished the blaze and found that Williams had been badly burned. Police say Williams and Reeder, her live-in boyfriend, had been arguing when he set her on fire. Reeder fled from the scene and evaded authorities until his arrest. Reeder was sought for aggravated malicious wounding, although police say additional charges are possible. It's unclear if Reeder has an attorney.
RICHMOND, Va. (AP) – Legislative leaders from both parties say increasing salaries and reducing staffing shortages among Virginia State Police will be a priority in the upcoming legislative session despite the state's budget shortfall. The state is facing an estimated $1.5 billion shortfall due to lower-than-expected income and sales tax collections, which prompted Gov. Terry McAuliffe over the summer to scrap planned raises for state employees. The head of the State Police says since that time, departures have escalated, leaving the agency with a severe manpower shortage. Sen. William Stanley, a Republican from Franklin County, and Senate Minority Leader Richard Saslaw, a Democrat from Fairfax County, both said Thursday that the low pay and staffing shortages were a major issue. The two spoke at a forum on legislative issues in Richmond.
WILLIAMSBURG, Va. (AP) – William & Mary has acquired more than two dozen letters that President James Monroe wrote to his Treasury Secretary. The university in Williamsburg, Virginia, says they've never been published before. The school says the acquisition comes at a time of renewed interest in the fifth president. He served from 1817 to 1825. Jay Gaidmore, director of the Special Collections Research Center at the school's Swem Library, says the correspondence could provide new scholarship discoveries into Monroe's presidency. He says there are not many existing letters between Monroe and his cabinet. The letters were purchased from the Raab Collection, a historical document and autograph dealer. And the firm got them from descendants of William Crawford, Monroe's Treasury Secretary. The university will display the letters next year and post them online.
From The Franklin County Sheriff's Office: The victim has been identified through the Virginia Medical Examiner's Office as Charles Edward Hodges IV, 34 years of age. The cause of death was determined to be smoke inhalation.
Previously: The Franklin County Sheriff's Office  9-1-1 center received a call for a fully involved structure fire at approximately 8:30 am this morning (November 28) from residents near 330 Crafts Ford Court, which is located in the Wirtz community at Smith Mountain Lake.  Original reports stated that there may be a person inside the home.  The Franklin County Sheriff's office as well as fire departments from Scruggs, Burnt Chimney, Glade Hill, Smith Mountain Lake Marine, and Franklin County Public Safety responded and found a single story structure with heavy flames and smoke coming from  building.  Firefighters were able to extinguish the fire by 9:30 but the home was a total loss. Fire Investigators did locate and recover a body from the home at 12:25 today.  The identity of the victim is being withheld until the medical examiners can confirm the victim's identity and determine a cause of death. The Franklin County Sheriff's Office  is leading the investigation into the death of the victim. Franklin County Public Safety is investigating the cause and origin of the fire.
Former President Ronald Reagan's adopted son tells Liberty University students that lessons his father taught him as a boy apply just as much now as they did decades ago. WLNI's Evan Jones reports on Reagan's Liberty appearance: