The suspect in this morning's double-fatal shooting has died from a self-inflicted gunshot wound, according to the state's secretary of public safety and homeland security.  The investigation is ongoing by Franklin County and State Police.
State Police Sergeant Rick Garlits describes how Flanagan was spotted and stopped in northern Virginia:
Franklin County Sheriff Bill Overton describes how the shootings occurred:
Both Garlits and Overton were speaking at an afternoon news conference near Smith Mountain Lake.
Bedford County Schools are on a permiter lockdown, a precautionary measure suggested by law enforcement.
Roanoke County Schools have released a statement saying their buildings are locked and students will remain indoors today.
Route 122 in Franklin County at Bridgewater Plaza is closed due to police activities.  A detour has been established for smaller vehicles but not for large trucks.  Non-truck traffic can follow the detour signs onto Hardy Road, Turner Branch Road, Goodview Road, Horseshoe Bend Road and Diamond Hill Road.  The detour is expected to remain in place for several hours.  Commercial vehicles are being turned around on Route 122.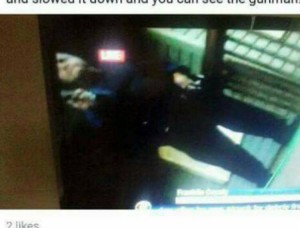 Here is a screen shot of the suspected gunman who may have been involved with the deaths of WDBJ7 crew members this morning in Moneta.
Please contact police immediately with any information or if you see anything suspicious.  Call 911 or the Franklin County Sheriff's Office at 540-483-3000
Stay tuned to WLNI for the latest on this developing story.
Breaking news this morning, WDBJ7 reporter Alison Parker and photographer Adam Ward have been killed in a shooting at the Bridgewater Plaza in Moneta. The shooting happened during a live report. Parker was interviewing an official with the Smith Mountain Lake Chamber of Commerce when the shots rang out. At last word, the shooter is still on the loose. Officials are not aware of a motive or the identity of the suspect at this time. We will keep you updated as we learn more information.
Virginia Prosthetics and Orthotics, which has an office on Tate Springs Road in Lynchburg, is concerned about policy changes proposed by the Center for Medicare and Medicaid Services — changes that could affect insurance coverage, as WLNI's Gene Marrano reports.
RICHMOND, Va. (AP) _ The U.S. Supreme Court is waiting to hear federal prosecutors say why they think it's time for former Virginia Gov. Bob McDonnell to start serving his prison sentence for public corruption. McDonnell has asked the justices to let him remain free until they decide whether to review his case. Chief Justice John Roberts has ordered prosecutors to respond to McDonnell's request by Wednesday. If Roberts or the court rejects McDonnell's request, it will set the wheels in motion for him to report to prison. McDonnell and his wife, Maureen, were convicted last September of doing favors for a wealthy businessman in exchange for more than $165,000 in gifts and loans. The former Republican governor was sentenced to two years in prison. His wife got one year and one day.
A new Roanoke College poll shows Democrat Hillary Clinton leading Republican Donald Trump by 13 percent among Virginia residents, but when up against other GOP presidential candidates like Jeb Bush, Marco Rubio and Scott Walker, the margins are much narrower — anywhere from one to four per cent.  There is a big gender gap, with men slightly favoring any of the Republican contenders and women strongly in favor of Clinton. She trails Bush, Rubio, and Walker among Independents by 10-17 points, but leads each among moderates by margins ranging from 25 to 35 percent.
(Click here for full poll results and methodology.)
NORFOLK, Va. (AP) _ A fraternity has suspended activities at a university chapter in Virginia after an uproar over sexually suggestive banners hung from a private home where several of that fraternity's members live. Sigma Nu's national organization said it suspended the fraternity's activities at Old Dominion University in Norfolk pending completion of its investigation. Monday's suspension came after three large banners were draped Saturday from the balcony of a private home near the campus. The banners included one stating "Freshman Daughter Drop Off" with an arrow pointing toward the house's door. The banners stirred outrage on social media and condemnation from university officials and student leaders. Sigma Nu aid any fraternity members found responsible would be held accountable. Its statement says it also condemns the derogatory and demeaning language used on the banners.
RICHMOND, Va. (AP) _ The U.S. Supreme Court wants to hear from federal prosecutors before deciding whether former Virginia Gov. Bob McDonnell will have to go to prison while he appeals his corruption convictions. Chief Justice John Roberts issued an order Monday giving prosecutors until Wednesday to respond to McDonnell's request to remain free. The order also says a federal appeals court order that puts the wheels in motion to send McDonnell to prison will be put on hold until Roberts or the Supreme Court can decide on McDonnell's request. The ex-governor last week made a last-ditch plea to the high court after the 4th U.S. Circuit Court of Appeals rejected his request to remain free. McDonnell and his wife were convicted of doing favors for a wealthy businessman in exchange for more than $165,000 in gifts and loan