From Lynchburg City Police: During the month of June, three victims reported that the catalytic converter from their vehicle had been removed during the nighttime hours. The incidents occurred in the commercial districts of Timberlake Rd. and Wards Rd., in the City of Lynchburg. The three catalytic converters appeared to have been cut from the vehicles by using a power tool. Anyone with any information regarding this crime or the identity of the suspects, is asked to call Detective K.S. Mitchell at (434) 455-6122 or Crime Stoppers at 1-888-798-5900, or visit the Central Virginia Crime Stoppers website at www.cvcrimestoppers.org to enter a web tip, or text "CVCS plus your message" to 274637.
LYNCHBURG, Va. (AP) _ Centra's new Lynchburg Medical Center consolidates primary care, diabetic endocrinology and physical therapy services at one location. The $13 million facility will open to the public on Monday. Its staff includes seven physicians, two physician assistants, a nurse practitioner and three physical therapists. The medical center is part of a larger strategy to move health care services closer to patients and away from hospitals. Centra plans to open ambulatory care centers in Amherst and Danville later this year. The health system also plans to open a pulmonary unit at Lynchburg General Hospital.
RICHMOND, Va. (AP) _ Two minor earthquakes have rattled parts of Virginia in the past two days. The U.S. Geological Survey's website shows a magnitude-2.2 earthquake occurred at 2:10 a.m. Monday. The epicenter was 12 miles west-southwest of Courtland. Another magnitude-2.2 earthquake occurred at 1:08 a.m. Saturday. The epicenter was 5 miles south of Louisa. Saturday's earthquake occurred in an area with a history of seismic activity in recent years. In August 2011, a magnitude-5.8 earthquake in Louisa County was felt from Georgia to Canada.
SWEET BRIAR, Va. (AP) _ The initial pieces of a rescue plan for Sweet Briar College are falling into place. Saving Sweet Briar Inc. says it has collected more than $2.5 million in alumnae donations and it's well on its way to reaching another funding deadline on Aug. 2. The nonprofit is expected to deliver $12 million by early September to keep the women's college open at least through the 2015-16 academic year. Thursday, a meeting of the school's new board of directors is scheduled and Harrisonburg attorney Phillip Stone is expected to be appointed president. In May, Sweet Briar's leaders said they would close the college in late August because of what they called insurmountable challenges. But the local county attorney and former students reversed that decision.
BEDFORD, Va. (AP) _ A perjury charge stemming from an investigation into the 1975 disappearance of two Maryland sisters is heading to a Bedford County grand jury.    65-year-old Patricia Jean Welch of Hyattsville, Maryland, waived her right to a preliminary hearing Monday. A judge sent the case to a grand jury, which will consider the charge July 7.  Prosecutor Randy Krantz says Welch was charged after appearing before a special grand jury investigating the case of 10-year-old Katherine Lyon and 12-year-old Shelia Lyon. The girls disappeared after walking to a shopping mall in Wheaton, Maryland. Authorities have named Patricia Welch's husband, Richard Allen Welch, and his nephew, Lloyd Welch, as "persons of interest" in the case. Neither man has been charged. Patricia Welch declined to comment.
RICHMOND, Va. (AP) _ The controversial execution drug approved by the U.S. Supreme Court is used in Virginia, but no executions are scheduled and the state's supply expires at the end of September.   Midazolam is one of three drugs Virginia can use in step one of its three-drug execution protocol. Department of Corrections spokeswoman Lisa Kinney says the state doesn't have either of the other two step-one drugs and is unable to obtain them. Also, it's uncertain whether additional midazolam will be available after the current batch expires. The department has the drugs used in steps two and three. They don't expire until next year. Virginia added midazolam to its protocol last year but hasn't used it. The state's last lethal injection execution was in August 2011
ARLINGTON, Va. (AP) — The Catholic dioceses in Virginia say the Supreme Court's decision legalizing same-sex marriages fails to uphold marriage as the union of one man and one woman. Virginia's Catholic bishops issued a joint statement Friday saying they are "deeply distressed" by the court's decision. They say that redefining marriage does not advance anyone's rights, especially children. The Catholic bishops say they are calling on all Catholics to pray, live and speak out about the "true nature of marriage." At the same time, the dioceses say all people deserve dignity, love and respect. They say unjust discrimination is always wrong. Also on Friday, a group of gay and lesbian Catholics called Dignity USA celebrated the ruling. They say the court recognized that the love and commitment of same-sex couples is equal.
The Lynchburg Electoral Board announced that Jennifer M. Campbell has withdrawn her application for the position of General Registrar. Campbell was appointed to the position in May 2015. The Electoral Board is reconsidering its pool of applicants and plans to appoint a qualified individual to the position shortly. The Registrar manages all activities related to voter registration, educates citizens regarding registration and elections, and works under the direction of the Electoral Board to prepare for, administer, and report the results of local, state and federal elections.
The Lynchburg Police Department has been awarded a grant from CVS Pharmacy to install a Drug Collection Unit. The new unit is intended to reduce the amount of unneeded medicine in residents' homes and decrease prescription drug abuse. The unit will be located at 905 Court Street in the Complaint Desk Lobby. Residents can stop by between 6:00 a.m. and 6:00 p.m., Monday through Friday and drugs can be dropped off with no questions asked.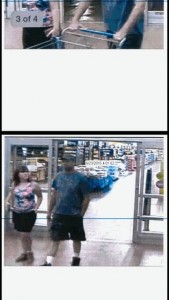 The Virginia State Police Department and the Virginia Missing Children Clearinghouse have issued an Endangered Child Alert on behalf of the Tennessee Bureau of Investigation for Hayleigh Cheyenne Wilson who was last seen in Smyth County, VA. The 14-year-old is believed to be in danger. She's 5'5 and about 150 pounds with black hair and hazel eyes. She was last seen wearing a black-and white flowery top with black shorts. She is believed to be with 41-year-old Benjamin Joseph Shook. He's 6'6 and about 175 pounds with blue eyes and brown hair. He was last seen wearing a blue t-shirt, black shorts and camouflage ball cap. Anyone with information is asked to please contact the TN Bureau of Investigation at 1-615-744-4600 or VSP at 1-800-822-4453, (1-800-VACHILD) or #77 on a cell.