A Madison Heights woman will claim the top prize in the Virginia Lottery's Money Money Money game. Her prize is a choice of $4 million over 30 years or a cash option of more than $2.1 million. The Virginia Lottery will present her with an oversized check today at the Quik-E Foods on Waterlick Road in Forest. That's where she bought the winning ticket. The store will receive a $10,000 bonus for selling the ticket.
RICHMOND, Va. (AP) _ Virginia has been chosen as the filming location for a movie about the true story of Richard and Mildred Loving, a Virginia couple who were arrested in 1958 for violating a state law that prohibited interracial marriage. The couple challenged Virginia's law, which was overturned by the U.S. Supreme Court. The film will star Ruth Negga and Joel Edgerton and be directed by Jeff Nichols. It was inspired by The Loving Story, a documentary that aired on HBO. The project will film in the central Virginia area and will be eligible for state incentive funding.  The annual economic impact of Virginia's film industry is about $382 million.
NEWPORT NEWS, Va. (AP) _ A preliminary state report says all of the fatal teenage overdoses in Virginia during a four-year period could have been prevented. The state Child Fatality Review Team examined overdose deaths of 13- through 17-year-olds from 2009 through 2013. The team's coordinator, Emily G. Womble, tells The Daily Press that the team saw things in all 26 cases indicating action for intervention and prevention. The report says three-quarters of the deaths were attributed to prescription drug abuse. Womble says a full report examining all overdose deaths from birth to age 17 won't be complete until the spring of 2016.
RICHMOND, Va. (AP) _ Presidential hopeful Hillary Clinton will make an appearance at a Democratic Party fundraising event in Virginia. The Democratic Party of Virginia says Clinton will appear in the state on June 26. No other details about the appearance were immediately available on Thursday. Clinton is considered the front runner for the Democratic party's nomination. The former secretary of state, U.S. senator and first lady is expected to be a significant draw for the fundraiser.
RICHMOND, Va. (AP) _ A Virginia man pardoned after spending 29 years in prison for a crime he didn't commit says he hasn't yet fully contemplated how he will use his freedom. Michael McAlister told reporters Thursday that he will attend a concert this weekend, and he really missed fishing while he was locked up for an attempted rape that was committed by another man. He hopes to seek compensation for his ordeal from the state but hasn't had time to really think about it. He says he harbors no resentment toward the woman whose misidentification put him in prison. He says she's as much a victim of the mistake as he is. McAlister was released Wednesday evening after receiving a full pardon from Gov. Terry McAuliffe.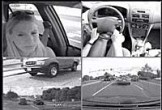 A comprehensive Virginia Tech Transportation Institute Study that looked in on and measured driver habits will now be available to researchers around the world. As WLNI's Evan Jones reports, safer driving is the anticipated result.

Click here for the full story from the Virginia Tech Transportation Institute
RICHMOND, Va. (AP) _ Gov. Terry McAuliffe says Virginia's state revenues in April increased by more than 10 percent from a year ago. Figures released Wednesday by McAuliffe's office show payroll withholding tax collections increased by 3.5 percent in April. Sales and use tax collections rose by 5.9 percent. Collections of individual nonwithholding and corporate income taxes also increased. Total revenue collections are up 7.5 percent so far this fiscal year. A budget approved in the 2015 legislative session projected 4.7 percent growth. McAuliffe says in a news release that collections were strong across nearly all major revenue sources in April.
Today and tomorrow from 7:00 a.m. – 5:00 p.m., Park Avenue (between Euclid and Memorial Avenues) will be closed to all traffic in order to accommodate a new water line connection. Traffic will be routed via Euclid Avenue to Wadsworth Street and then to Memorial Avenue. City officials say barricades will be in place, and motorists should obey all signage.
CHARLOTTESVILLE, Va. (AP) _ The University of Virginia has announced a permanent break from tradition in how it conducts its Final Exercises ceremony. The university will now split the ceremony over two days. Traditionally, all graduates had attended a single ceremony on the Lawn, the original site of Thomas Jefferson's university. Now the students in the College and Graduate School of Arts & Sciences will walk the Lawn on Saturday morning. Final Exercises for students in all other schools will take place the next morning. Pam Higgins, the university's director of major events, says the change was brought on by renovations being done to the Rotunda and by ever-growing enrollment at the school. University spokesman Anthony de Bruyn says about 3,000 students and 18,000 guests are expected on the Lawn each day.
From Central Virginia Community College:  The first graduating class of the CVCC Early College for Lynchburg City Schools will receive their Associates of Arts and Sciences degree in General Studies at Central Virginia Community College's commencement to be held on Thursday, May 14, 2015 at 7:00 p.m. at the Vines Center at Liberty University. These 20 motivated students initially enrolled at CVCC in the 2013 fall semester to pursue the Early College Program designed for high school juniors who exhibited the dedication to academics necessary to succeed in a rigorous program. The Early College Program provides an opportunity for these students to receive their Associates of Arts and Sciences degree from CVCC in May prior to receiving their high school diploma in June. The Early College Program is designed for students planning to enter four-year colleges and universities.  So far, the graduating students have reported that they will be transferring to Virginia Tech, George Mason, Christopher Newport, Carnegie Mellon, Lynchburg College, University of South Carolina, Eugene Lang (New York), Randolph College and University of Alabama.