RICHMOND, Va. (AP) _ Virginia Gov. Terry McAuliffe says spending by the film industry increased 16 percent last year compared to 2012. The governor's office issued a news release Tuesday saying the economic impact of the film industry in Virginia was $382 million in 2013. The state has an incentive program that offers tax credits and grants to film projects made in the state. The Associated Press reported Sunday that Del. Peter Farrell and his father, Dominion Resources Inc. CEO Thomas Farrell II, made a movie last year that received $1 million in assistance from the state. Other projects filmed in Virginia last year include the National Geographic channel's "Killing Kennedy" and AMC's television series "TURN."
CHARLOTTESVILLE, Va. (AP) _ Authorities have ruled the death of a University of Virginia student a homicide. The Albemarle County Police Department released the cause and manner of death for 18-year-old Hannah Graham on Tuesday. According to information from the Virginia medical examiner's office, Graham's death was "homicidal violence" but the exact cause was unknown. A final autopsy report has not been issued. In a statement, county police and prosecutors said they would not be answering any further questions or providing additional information. Both said they "remain committed to the investigation."  Graham's remains were found Oct. 18 near Charlottesville after a month-long search. She disappeared Sept. 13 after a night out with friends. The man Graham was last seen with, 32-year-old Jesse Leroy Matthew Jr., is charged with abduction with intent to defile Graham.
From Liberty University: Liberty has recently been named the most popular college based on growth in admissions applications, by Mic, a news website geared toward young people. The site looked at the top 25 colleges where the number of applications increased the most from 2003-2013, with Liberty earning the top spot at an exceptional 993 percent growth. Liberty outperformed the rest of the schools, with second-place St John's University in New York City coming in far behind with 321 percent growth. The article also included U.S. News and World Report's annual ranking for growth of applications during the same period, showing that Liberty is far outgrowing Princeton University (No. 1 at 65 percent), Harvard University (No. 2, 67 percent), and Yale University, (No. 3. 87 percent).
(Continue reading for the rest of the news release.)
NORFOLK, Va. (AP) _ Fracking will be allowed in parts of the largest national forest on the East Coast under a new federal management plan. The U.S. Forest Service originally planned to ban fracking in the 1.1-million-acre George Washington National Forest. But energy companies cried foul after a draft of the plan was released in 2011. It would have been the first outright ban on the practice in a national forest. Robert Bonnie is the Agriculture Department's undersecretary for natural resources and environment. He says fracking is already allowed at other national forests throughout the country, and the forest service didn't want to change the policy. Environmental groups fear drilling could pollute mountain streams that provide drinking water to 250,000 people in the Shenandoah Valley.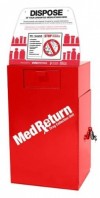 There's a new way for Bedford County residents to get rid of unwanted, unused or expired medications any time of the day or week. It's a red and white collection box in the front lobby of the sheriff's office. WLNI's Evan Jones has the story.
Click here for the full Bedford County Sheriff's news release.
NORFOLK, Va. (AP) _ A draft state report predicts taxis will be outnumbered by ride-sharing drivers after Virginia begins regulating the industry. The Virginian-Pilot obtained a copy of the draft report by the Department of Motor Vehicles. The newspaper says the draft recommends regulations that appear to be slightly more stringent than temporary agreements allowing ride-sharing companies Uber and Lyft to operate in Virginia. The DMV is studying ride sharing to help legislators determine how to regulate such companies. Frank Azzalina with Hampton Roads Transportation Inc. tells the newspaper that the taxi industry will continue to lobby for stricter regulation of ride-sharing companies. Ride-sharing companies use smartphone apps to dispatch drivers who use their personal vehicles to give people rides. The drivers then share the fares they collect with the companies.
In celebration of World Prematurity Awareness Day, the Virginia Department of Health (VDH) and the Virginia Hospital & Healthcare Association (VHHA) announce a major improvement in the well-being of babies born in Virginia. The state has seen a decrease of 18.2 percent in infant mortality, from 2007 to 2012, which means nearly 200 more babies a year are thriving and celebrating their first birthday. The Virginia Department of Health reports strong collaborative networks among public, private and non-profit organizations focusing on evidence-based methods of reducing the mortality rates have played a significant role in achieving this reduction.
RICHMOND, Va. (AP) _ Two screenwriters and a newspaper reporter are the winners of the 2014 Virginia Screenwriting Competition. The Virginia Film Office announced the winners Monday in a news release. They are Dawn Wise of Lynchburg, Neil Harvey of Roanoke and Eric Carlson of Williamsburg. Wise's entry, "The Poem" is about a teenage journalist who interviews a heiress on her deathbed about her affair with a poet. Wise is a screenwriter and founder, creative director and playwright of Old City Cemetery Candlelight Tours in Lynchburg. Harvey's entry, "Charter Arms," is about residents of a suburban cul-de-sac whose lives intertwine. Harvey is a reporter for The Roanoke Times. Carlson's entry, "Semple's Gold," is about an attempt to smuggle gold from the Confederate treasury. Carlson is a screenwriter and director of the Virginia Screenwriter's forum.
RICHMOND, Va. (AP) _ The Virginia Farm Bureau and an area law firm are being sued over the auction conducted to by the State Fair of Virginia in 2012. The Richmond Times-Dispatch reports that New Kent County-based Mini-USA Inc. filed court papers in Richmond's Circuit Court on Friday. Mini-USA says the farm bureau and the Williams Mullen law firm thwarted its efforts to purchase the fair. It's asking for at least $14 million. The Meadow Event Park in Caroline County and the fair's name were purchased by Universal Fairs at a foreclosure auction after the nonprofit that ran the fair filed for bankruptcy protection. In July 2012, the Virginia Farm Bureau became 50 percent owner of the fair and bought the remaining 50 percent of the fair in March 2013.
CHARLOTTESVILLE, Va. (AP) _ State health officials are investigating an illness that sickened more than a dozen University of Virginia students. Media outlets report that 15 students have sought medical treatment since Sunday for vomiting and other gastrointestinal symptoms. Student health executive director Dr. Chris P. Holstege says a possible cause is a fast-spreading stomach virus. He says most students are recovering within 24 hours. University spokesman Anthony de Bruyn says there's no evidence at this point that the illness was food-related.