State and National Government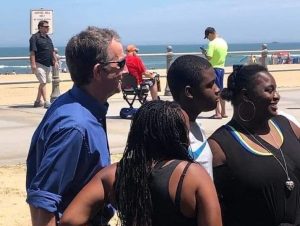 VIRGINIA BEACH, Va. (AP) — Gov. Ralph Northam has repeatedly urged Virginia residents to cover their faces in public during the COVID-19 pandemic, but the Democrat didn't heed his own plea when he posed mask-less for photographs alongside residents during a weekend beach visit.
A spokeswoman for the governor's office said Sunday that Northam should have brought a face mask with him during his visit on Saturday to the Virginia Beach Oceanfront, news outlets reported.
"He was outside yesterday and not expecting to be within six feet of anyone," Northam spokesman Alena Yarmosky said in a statement. "This is an important reminder to always have face coverings in case situations change — we are all learning how to operate in this new normal, and it's important to be prepared."
"Wearing a mask could literally save someone else's life," he said last week, according to the Richmond Times-Dispatch.
Critics on social media chided Northam, a physician, for not practicing what he has preached.
"Physician, heal thyself," tweeted Todd Gilbert, a Republican who is Virginia's House Minority Leader.
The Virginian-Pilot reported that Northam posed for a selfie with a woman who said she knows the governor. She gave him a pat on the shoulder.
"We just have to continue to remind people that we want to keep the social distance of 6 feet apart," he said, when asked about the touch later. "That's a challenge for a lot of folks because they're just not used to doing that."
Virginia has more than 34,000 confirmed COVID-19 cases and 1,135 confirmed deaths as of Sunday, according to the state health department.
RICHMOND, Va. (AP) — Virginia's unemployment rate shot up into the double digits in April due to the effects of the coronavirus pandemic and efforts to contain it, the Virginia Employment Commission said Friday.
The state's seasonally adjusted unemployment rate rose to 10.6% in April from 3.3% the month before, according to the commission. Virginia's rate was lower than the national rate of 14.7% during a month in which the the U.S. Bureau of Labor Statistics said all 50 states and the District of Columbia saw increases.
In April, all 10 metropolitan areas of Virginia for which data is produced experienced over-the-month job losses, according to VEC, and employment fell in all major industry sectors. Losses were particularly heavy in the leisure and hospitality industries, which saw a decline of 161,400 jobs.
In all, private sector employment decreased by 351,900 jobs while public sector payrolls decreased by 31,500 jobs, the VEC said.
Gov. Ralph Northam said at a news conference Friday that the dramatic increase had been expected, noting the more than 700,000 Virginians who have filed for unemployment benefits since widespread business closures went into effect in mid-March.
Northam also acknowledged reports of Virginians having trouble getting their unemployment benefits and said the state was opening a new call center with 315 additional employees to assist.
The unemployment data was released as much of the state was a week into a gradual reopening process. Certain businesses began reopening or expanding their capacity last Friday under modified restrictions set in place by the governor.
Northern Virginia, Richmond and Accomack County on the Eastern Shore were all granted two-week delays after elected leaders there expressed concern it was too early to reopen.
Northam said Friday that he would have more to share next week about additional steps to reopen.
The Virginia Department of Health on Friday reported nearly 35,000 confirmed or probable cases of COVID-19, the disease caused by the virus, and over 1,100 deaths. Both totals are likely an undercount due to a lack of widespread testing, and the likelihood that many people without symptoms could be spreading the highly contagious virus.
Millions around the world have been infected.
For most people, the coronavirus causes mild or moderate symptoms, such as fever and cough that clear up within weeks. For some, especially older adults and those with existing health problems, it can cause more severe illness and death. The majority of people recover.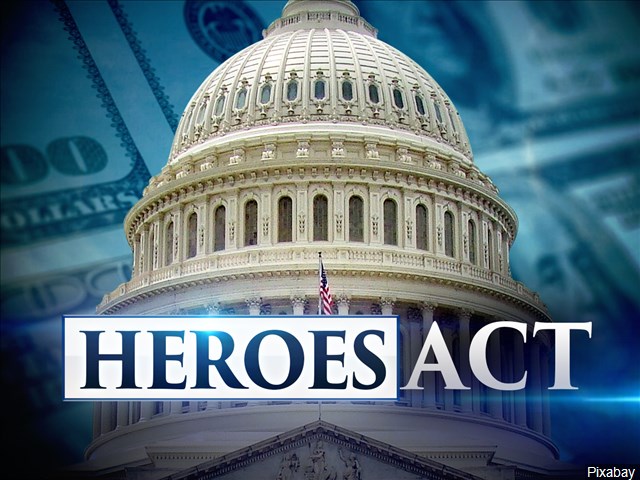 The latest pandemic relief bill that's heading to the Senate is being called a "grab bag of liberal priorities that Democrats are trying to sneak through." WLNI's Ian Price has more:
Governor Northam says Virginia is now prepared to handle any increases in COVID-19 cases that might now occur, and that's why he feels comfortable phasing in the reopening starting tomorrow — even as his administration plans to combat it well into the future. WLNI's Evan Jones has more:
Governor Northam says he is working with local officials in northern Virginia to consider different reopening timetables from the rest of the state. But for now, Friday still appears to be our day one of Phase One, as WLNI's Evan Jones reports.
05-12 Northam Update Wrap-WLNI-WEB
RICHMOND, Va. (AP) — Virginia Gov. Ralph Northam says the state is still on track to begin its gradual reopening this week amid the coronavirus pandemic, with the exception of the population-dense Washington suburbs.
Northam said at a news conference Monday that the state continues to see positive trends in key metrics related to the virus' spread, hospital readiness and testing capacity. He said the state is almost ready to begin a gradual reopening of nonessential businesses, houses of worship and other places currently closed.
"If our numbers continue to trend in the direction they are … I anticipate that will go into phase one on Friday," Northam said.
But he added while the same trends are moving in the right direction in northern Virginia, he is still concerned about the region's elevated number of cases. An example: Northern Virginia reported more than 700 cases in the previous 24 hours, Northam said, while the rest of the state reported less than 300.
The region's political leaders wrote a letter to Northam on Sunday asking the governor to allow northern Virginia to move at a slower pace in easing restrictions. Northam said he's happy to work with those leaders and plans to provide more detail about what northern Virginia's eventual reopening will look like on Wednesday.
The northern Virginia region shares a border with Washington, D.C. and Maryland, whose leaders have not given a specific date for reopening.
Northam's ordered some businesses closed two months ago and his planned first phase of reopening will retain severe restrictions. Some retail businesses will reopen with limited capacity, but indoor gyms would remain closed, beaches would remain closed to sunbathers and restaurants would still be prohibited from indoor dine-in service.
Northam, a Democrat, has increasingly come under fire from some Republicans for not being more aggressive in reopening the state like governors in some other states.
Pat Herrity, a member of the Fairfax County Board of Supervisors and one of the few remaining Republican elected officials in northern Virginia, said he's disappointed that northern Virginia apparently won't start the first phase along with the rest of the state.
"The majority of people I hear from want to take a small step back to normal," said Herrity. "Phase one is a baby step forward, and I think it should be taken."
Governor Northam yesterday appeared to be hedging – slightly – about a Phase 1 loosening of business restrictions that could go into place next Friday. More from WLNI's Gene Marrano:
According to data released this morning by VDH, there are  764 new cases of coronavirus bringing the overall case count to 20,256. State health officials are also reporting 29 additional coronavirus related deaths, bringing the overall death toll across the Commonwealth to 713.
In our area, the Virginia Department of Health lists 65 cases and one death so far in Lynchburg, 36 cases in Bedford County, 21 in Appomattox, 15 in Amherst and 13 in Campbell.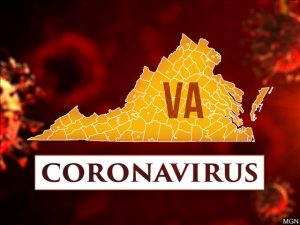 RICHMOND, Va, (AP) — Virginia Gov. Ralph Northam said he anticipates nonessential businesses in the state reopening on May 15, saying more time is still needed to help contain the coronavirus pandemic.
Northam announced Monday that he is extending by another week an executive order mandating that some nonessential businesses close and banning large gatherings.
"The message today is that we will reopen Virginia next Friday," May 15, Northam said.
The governor said while the state has made improvements in flattening the curve, or slowing the rate of new infections, Virginia needs to ensure positive trends continue related to testing, hospital capacity and the supply of medical equipment.
"I want to make it very clear: This virus is still here," Northam said. "We must not relax our vigilance."
His executive order, which forces the closure of some businesses and severely restricts how others operate, was set to expire this Friday. His order also bans gatherings of 10 or more in public or private.
"The governor's decision to use a 'one-size-fits-all' approach is going to negatively impact certain parts of Virginia worse than others," Republican House Minority Leader Todd Gilbert said in a statement.
Nicole Riley, state director of the National Federation of Independent Business in Virginia, said many small businesses wanted to reopen this week.
"Small-business owners are telling us they think a gradual reopening should start very soon, and most believe they can handle health and safety requirements," she said.
Northam said that when nonessential businesses do reopen, there will be noticeable changes. Restaurants will seat customers farther apart and employees will wear face masks. Gyms will open, but with fewer people than normal. The governor said the state will issue new guidelines for specific industries in coming days.
The governor said he anticipates a three-phased reopening, with restrictions on how businesses, churches and other public spaces ease into each phase. He said he anticipates each phase to last about three weeks.
For most people, the virus causes mild or moderate symptoms, such as fever and cough that clear up in two to three weeks. For some, especially older adults and those with existing health problems, it can cause more severe illness, including pneumonia, and be life-threatening.
VDH is reporting more than 800 new coronavirus cases statewide bringing the overall case count to more than 19 thousand.This comes after a 940 case increase between Saturday and yesterday. According to data released this morning, there have been 24 additional COVID-19 related deaths in a 24 hour span.
The Virginia Department of Health is reporting 1,055 new coronavirus cases statewide bringing the overall case count to 16, 901. Data released this morning shows more than 105 thousand people have been tested for COVID-19, and since yesterday there have been 29 additional coronavirus related deaths, bringing the death toll to 581.