The Lynchburg Police Department, Campbell County Sheriff's Office, and the Bedford County Sheriff's Office are all investigating multiple larcenies from vehicles. Many of these are occurring in the Boonsboro area of Lynchburg, Forest Lakes and Lake Vista areas of Forest in Bedford County, and in the area of Timberlake Rd and Leesville Rd in Campbell County. In each of these cases the vehicles have been left unlocked and the suspects have had easy access to their belongings. The stolen items range from loose change, wallets, purses, stereo equipment, computers, GPS devices, and several firearms. Many of these incidents happened over the past weekend. Anyone who can identify the subjects seen in the attached videos and photos, or who has information that may help with the case, is urged to contact Crime Stoppers at 1-888-798-5900. Visit the Central Virginia Crime Stoppers website at www.cvcrimestoppers.org to enter a web tip, or text "CVCS" plus your message to 274637 to leave an anonymous tip. Area local law enforcement agencies want to remind residents to lock their vehicles and homes. Most of these thefts are crimes of opportunity where unlocked vehicles and those with valuables in plain sight are targeted.
From Town of Bedford Police: – The Bedford Police Department is asking for help locating a missing 16-year-old girl. Brianna Nicole Hedrick was last seen at home Monday at about 9:30 p.m. She is 5′ 1″ tall and weighs about 130 pounds.  Police said she has several tattoos and piercings; a tattoo of the Italian flag with two black butterflies on her forearm, a tattoo on her left hand that reads "end of the road," and her ears, nose, and upper right lip is pierced with an older piercing in her eyebrow. She has blue eyes and brown, long, straight hair. Her ears, nose and upper right lip is pierced with older piercing in her eyebrows. If you have any information about Brianna, please call the Bedford Police Department at 540-586-7827 or the Central Virginia Crime Stoppers at 1-888-798-5900 and www.cvcrimestoppers.org.
The number of offenders in restrictive housing in Virginia prisons is among the 9th lowest in the United States according to a recent report. WLNI's Ian Price has more:
This is the 75th anniversary of the day that profoundly changed the United States  and the world — the Japanese attack at Pearl Harbor. At the National D-Day Memorial in Bedford, educators say many people wondered at the time if our country had the resolve and ability to successfully meet the challenges and sacrifices needed to prevail. WLNI's Evan Jones has the story.
From Lynchburg Police: On November 5, 2016, the Lynchburg Police Department received a report of a credit card theft. The victim presented the card at an area gas station and left it behind after making a purchase. Using bank records, several fraudulent transactions were identified after the card was stolen. The card was used to make a series of purchases totaling over $1,700 at local businesses and ATM's using the victim's credit card.
Anyone who can identify the suspect should contact Detective H. G. Blomquist with the Lynchburg Police Department at (434) 455-7267, or call Crime Stoppers at 1-888-798-5900. Visit the Central Virginia Crime Stoppers website at www.cvcrimestoppers.org to enter a web tip, or text "CVCS" plus your message to 274637.
We spoke with Phil Vassar about his new album and his giving spirit this morning on The Morning Line. 
MANASSAS, Va. (AP) – The man charged in the 1975 slayings of two sisters who vanished from a suburban Maryland mall has been indicted on new charges in connection with an unrelated case in northern Virginia. Multiple news outlets report that a Manassas grand jury on Monday indicted Lloyd Lee Welch, Jr. on charges of rape, sexual battery and taking indecent liberties. Further details regarding the charges were not immediately clear. Welch is awaiting trial in Bedford County, Virginia, on charges of first-degree murder in the disappearance of 12-year-old Sheila Lyon and 10-year-old Katherine Lyon. The sisters were last seen walking from their house to the Wheaton Plaza Mall. The girls never came home, and no bodies were found.

From the Henry County Sheriff's Office: O
n December 5th, 2016 at 2:51pm the Martinsville / Henry County 9-1-1 Center received a call of shots fired at the Cloverleaf Shopping Center / Family Dollar located at 2410 Greensboro Rd. Deputies arrived at 3:01pm. Through the course of the investigation it was reported that 3 individuals arrived in the parking lot to sell shoes. After their arrival, a light blue Ford Taurus occupied by 3 black males pulled into the parking lot and attempted to rob the subjects who were there to sell the shoes.During this attempted robbery, at least 1 of the suspects from the Ford Taurus fired multiple shots from a handgun. The victim's vehicle was hit by multiple bullets and 2 bullets entered the front of the Family Dollar. The 3 suspects fled the scene in the light blue Ford Taurus. The identity of the suspects is unknown at this time.There were no injuries reported. There are indications this incident may be drug related.Anyone having information regarding this robbery is asked to contact the Henry County Sheriff's Office at 276-638-8751 or Crimestoppers at 63-CRIME (632-7463).  The Crimestoppers Program offers rewards up to $2500.00 for information related to crime. The nature of the crime and the substance of the information determine the amount of reward paid.
Campbell County News Release: The Campbell County Sheriff's Office is seeking Daniel Lee Bessette, 35, who is wanted on six warrants. He is wanted for two counts of felony assault on a family member, third offense; one count of felony probation violation; one count of felony failure to stop for law enforcement officer; one count of misdemeanor reckless driving; and one count of misdemeanor driving suspended. Bessette is known to have lived in the Concord and Evington areas. If you have any information on the whereabouts of Bessette, please call the Campbell County Sheriff's Office at 434-332-9580 or Central Virginia Crime Stoppers at 1-888-798-5900. You could earn up to $1,000 in reward.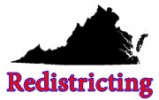 The U.S. Supreme Court is hearing arguments today in a case where black voters claim Republicans created House of Delegates districts with more reliable Democratic black voters than necessary to elect their preferred candidate. WLNI's Ian Price has more on the redistricting dispute: