Logging-related accidents are on the rise in Nelson County, with one occurring just this month. The County's Emergency Services has reported an increase in 911 calls reporting emergencies at logging sites in the past twelve months. According to the Nelson County Times, there have been about four logging-related incidents in the past year that resulted from chain saw accidents or heavy equipment turning over; three have been heavy equipment fires. All of the incidents have been from professional logging services. The most recent accident occurred on Oct. 22nd, when heavy logging equipment rolled over, injuring a person.
The Amherst County Economic Development Authority will be evaluating alternative uses for the Central Virginia Training Center. As a result, from a 2012 settlement agreement, the Madison Heights center, which is one of four of Virginia's residential facilities for the care of people with intellectual or developmental disabilities, is scheduled for closure in 2020. According to the New Era Progress, county officials are concerned about the economic impact that will be left in the wake of closing CVTC. The County Board of Supervisors, last week, approved a resolution that will grant the EDA a leading role in exploring future options for the site.
Lynchburg's Commonwealth's Attorney has requested that a special grand jury hear the details regarding last month's deadly daycare fire. The house fire at an unlicensed day-care on September 19  resulted in the death of two little girls; who were among seven children being watched by Doris Lee. The case originally was to be presented Nov. 3, but the judge agreed to convene a special grand jury at 9 a.m. on Nov. 14 instead. The decision was made because of the time restraints of a regular grand jury presentation. Authorities confirmed Lee has never been a state-licensed day-care provider and she lacked a local business license at the time of the blaze.
RICHMOND, Va. (AP) _ More than a dozen Virginia distilleries are asking Gov. Terry McAuliffe to nix a plan to raise prices at state-owned liquor stores. As part of a move to close a $2.4 billion budget gap, McAuliffe directed the Department of Alcoholic Beverage Control to increase liquor prices. The agency has not yet decided how or when it will raise prices. In a letter sent Thursday to McAuliffe, the state's distillers said producers already face an uphill battle and prices at the 350 state-run stores are already exorbitant because sales are controlled by the state. The move to increase prices comes as Virginia saw record alcohol sales of $801 million in the latest fiscal year. McAuliffe's office says raising prices helps avoid further cuts to core services like education and public safety.
RICHMOND, Va. (AP) _ The Virginia Supreme Court says the state's compulsory school attendance law doesn't require parents to get their kids to class on time. In a 5-2 ruling Friday, the court reversed the convictions of a divorced mom in Loudoun County who whose three children were repeatedly tardy. The court's majority concluded that the compulsory attendance law only requires that children be enrolled. The justices said other provisions of the code deal with truancy. Maureen Anne Blake has custody of her children on Wednesday nights and is responsible for getting them to school on Thursday mornings. They were up to 20 minutes late 10 times over four months. Blake told school officials she and one of the children have Attention Deficit Hyperactivity Disorder, and that's why they were often tardy.
RICHMOND, Va. (AP) _ Saturday is the final day to vote absentee in person in Virginia. The Virginia Department of Elections had received about 95,000 absentee votes as of Friday morning. Department spokeswoman Rose Mansfield said the department mailed out about 113,000 absentee ballots to voters who requested them. The deadline for voters to mail in their absentee ballots was Oct. 28. Virginia allows voters to cast ballots absentee only if they meet at least one of the 19 different qualifying reasons, such as traveling for business on Election Day or being incarcerated while awaiting trial. Voters wishing to vote absentee can do so at their local general registrar's office, whose hours vary.
FAIRFAX, Va. (AP) _ An attorney for the man accused of kidnapping University of Virginia student Hannah Graham is asking that his client undergo a psychiatric evaluation. Attorney James Camblos made the request Friday at an arraignment for Jesse Matthew in Fairfax County Circuit Court, where Matthew's charged in an unrelated sexual assault from nearly a decade ago. The 32-year-old Matthew was indicted earlier this month on charges including attempted capital murder in connection with a September 2005 sexual assault on a 26-year-old woman who was walking home from the supermarket in Fairfax. Authorities have said the assault was linked by DNA to the disappearance of Virginia Tech student Morgan Harrington. Fairfax authorities charged Matthew shortly after authorities linked the Harrington case to Graham's abduction.  The 18-year-old Graham's remains were found in mid-October.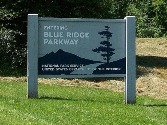 This is the last weekend that all Blue Ridge Parkway facilities will be open for the year, and park officials say there is still plenty of colorful fall foliage. More from WLNI's Evan Jones.
Click here for a real-time Blue Ridge Parkway road closure map.
RICHMOND, Va. (AP) _ Virginians heading to the polls on Election Day will decide whether to approve a constitutional amendment that would exempt the surviving spouses of U.S. military members killed in action from paying real estate taxes. Loudon Republican Del. David Ramadan sponsored the amendment and said it's the least the state can do for the spouses of those who died serving their country. Virginia already offers a real estate tax exemption to veterans who became completely disabled as a result of their military service. The General Assembly has unanimously passed Ramadan's legislation twice, with an election in between votes, allowing the voters to have a voice on changing the Virginia Constitution. The exemption would apply only to the spouse's principal place of residence.
WASHINGTON (AP) _ Five Native Americans are asking a Virginia judge to dismiss a lawsuit the Washington Redskins filed after the group successfully challenged the team's name, arguing it is offensive. Lawyers for both sides are expected in federal court in Alexandria on Friday, where a judge is scheduled to hear arguments on whether the lawsuit should be thrown out. The five won a victory earlier this year when a U.S. Patent and Trademark Office board ruled that six trademark registrations on the team's name should be canceled because they were "disparaging to Native Americans" when registered. After the board's action, the team in August sued the five Native Americans, asking a federal court to stop the cancellation from happening.