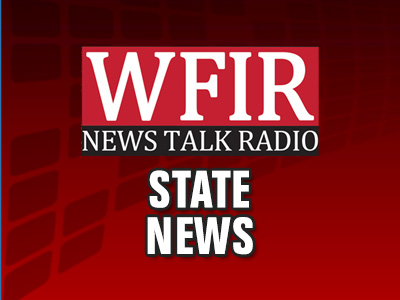 FREDERICKSBURG, Va. (AP) — The only thing Matthew and Jacob Burgett liked more than playing cops and robbers was a TV show that depicted the same thing.
Seeing real-life officers bust the bad guys on "COPS" was what their dad, Scott, did every day as a state trooper, and the brothers couldn't wait to join him in uniform.
"I always thought it looked really cool," said Matthew, 26, who became a Virginia State Policeman three years ago. "The fast cars. The sirens. I always had my mind set on law enforcement."
Jacob, who's 23 and recently graduated from the State Police Academy, added: "I've never really thought of anything else."
Clearly.
As the brothers talked, their mother, Cindy Burgett, went to the cabinet of their Fredericksburg home where she keeps construction paper artwork and cards made by her three children. (The couple's oldest, Sarah, is 28, and followed her mother into the medical field. Cindy is a neonatal intensive care unit nurse, and Sarah is an X-ray nurse.)
Cindy retrieved a Father's Day card, undated, that Jacob had done, probably in elementary school. The cover showed his father's uniform from the neck to the black attachments on his belt. There was a dark blue tie, his dad's badge and name tag.
Inside, Jacob had scrawled the lines from the theme song of his favorite show: "Bad boys, bad boys. Whatcha gonna do? Whatcha gonna do when they come for you?"
Then, he signed the card on the last page. Next to the drawing of a police car with two antennas, he wrote "Happy Father's Day!" in oversize letters and included a postscript that really spoke to where his head — and heart — were.
It read: "PS: you rock dude!"
Their father may have wanted to say the same to his boys when they graduated from Basic Trooper Session. Participants can have a relative or friend, also in law enforcement, hand them their diplomas, or they can get them from the Virginia State Police superintendent.
The person Matthew and Jacob Burgett chose was 1st Sgt. Scott Burgett, who beamed with pride.
"This is fantastic," he said at Jacob's graduation.
Like the ceremony, the training classes — all 1,340 hours spread out over 29 weeks and 98 courses — are held at state police headquarters in North Chesterfield near Richmond.
Each member of the Burgett family attended Jacob's graduation. Matthew is three years older, but when he and his brother stood next to each other in uniform, with the same buzz cut and "cover" on their heads, they looked like twins.
All the Burgetts have blue eyes, but the boys' are the color of a glacier, like their mother's.
It's not unusual to have fathers and sons, dads and daughters and husbands and wives on the force, said Virginia State Police Capt. Todd Taylor. Matt is under his command, and Taylor often jokingly tells Scott — who he's known more than 25 years — that he's the second-best trooper in the family. He teases that he'll have to change it to third best now that Jacob has joined.
Then, on a serious note, he said the Burgetts are "thinking men" who reason their way through problems.
"I'm just proud of them all," he said. "They're good folks, a good family. I would like to have a whole bunch more of them."
Scott and Cindy Burgett are both 54, and to them, it doesn't seem that long ago when he started his police career. He graduated from the academy 29 years ago after earning a criminal justice degree from Virginia Commonwealth University.
Their sons followed the same path. The only difference was, Scott was a few years older when he joined the force and already was a dad.
And, Scott didn't have anyone to inspire him to do police work. His father was in the Air Force.
"Honestly, it sounds so hokey, but I wanted to do something I felt was worthwhile, relevant, something important," the elder Burgett said. "I wanted to help people."
He figured he'd eventually go into federal work, but he loved the state police so much, he made it his career.
He's worked as a road trooper and special agent, done background work and assisted in investigations. He's looked into general crimes, arson and bombs, been assigned to Smithfield, Richmond and Fairfax and now works in drug investigation out of the Culpeper office.
Matthew, who is assigned to Orange County, already has tapped into his father's experience. The two talk over a crash-scene investigation, as the younger asks the older his take of things. "I'll say, 'This is what I'm thinking, what does this sound like to you?' " Matthew said.
Two days after Jacob graduated and started work in Caroline County, police officers nationwide held their 30th annual candlelight vigil at the National Mall to honor those killed in the line of duty. Matthew was there, part of the Virginia State Police Honor Guard, as three new names from the state force were etched in stone.
Col. Gary Settle, superintendent of the state police, probably didn't need to remind those at Jacob's graduation that the new troopers — like the multitude of other uniformed officers in the audience — face peril on the streets.
"What consumes my thoughts daily and keeps me up at night is your safety," Settle said to the graduates. "We've been reminded too many times in recent years of the dangers that exist for public safety officials."
Settle shared the story from the movie, "American Sniper," about the three types of people in the world: wolves, sheep and sheepdogs. The latter are warriors, Settle said, working to fend off the wolves and protect the sheep.
He said it's the trooper's job to identify the bad guys and protect the good ones. But when policemen are swayed by the way people look, dress or talk or their backgrounds or skin color, "then we become the wolves and have failed our mission as a Virginia State Police trooper."
Scott and Cindy Burgett think about the current tensions, too, and what the situation will be like for their sons.
She says the whole family is calm and level-headed to the point of being downright boring. She's confident her husband and two sons won't have any difficulty exercising their considerable discipline and self-control.
He says the same, even though the climate is probably the worst the tenured trooper has ever seen.
"As a father, I'm proud of them for being brave enough to do it," he said. "But I also expect them to follow their training, do what they know is right and stay safe."
___