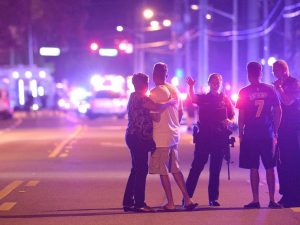 ORLANDO, Fla. (AP) — The Latest on the shooting at an Orlando nightclub:
___
The ex-wife of the Orlando nightclub gunman says he was "mentally unstable and mentally ill."Sitora Yusifiy, speaking to reporters in Boulder, Colorado, says Omar Mateen was bipolar and also had a history with steroids.She says that in the four months they were together he cut her off from her family and regularly beat her. She says that her family visited her and saw she wasn't OK and rescued her from the situation.Yusifiy says they literally pulled her out of his arms. She says she left all her belongings and has had no contact with him for seven or eight years.She says Mateen was religious, but she saw no signs of radicalism.Of the nightclub massacre she says, "there was no sign of any of this at all."
___
Officials have started removing bodies from inside an Orlando nightclub where 50 people were shot and killed. Sunday night, workers brought four bodies on stretchers out of club Pulse and loaded them into white vans. The action was repeated over and over. The bodies were then taken to the Orange County Medical Examiner's office. Authorities say Omar Mateen opened fire at the nightclub, leaving 50 people dead and more than 50 others wounded before he was gunned down by police.
___
The top Democrat on the House Intelligence Committee tells The Associated Press that investigators have not yet found evidence of direct communication between the Orlando nightclub gunman and Islamic State members overseas. Rep. Adam Schiff has been briefed multiple times by federal law enforcement. He says it is possible that Omar Mateen was self-radicalized but not "under the command and control of ISIS." The California congressman says that could change and that it's too early to know whether there was something that could have been done to prevent the attack. The FBI investigated Mateen in 2013 after he made inflammatory comments to co-workers alleging possible ties to terrorists. The following year, the agency looked into potential ties connecting Mateen to Moner Mohammad Abusalha, the first American to carry out a suicide attack in Syria. He was cleared after both investigations.