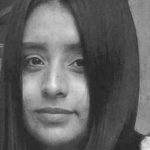 UPDATE FROM STATE POLICE: Miss Aguilar-Cruz has been safely located in Prince William County; the suspect was also located and taken into custody.
PREVIOUSLY: Virginia State Police have issued an Amber Alert for 16-year-old Sinahi Aguilar Cruz, who they say was abducted early Sunday morning from Prince William County in northern Virginia. An Amber Alert is issued when authorities believe the victim is in extreme danger. Police are looking for a dark Honda Civic and 21-year-old Roberto Medrano Segovia.
(Continue reading for the full Amber Alert)
THE VIRGINIA STATE POLICE AND VIRGINIA MISSING CHILDREN CLEARINGHOUSE HAVE ISSUED AN AMBER ALERT FOR A CHILD ABDUCTION ON BEHALF OF THE PRINCE WILLIAM COUNTY POLICE IN WOODBRIDGE ON 10/15/2017 AT 01:43 AM.
THE PRINCE WILLIAM COUNTY POLICE IS LOOKING FOR SINAHI AGUILAR CRUZ, WHI, female, AGE 16 years old, HEIGHT 5 feet 02 inches, WEIGHT 125 lbs, WITH BRO EYES AND STRAIGHT, LONG BRO HAIR, WEARING WHITE WITH PURPLE STRIPE LONG SLEEVE shirt, DENIM JEANS pants, LIGHT COLOR JACKET.
THE CHILD IS BELIEVED TO BE IN EXTREME DANGER AND WAS LAST SEEN AT 14807 DANVILLE RD, WOODBRIDGE, VA.
THE CHILD IS LIKELY ABDUCTED BY ROBERTO MEDRANO SEGOVIA, HISP, male, AGE 21 years old, WITH BROWN EYES AND SHORT BLACK HAIR wearing BLACK V-NECK TSHIRT shirt, BLUE DENIM BAGGY JEANS pants, WHITE NIKE JORDANS shoes.
THEY MAY BE TRAVELING IN A DARK HONDA CIVIC, POSSIBLY HATCHBACK
PLEASE CONTACT THE PRINCE WILLIAM COUNTY POLICE AT (703)792-6500 OR THE VIRGINIA STATE POLICE AT 1-800-822-4453 (1-800-VACHILD).
YOU MAY FIND COMPLETE INFORMATION AT www.vaamberalert.com
P.S. VICTIM TAKEN AGAINST HER WILL, BELIEVED TO BE IN THE COMPANY OF MR MEDRANO SEGOVIA.