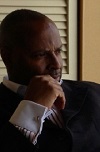 Lynchburg-based radio and television producer Andre Whitehead has spoken of his interactions with Vester Flanagan, the man authorities say shot and killed two WDBJ7 journalists Wednesday before killing himself.  Whitehead remembers Flanagan, as a person who felt discriminated against when he worked there as a reporter, but Whitehead believes those claims were unfounded. WLNI's Luke Church has the story.
08-28 Flanagan Insight WRAP-WLNI WEB
"Conversations with Andre Whitehead" airs Sunday mornings at 8:00 on WLNI.