AP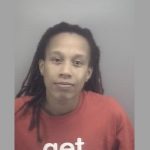 VIRGINIA BEACH, Va. (AP) — A former housekeeper at a historic Virginia Beach hotel was sentenced this week to 30 days in jail for stealing a guest's $35,000 diamond ring.
Chrystal Monique Gregory, 28, pleaded guilty to grand larceny in August. Prosecutors said she used an employee key to break into an Ohio couple's suite at The Cavalier hotel. Once inside, she entered a master code to open a safe where the victims left the 2¼-carat diamond engagement ring. It featured a platinum and gold band and diamonds encrusted along the centerpiece, an appraiser found.
Police discovered photos on Gregory's phone of the victim's driver's license, which had been in the safe, as well as pictures of other pieces of jewelry taken from the hotel, a police statement of facts obtained by new outlets said. The ring was never recovered, prosecutor's office spokeswoman Macie Allen added.
State sentencing guidelines suggested probation for Gregory, the prosecutor's office told The Virginian-Pilot. She had no prior criminal record.
The theft happened last summer, a few months after the 92-year-old luxury hotel reopened following an $85 million renovation. A marker outside the hotel describes The Cavalier as "emblematic of Virginia Beach's transformation from small town to major resort during the Roaring Twenties."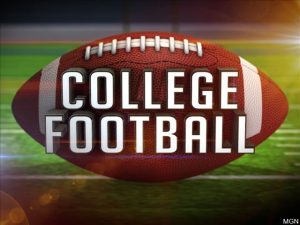 RALEIGH, N.C. (AP) — Third-ranked Clemson once again dominated the Associated Press All-Atlantic Coast Conference teams and individual awards released Tuesday.
The five-time ACC champions swept the top offensive and defensive player of the year awards and placed 12 players on the two teams as determined by a vote of 14 sports writers who cover the conference.
Led by unanimous selections Travis Etienne at running back and Isaiah Simmons at linebacker, eight Tigers made the first team. Clemson earned its fifth straight berth in the College Football Playoff a day after routing Virginia in the league title game.
Etienne repeated as the offensive player of the year while Simmons was chosen as the defensive player of the year.
Etienne rushed for 1,386 yards and 18 touchdowns for the Tigers while Simmons had 93 tackles, seven sacks, a fumble and two interceptions while winning the Butkus Award as the nation's top linebacker.
Louisville coach Scott Satterfield is the coach of the year while North Carolina freshman quarterback Sam Howell is the newcomer of the year.
Satterfield took a team that last season went 2-10 without a conference win and led the Cardinals to a 7-5 record, a second-place finish in the Atlantic Division and a berth in the Music City Bowl against Mississippi State.
Howell threw for an ACC-best 3,347 yards with 35 touchdowns while leading UNC to its first bowl game since 2016. The Tar Heels will face Temple in the Military Bowl.
Joining Etienne and Simmons as unanimous picks were Louisville offensive tackle Mehki Becton, Wake Forest kicker Nick Sciba, Miami defensive end Gregory Rousseau and Pittsburgh defensive tackle Jaylen Twyman.
The 2019 Associated Press All-Atlantic Coast Conference team, as selected by a panel of 14 sports writers who regularly cover the league for newspapers or broadcast outlets. Players at all positions are listed alphabetically with name, school, height, weight, class and hometown; "u-" denotes unanimous selections:
First team
Offense
QB — Trevor Lawrence, Clemson, 6-6, 220, soph., Cartersville, Georgia
u-RB — Travis Etienne, Clemson, 5-10, 210, jr., Jennings, Louisiana
RB — AJ Dillon, Boston College, 6-0, 250, jr., New London, Connecticut
u-T — Mehki Becton, Louisville, 6-7, 369, jr., Highland Springs, Virginia
T — Tremayne Anchrum, Clemson, 6-2, 315, sr., Powder Springs, Georgia
G — John Simpson, Clemson, 6-4, 330, sr., North Charleston, South Carolina
G — John Phillips, Boston College, 6-6, 305, sr., Phoenix, New York
C — Jimmy Morrissey, Pittsburgh, 6-3, 305, r-jr., Huntington Valley, Pennsylvania
TE — Brevin Jordan, Miami, 6-3, 245, soph., Las Vegas
WR — Tee Higgins, Clemson, 6-4, 215, jr., Oak Ridge, Tennessee
WR — Sage Surratt, Wake Forest, 6-3, 215, r-soph., Lincolnton, North Carolina
All-purpose player — Joe Reed, Virginia, 6-1, 215, sr., Charlotte Court House, Virginia
u-K — Nick Sciba, Wake Forest, 5-9, 190, soph., Clover, South Carolina
Defense
u-DE — Gregory Rousseau, Miami, 6-6, 260, r-fr., Coconut Creek, Florida
DE — Carlos Basham Jr., Wake Forest, 6-5, 275, r-jr., Roanoke, Virginia
u-DT — Jaylen Twyman, Pittsburgh, 6-2, 290, r-soph., Washington
DT — Marvin Wilson, Florida State, 6-5, 311, jr., Houston
u-LB — Isaiah Simmons, Clemson, 6-4, 230, jr., Olathe, Kansas
LB — Chazz Surratt, North Carolina, 6-3, 230, jr., Denver, North Carolina
LB — Shaq Quarterman, Miami, 6-1, 240, sr., Orange Park, Florida
LB — Rayshard Ashby, Virginia Tech, 5-10, 237, jr., Chesterfield, Virginia
CB — Caleb Farley, Virginia Tech, 6-2, 207, r-soph., Maiden, North Carolina
CB — A.J. Terrell, Clemson, 6-1, 190, jr., Atlanta
S — Paris Ford, Pittsburgh, 6-0, 190, r-soph., Pittsburgh
S — Tanner Muse, Clemson, 6-2, 230, sr., Belmont, North Carolina
P — Sterling Hofrichter, Syracuse, 5-9, 199, r-sr., Valrico, Florida
Second team
Offense
QB — Bryce Perkins, Virginia, 6-3, 215, sr., Queen Creek, Arizona
RB — Cam Akers, Florida State, 5-11, 212, jr., Clinton, Mississippi
RB — Javian Hawkins, Louisville, 5-9, 182, r-fr., Titusville, Florida
T — Charlie Heck, North Carolina, 6-8, 315, sr., Kansas City, Missouri
T — Ben Petrula, Boston College, 6-5, 310, jr., Freehold, New Jersey
G — Gage Cervenka, Clemson, 6-3, 325, sr., Greenwood, South Carolina
G — Zion Johnson, Boston College, 6-3, 310, jr., Bowie, Maryland
C — Sean Pollard, Clemson, 6-5, 310, sr., Jackson Springs, North Carolina
TE — Noah Gray, Duke, 6-4, 240, jr., Leominster, Massachusetts
WR — Tutu Atwell, Louisville, 5-9, 153, soph., Miami
WR — Dazz Newsome, North Carolina, 5-11, 190, jr., Hampton, Virginia
All-purpose player — Hassan Hall, Louisville, 6-0, 198, soph., Atlanta
K — Christopher Dunn, N.C. State, 5-8, 180, soph., Lexington, North Carolina
Defense
DE — Patrick Jones II, Pittsburgh, 6-5, 260, r-jr., Chesapeake, Virginia
DE — Victor Dimukeje, Duke, 6-2, 265, jr., Baltimore
DT — Tyler Davis, Clemson, 6-2, 295, fr., Apopka, Florida
DT — Larrell Murchison, N.C. State, 6-3, 291, sr., Elizabethtown, North Carolina
LB — Max Richardson, Boston College, 6-0, 230, r-jr., Duluth, Georgia
LB — Jordan Mack, Virginia, 6-2, 230, sr., Lithonia, Georgia
LB — Michael Pinckney, Miami, 6-1, 230, sr., Jacksonville, Florida
CB — Derion Kendrick, Clemson, 6-0, 190, soph., Rock Hill, South Carolina
CB — Dane Jackson, Pittsburgh, 6-0, 190, r-sr., Coraopolis, Pennsylvania
S — Hamsah Nasirildeen, Florida State, 6-4, 215, jr., Concord, North Carolina
S — Andre Cisco, Syracuse, 6-0, 203, soph., Valley Stream, New York
P — Trenton Gill, N.C. State, 6-4, 217, r-soph., Hillsborough, North Carolina
Coach of the year — Scott Satterfield, Louisville
Offensive player of the year — Travis Etienne, Clemson
Defensive player of the year — Isaiah Simmons, Clemson
Newcomer of the year — Sam Howell, North Carolina
Voting panel: Matt Baker, The Tampa Bay Times; Rick Bozich, WDRB-TV, Louisville, Kentucky; Lauren Brownlow, WRAL.com, Raleigh, North Carolina; Bennett Conlin, The Daily Progress of Charlottesville, Virginia; Matthew Connolly, The State of Columbia, South Carolina; Tom D'Angelo, Palm Beach (Florida) Post; Jerry DiPaola, (Pittsburgh) Tribune Total Media; Joe Giglio, The News & Observer of Raleigh, North Carolina; Zach Klein, WSB-TV, Atlanta; Nate Mink, The Post-Standard of Syracuse, New York; Conor O'Neill, Winston-Salem (North Carolina) Journal; Michael Vega, The Boston Globe; Steve Wiseman, The Herald-Sun of Durham, North Carolina; Norm Wood, The Daily Press of Newport News, Virginia.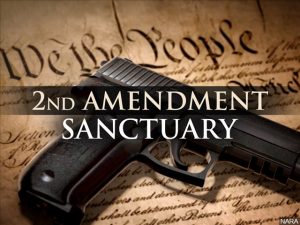 BEDFORD, Va. (AP) — Another county in Virginia has officially declared itself a sanctuary for Second Amendment rights as Democrats take control of the state government in Richmond.
The Bedford County Board of Supervisors approved the sanctuary resolution Monday night at a meeting attended by more than 1,000 residents.
More than 40 people spoke during the meeting's public comment section, expressing concerns about gun-control bills in the state legislature.
The resolution is not legally binding. But it expresses the board's position that public money should not be used to restrict the Second Amendment rights in the county or to help federal or state agencies in doing so.
Several counties have voted to defend gun rights after the Nov. 5 elections put Democrats in control of the Statehouse. Democratic Gov. Ralph Northam has said his party's leaders will push for gun control measures.
Bedford County sits between Roanoke and Lynchburg.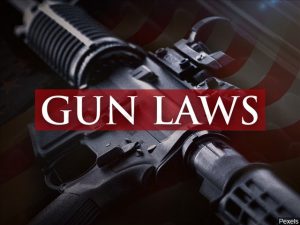 RICHMOND, Va. (AP) — More than 200 gun rights activists wearing "Guns SAVE Lives" stickers rallied Monday in Virginia, vowing to fight any attempt by the new Democratic majority in the state legislature to pass new restrictions on gun ownership.
The "God. Family. Guns" rally was held just a month before the General Assembly is set to begin a session that is almost certain to include a variety of gun control proposals, including requiring universal background checks for gun buyers, prohibiting the sale of assault weapons and a '"red flag" law allowing police or family members to petition a court to temporarily take away guns from people who may present a danger to themselves or others.
Those who attended the rally said such gun-control measures would do little to reduce mass shootings and other crimes, but instead would punish responsible gun owners.
"Hands off our guns, hands off our rights, and hands off our guns," said Bob Good, a member of the Campbell County Board of Supervisors.
Good said he hoped the rally would send a message to Democratic Gov. Ralph Northam and state lawmakers to stop them from passing laws with "unconstitutional gun restrictions."
The rally was held at the State Capitol as officials in dozens of Virginia counties pass resolutions declaring themselves "Second Amendment Sanctuaries." Good said Campbell County was the second county in the state to pass such a resolution. Since Democrats won majorities in the state Senate and House of Delegates in November, more than 40 localities have voted for sanctuary status, which they say amounts to a pledge to refuse to enforce any unconstitutional gun laws.
Bob Sadtler, 51, of Richmond, said he attended the rally because he treasures the Second Amendment and is concerned that the laws proposed by Democratic lawmakers will hurt legitimate gun owners but do nothing to stop violent crime.
"In America, you do not punish everyone for the acts of the individual," he said. "These bills don't affect criminals. Criminals ignore the law."
Gun-control proposals in Virginia have failed in the past under the Republican-controlled legislature.
Democrats revived their call for gun restrictions in May, after a city employee shot and killed 12 of his co-workers at a municipal building in Virginia Beach. After the shooting, Northam scheduled a special legislative session on gun control measures. Republicans quickly ended the session and accused the governor of trying to use the tragedy for political gain.
RICHMOND, Va. (AP) — Virginia Gov. Ralph Northam is proposing about $22 million for efforts to improve health outcomes for mothers and babies and reduce the racial disparity in the state's maternal mortality rate.
Northam announced Monday that his budget proposal for the upcoming legislative session includes funding to expand Medicaid coverage for new moms and increase home visits from care providers. Funding is also included to study the possibility of Medicaid reimbursement for doula services and to increase access to long-acting contraception.
Northam, a Democrat, established a new initiative in June intended to reduce the maternal mortality rate for black women, which his administration says is more than twice as high as it is for black women.
Passing a two-year state spending plan will be a top priority for the General Assembly during the 2020 session. During last month's legislative elections, voters gave Democrats full control of the General Assembly for the first time in a generation.
The governor is expected to share full details of his budget plan next week.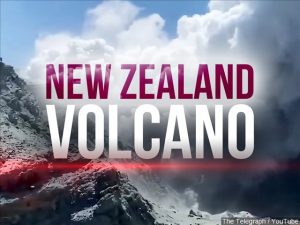 RICHMOND, Va. (AP) — Relatives of a newlywed American couple are desperately seeking information after learning that the husband and wife were severely burned from a volcano eruption in New Zealand.
Barbara Barham told The Washington Post on Monday that daughter Lauren Urey, 32, and husband Matthew Urey, 36, were on their honeymoon. Barham said the couple from Richmond, Virginia, had plans to visit a live volcano and weren't concerned about possible eruptions.
Barham said she got a call sometime later from Royal Caribbean asking if she'd heard from her daughter. Then Matthew Urey's mother called and relayed a distressing voicemail from her son. Matthew Urey's message said "there had been a volcano eruption and they were burned very bad," Barham said.
"He said he would try to call as soon as he could, but talking and making phone calls was difficult," Barham continued. "His hands were so badly burned it was hard for him to make a phone call."
Tourists had been exploring the moon-like surface of White Island, which is the tip of an undersea volcano. It erupted Monday with a towering blast of ash and scalding steam. At least five people were killed. Eighteen others were rescued. Eight others were missing and feared dead.
According to Barham, Matthew Urey said in his message that he and Lauren were taken to a hospital. The families have heard nothing since then.
"Obviously, I'm panicking," Barham told the newspaper. "I don't know how to act. I feel like I should be crying, but I can't even cry."
Barham said she was "livid" over the fact that people were allowed to visit to the volcano.
CHARLOTTE, N.C. (AP) — Trevor Lawrence believes No. 3 Clemson is better than it was a year ago. He and the Tigers will get the chance to prove it in the College Football Playoffs.
Lawrence threw four touchdown passes, three to Tee Higgins, and the defending national champions dismantled No. 22 Virginia 62-17 for its fifth consecutive Atlantic Coast Conference title Saturday night. The Tigers (13-0, No. 3 CFP) won their 28th straight game and become the first program with that many wins in a row in a league title game.
Lawrence said Clemson came out with a fire to finish league play strong.
"I'm proud of the way we handled it. We came out with a fire. And while Lawrence acknowledged the difficulty of comparing last year's group to this one, "the way we're playing, I think we are better," he said.
Maybe good enough to be No. 1?
"I think so. But, hopefully, in a couple of weeks we'll get a chance to prove it," he said.
It would be hard to bet against the Tigers, who easily put away the Cavaliers (9-4, No. 23 CFP) with their dazzling set of playmakers.
Lawrence and Higgins, the game's MVP, headed that list against the Cavaliers.
"We just want to have an opportunity to compete for the whole thing," Clemson coach Dabo Swinney said. "I think we've done enough to get somewhere in that top four, wherever they put us."
Virginia showed off a game plan that caused the Tigers a few early headaches. But Clemson's talent quickly took control on the way to an ACC championship game record for points and yards (619).
"In championship games, you've got to expect some adversity," Clemson linebacker Isaiah Simmons said. And we always say that when adversity hits, you've got to be stronger and stronger."
Lawrence set an ACC title-game record with his four touchdown throws and had 302 yards passing, his second best total this season, and completed 16 of 22 passes before coming out in the third quarter.
Higgins finished with 182 yards receiving yards and the three TDs, both bests in ACC Championship game play.
Travis Etienne had 114 yards, his eighth game over 100 yards this season.
Virginia and Perkins appeared to have a game plan to compete with the Tigers, even without leading receiver Joe Reed out due to injury.
Perkins threw a 20-yard scoring pass to Hasise Dubois to tie it 7, just the second TD pass allowed by Clemson in its past seven games.
Virginia's defense sacked Lawrence twice in the opening half (Clemson had allowed only 11 sacks in the regular season) and Perkins accounted for 177 yards the first 30 minutes — nearly as many as the 194 yards the Tigers allowed in a 38-3 win last week over South Carolina.
But it was impossible to contain Clemson's offense.
"We didn't make enough plays, we couldn't make enough plays," Virginia coach Bronco Mendenhall said.
Higgins had scoring catches of 19 and 7 yards, Justyn Ross went 59-yards for another touchdown (the second longest in ACC Championship game history) and Etienne broke free for a 26-yard touchdown run as Clemson opened a 31-7 lead by halftime.
Perkins, the ACC's leader in total offense, had 324 of the Cavaliers' 387 yards, which were a season high allowed by Clemson's defense this season.
The Cavaliers played without leading receiver and the ACC's top kick returner in Joe Reed due to injury.
Perkins believed the loss showed Virginia how to move up in the ACC. The gap with Clemson is "big, but we have the opportunity in the coming years to close it," he said.
THE TAKEAWAY
Virginia: The Cavaliers showed creativity and ability in devising and executing a game plan designed to make Clemson sweat. But the gap between Virginia and the Tigers — as it is for most everyone else in the ACC — was too wide to overcome without perfection on nearly every snap.
Clemson: The Tigers showed once more they had no equals this season in the ACC. The challenge now grows more difficult with Clemson likely facing off against LSU or Ohio State in the national semifinals.
CLEMSON'S FOCUS
Tigers receiver Justyn Ross said the team was fully ready to play because each championship game is a different experience — and another chance to achieve. "It means everything to be part of this legacy," he said.
Clemson has won six ACC championships in the past nine season. It has a 63-2 record against league opponents since the start of the 2015 season.
It means everything to be a part of this legacy.
"Just seeing the look in everybody's eyes, there's an excitement about being in this game. It's always going to be different because there's always a different challenge.
PERKINS' GAME
Virginia quarterback Bryce Perkins had his moments against Clemson. He threw two touchdown passes, something the Tigers' No. 1 pass defense had allowed just once in a 21-20 victory over North Carolina in September. Perkins also set the Cavaliers' single-season record with 3,215 yards.
UP NEXT
Virginia awaits its bowl assignment, most likely the Orange Bowl.
Clemson will head to the College Football Playoff with its matchup announced Sunday.
___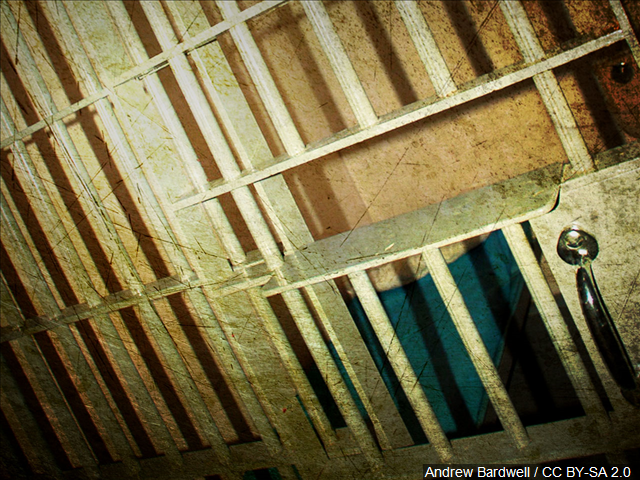 DILLWYN, Va. (AP) — Virginia Gov. Ralph Northam said Friday that he's suspended a policy that allowed prison officials to strip search an 8-year-old girl who was visiting her father.
"I am deeply disturbed by these reports — not just as governor but as a pediatrician and a dad," Northam told The Virginian-Pilot newspaper in a statement.
"I've directed the Secretary of Public Safety and Homeland Security to suspend this policy while the department conducts an immediate investigation and review of their procedures," Northam said.
The Virginian-Pilot previously reported that prison officials had breached protocol when they strip-searched the girl before allowing her to visit her father. The father's girlfriend accompanied the child to Buckingham Correctional Center in Dillwyn just before Thanksgiving,
Diamond Peerman says she and the girl were circled by a Virginia Department of Corrections dog trained to sniff out contraband. Peerman was singled out by the dog and told by prison officials that both she and the girl had to be searched. Peerman says both she and the girl removed all their clothes and were searched, and that they were then allowed a visit, but only through glass.
DOC policy states that a legal parent or guardian must consent to a minor being searched. Peerman, the father's girlfriend, says she told guards that she wasn't the 8-year-old's legal guardian and that they told her she had to sign the consent form anyway.
The staff member who approved the search didn't have that authority, according to DOC Director of Communications Lisa Kinney. She said immediate disciplinary action against the person responsible will be taken.
The girl's mother told the newspaper that her daughter already suffered from bipolar disorder, depression and attention deficit hyperactivity disorder.
"She's a minor, she's a girl. She was traumatized," the girl's mother said. "She gets emotional, she will break down."
The girl's mother says the 8-year-old misses her dad but won't be visiting him anymore because of the incident.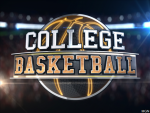 BLACKSBURG, Va. (AP) — Tre Jones was pleased that when No. 10 Duke fell behind early at Virginia Tech, the Blue Devils showed composure and gradually worked their way back.
Coach Mike Krzyzewski was glad he had Jones to lead the way.
"They follow his lead," Krzyzewski said after Jones scored 10 of his 15 points in the second half as Duke rallied to beat the Hokies 77-63 Friday night.
On a team with many prominent freshman, the sophomore point guard said seeing his teammates respond in the right way was "huge for us tonight just like on Tuesday" when the Blue Devils won 87-75 at Michigan State. "Another big road game. A big crowd. In past years we've struggled here."
Freshmen Vernon Carey Jr. and Wendell Moore Jr. added 12 points each for the Blue Devils (9-1, 1-0 Atlantic Coast Conference), who had lost three in a row in Cassell Coliseum. They used runs of 12-2 just after halftime and 12-3 a short time later to take command after trailing for almost the entire first half.
"We played an outstanding 18 minutes in the second half," Krzyzewski said, "although I'll say this: We played an outstanding 12 minutes in the first half to stay in the game."
P.J. Horne scored 15 points to lead the Hokies (6-3, 1-1), who lost their third in a row and ended their three-game home winning streak against the Blue Devils. Wabisa Bede and Tyrece Radford added 12 points each.
The Hokies made 10 of their first 14 shots and led by 12 early, but Duke slowly climbed back. The early 12-2 run in the second half gave them their first lead, 50-47, since the opening minute. After Virginia Tech pulled even at 52 on Horne's 3-pointer with 11:10 remaining, the Blue Devils scored 12 of the next 15 points and gradually pulled away.
Jones had four in that latter burst, which ended with the Blue Devils ahead 62-55.
"Tre Jones is so disruptive. He's made great progress with his game offensively but he is a mean dude defensively," Hokies first-year coach Mike Young said.
BIG PICTURE
Duke: The Blue Devils came in averaging seven 3-pointers and had three by the time Carey scored his first point (9:24 into the game) and six by halftime. Virginia Tech had 10 field goals before the game was 10 minutes old, and it took Duke 15 minutes to make 10 shots. Five of them were 3s, though, to keep the score close.
Virginia Tech: Landers Nolley II is the Hokies' leading scorer (20 ppg) and is second on the team in assists. He had three first-half assists, each time feeding a teammate for an easy lay-in when the defense came toward him. But Nolley had an otherwise pedestrian night, finishing with seven points, eight rebounds, four assists and nine of their 14 turnovers. He also was called for a flagrant foul with the Hokies trailing 66-57 with 4:34 to play.
"I think they got up under his chin, and I didn't think he handled it very well," Young said.
STREAK ENDS
Carey arrived on a streak of seven double-doubles but played just 15 minutes and grabbed only five rebounds as Duke went with a smaller lineup.
UP NEXT
The Blue Devils don't play again until Dec. 19 at home against Wofford.
The Hokies are at home against next Wednesday against Chattanooga.
___
ALEXANDRIA, Va. (AP) — Virginia Lt. Gov. Justin Fairfax says he's done everything he can to clear his name after two women accused him of sexual assault: he's requested police investigations, taken a lie-detector test and begged the media to report on evidence he says exonerates him.
On Friday, he tried another approach as he went to federal court in Alexandria to pursue a libel lawsuit against CBS Corp. for airing interviews of the two women who accused him in a way that he says insinuated his guilt.
CBS' lawyers on Friday asked the judge to toss out the lawsuit — they say they reported the accusations fairly and allowed Fairfax to respond with written statements after he declined a live interview. They also argue that Fairfax can't meet the high legal standard for proving libel against a public figure, and that his real goal in filing the lawsuit is to give him a forum to attack his accusers.
U.S. District Judge Anthony Trenga heard arguments but made no ruling, promising to issue a decision on the motion to dismiss "shortly." If he allows the suit to go forward, Fairfax's lawyers can begin taking depositions of people connected to the case who they say will further prove his innocence.
After Friday's hearing, Fairfax said in a lengthy interview that the evidence already exists to prove he was wrongfully accused. While he's particularly angered by CBS News' reporting, he said media outlets across the board have been afraid to acknowledge they engaged in a rush to judgment when two women came forward with accusations earlier this year at a time when Fairfax was poised to rise to the governor's post as Democratic Gov. Ralph Northam faced intense calls to resign over a blackface photo that appeared in Northam's medical school yearbook.
In particular, he says he has offered compelling evidence to prove that his second accuser, Meredith Watson, lied when she claimed Fairfax raped her in 2001 when both attended Duke University.
"It's so obvious to people who are paying attention. … The inconvenient truth is Meredith Watson fabricated her story," said Fairfax, who was not required to attend Friday's hearing but did so voluntarily.
He points to a variety of evidence, but the most compelling piece, he says, came in July when he told law enforcement that there was an eyewitness to the sexual encounter he had with Watson who can verify it was consensual. Fairfax has declined to say publicly who that individual is, and he did not disclose the existence of an eyewitness until several months after CBS aired its interviews with Watson and the other accuser, Vanessa Tyson.
But Fairfax says CBS has known about the eyewitness since at least July and refused to update its reporting. Moreover, he says Watson and her attorney have refused to comment on whose dorm room the alleged assault occurred in and whether there was indeed an eyewitness.
"Because the media won't ask these questions, we have to file this federal civil lawsuit" to get to the truth, Fairfax said.
A spokesman for Watson and her attorney, Nancy E. Smith, declined to comment on whether Watson can confirm the existence of an eyewitness, referring instead to an earlier statement from Smith in which she said, "We look forward to everyone testifying under oath, now that this matter is in court."
Fairfax said there is also evidence that Tyson lied about her accusation that Fairfax assaulted her during the 2004 Democratic National Convention in Boston. Fairfax says Tyson claims to have first met him on a day when Fairfax wasn't even in Boston. He also questioned why Tyson didn't feel empowered to tell people she was assaulted at the time, given that she volunteered for a rape crisis center.
Lee Levine, the lawyer for CBS, defended the network's reporting.
"All CBS was doing was providing both sides of the story, and letting viewers make their own decision," he said.
Fairfax's lawyer, Sara Kropf, said the broadcasts went beyond neutral reporting, and included sympathetic comments from newscasters after the interviews aired, including one who commented, "It feels like she was forced."
The allegations against Fairfax, a Democrat, came in February when Democratic Gov. Ralph Northam faced calls to resign after the blackface photo emerged on his yearbook page. But the allegations against Fairfax blunted the momentum for Northam's resignation. Both Northam and Fairfax have remained in office, as has Democratic Attorney General Mark Herring, who admitted around the same time that he had worn blackface in college.