AP
RICHMOND, Va. (AP) _ Actor Alec Baldwin, known for his biting impersonations of President Donald Trump on "Saturday Night Live," is coming to Virginia to help Democratic legislative candidates.The progressive advocacy group People for the American Way said that Baldwin plans to knock on doors, make calls and deliver pizza to volunteers in three stops around Virginia next week.Baldwin is a board member of the group and has been an outspoken critic of Trump. Virginia is one of only four states holding legislative elections this year and the only one where partisan control of the legislature is up for grabs. The election is widely viewed as a good barometer of public sentiment ahead of the 2020 presidential cycle.National special interest groups have been investing heavily in the state.
RICHMOND, Va. (AP) — Officials in Virginia say the state has met its deadline to mail taxpayers a special refund check. The Richmond Times-Dispatch reports the Virginia Department of the Treasury mailed the last of nearly 2.7 million refund checks Friday. Eligible taxpayers will receive $110 if they filed individually and $220 if they filed jointly.
A change in federal tax law led to a windfall in state taxes, leading state lawmakers to approve the refunds.
The deadline for the checks to be mailed was Tuesday.
Secretary of Finance Aubrey Layne says some checks may not arrive immediately because no mail was delivered Monday due to a federal holiday. He recommends that taxpayers contact the state Department of Taxation if they haven't received their checks by the end of the week.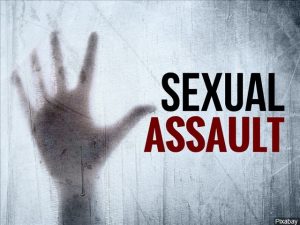 RICHMOND, Va. (AP) — A new study says sex assault victims in Virginia must sometimes travel for hours because of a shortage of qualified nurses and hospitals that provide sexual assault examinations. The study's author, Stephen Weiss, says that finding helps explain why less than half of such victims report attacks.
The Richmond Times-Dispatch reports the study was conducted at the direction of the Virginia General Assembly Joint Commission on Health Care. It was presented to the commission last month, and the author is scheduled to brief the Virginia State Crime Commission on Tuesday.
The report found that of the nearly 100,000 registered nurses in Virginia, fewer than 200 are credentialed forensic nurses. It also found that out of 122 licensed hospitals, 16 provide the sexual assault forensic examinations necessary to collect crucial evidence.
WAYNESBORO, Va. (AP) — A Virginia man accused by authorities of sexually assaulting a teenage boy has entered a plea agreement.WVIR-TV reports 24-year-old Michael Wayne Dill pleaded guilty Friday in Waynesboro to one count of forcible sodomy. The deal calls for Dill to spend a decade in prison.Prosecutors say the teen's family is pleased with the agreement because it will keep the 15-year-old victim from testifying.The Staunton News Leader earlier reported Dill was arrested in January after the teen and his mother spoke with police. The Waynesboro Police Department accused the Raphine resident of raping the teen Jan. 5.The TV station reports prosecutors said Dill gave the teen alcohol and marijuana before the attack.Records show Dill is at the Middle River Regional Jail. They do not list an attorney.
VIRGINIA BEACH, Va. (AP) — A Virginia man who police say fatally shot his wife's lover has pleaded guilty to voluntary manslaughter.News outlets report 54-year-old Dusan Naumovic entered the plea Wednesday in Virginia Beach for the March death of 37-year-old Vinicius Carneiro.Court documents state Naumovic walked in on his wife having an affair with the man and shot him in the leg. Carneiro pleaded for him not to shoot again but Naumovic fired 11 more rounds, five of which hit Carneiro in the chest.Naumovic had previously testified that he knew his wife was having affairs with at least four men. He says he contacted the men and told them to stay away from her.Naumovic also pleaded guilty to illegal use of a gun. His sentencing is scheduled for February.
ALEXANDRIA, Va. (AP) — A federal judge has refused to dismiss a legal challenge by a group objecting to a requirement that race be listed on Virginia marriage license applications.A lawsuit filed last month against the state registrar and two Virginia court clerks challenges the state requirement to list race.In a decision issued late Friday, U.S. District Court Judge Rossie D. Alston Jr. rejected a motion to dismiss the challenge. He wrote that the requirement is unconstitutional because it denies the plaintiffs their constitutional right to due process.Alston's ruling also prevents the state from enforcing the requirement, saying it burdens the individuals' right to marry.State Attorney General Mark Herring wrote in mid-September that circuit court clerks, by law, must ask people seeking a marriage license their race, but he said couples can decline to answer the question.
CHESTERFIELD, Va. (AP) — A Virginia man has been sentenced to eight months in prison for causing a fatal crash while texting and driving.News outlets report 58-year-old Samuel Allebaugh pleaded guilty Thursday to involuntary manslaughter as part of a deal that sentenced him to nine years in prison, with all but eight months suspended.
Prosecutors say Allebaugh was driving a dump truck in February while texting his girlfriend about what to get her for Valentine's Day. They say he veered off road and overcorrected, sending his truck directly into Karen E. Giles' Honda Accord. The 56-year-old Giles, a volunteer rescue squad member, was killed almost instantly.
Upon Allebaugh's release from prison, the plea deal requires him to perform 125 hours community service for organizations that teach about the dangers of distracted driving.
RICHMOND, Va. (AP) –  Gov.  Northam says he has restored voting and other civil rights to more than 22,000 felons who have completed their sentences since taking office last year.Northam announced the milestone Wednesday. The restored rights include the right to vote, serve on a jury and run for public office.The Democratic governor previously announced in February that he'd restored rights to more than 10,000 felons.His predecessor, former Gov. Terry McAuliffe, made undoing a vestige of the state's Jim Crow era and restoring voting a hallmark of his term in office and restored the rights of more than 170,000 felons.Virginia is one of a handful of states that permanently limit the civil rights of people convicted of a felony barring gubernatorial intervention.
BLACKSBURG, Va. (AP) – A review into a panel's safety recommendations after the Virginia Tech mass shooting shows the state has implemented a majority of the proposals. The Roanoke Times reports Virginia Gov. Ralph Northam launched a review into the proposal adoptions after a special legislative session on gun violence was shut down by Republicans. The review found that 74 of the proposals have been fully or partially implemented. The review says three recommendations weren't implemented, including universal background checks, which Northam intended to push during the special session in light of the Virginia Beach shooting that left 12 people and the shooter dead. The Virginia Tech Panel was setup by then-Gov. Tim Kaine three days after a shooter killed 32 students and himself. The panel mostly focused on mental health and not gun control.
RICHMOND, Va. (AP) – A political action committee says they plan to donate an additional $1.5 million to help flip the Virginia General Assembly and increase the number of female Democrats in the House and Senate races who support abortion rights.Emily's List announced the contribution Monday. The Washington Post reports the donation, coupled with a $600,000 contribution Emily's List jointly made with Priorities USA, is the largest investment the PAC has ever made in an individual state's legislative elections.President Stephanie Schriock says legislative races are underfunded and endorsing 39 women in the race is vital as Virginia hits a possible turning point.The paper says Virginia is the only state where control in the assembly can be flipped in upcoming elections. Virginia Republicans lead the House 51-to-48 and the Senate 20-to-19.