AP
Lynchburg City officials are threatening to turn off water for more than 1,000 households as soon as September that are behind on their water bills. The News & Advance reported yesterday that the city paused water-service cutoffs in March because of the coronavirus pandemic. Officials wanted to make sure people could wash their hands to fight the virus's spread. Customers collectively owe about 200 hundred thousand to the city. Mayor MaryJane Dolan said she's not comfortable with shutoffs, but added she doesn't know what alternative there is.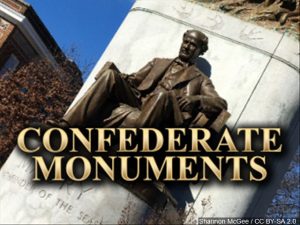 VIRGINIA BEACH, Va. (AP) — The city of Virginia Beach removed a 115-year-old Confederate monument from public grounds on Saturday, less than two days after the City Council voted unanimously to do so.
Workers took down the 27-foot (8.2-meter) tall monument on Saturday morning, media outlets reported. It was installed in 1905 and stood outside the old Princess Anne County courthouse, in the same place that slave auctions were once held.
The council voted unanimously Thursday night to begin the removal process. The council had listened to dozens of speakers and decided the monument is viewed by many as divisive and a painful reminder of the past.
The statue recently had been completely covered, with a locked gate around it following recent protests and vandalism at other Confederate monuments.
The monument will be stored for now. The city now must wait for any offers from historical groups or other entities that might want to take the monument.
RICHMOND, Va. (AP) — A city dump truck was set on fire as protesters faced off with police in Virginia's capital during a demonstration in support of protesters on the other side of the country in Portland, Oregon.
Virginia State Police and Richmond police worked to clear the crowd of a several hundred demonstrators late Saturday. City police declared an "unlawful assembly" around 11 p.m., and what appeared to be tear gas was deployed to disperse the group.
Protesters had been planning for days the demonstration that was called "Richmond Stands with Portland," news outlets reported, in an apparent reaction to ongoing tensions between protesters and U.S. agents at the federal courthouse in Oregon's largest city.
Weeks of nationwide unrest have struck several U.S. cities since the death of George Floyd in Minneapolis on May 25.
Saturday's protest in Richmond started at a park and then demonstrators marched to police headquarters, according to news outlets.
Police tweeted a photo of rocks, batteries and other items the department said were thrown at its officers during the protest. A video also showed an officer extinguishing a mattress on fire in the middle of a road.
Glass windows were also shattered at a Chipotle restaurant and a Virginia Commonwealth University dorm, the Richmond Times-Dispatch reported.
RICHMOND, Va. (AP) — Virginia has removed from its iconic state capitol the busts and a statue honoring Confederate generals and officials. That includes a bronze statue of Gen. Robert E. Lee positioned in the same spot where he stood to assume command of the state's armed forces in the Civil War nearly 160 years ago.
They are the latest Confederate symbols to be removed or retired in the weeks since the death of George Floyd at the hands of Minneapolis police sparked a nationwide protest movement.
Virginia House Speaker Eileen Filler-Corn, a Democrat, quietly ordered the Lee statue and busts of generals J.E.B. Stuart, Stonewall Jackson, Confederate President Jefferson Davis, and others removed from the historic Old House Chamber. A moving crew worked through the night Thursday — carefully removing the monuments and their plaques and loading them into a truck and taking them to an undisclosed location.
"Virginia has a story to tell that extends far beyond glorifying the Confederacy and its participants," Filler-Corn said in a statement. "Now is the time to provide context to our Capitol to truly tell the commonwealth's whole history."
Designed by Thomas Jefferson, the Virginia State Capitol is the first state capitol to open after the American Revolution and was used as the Confederacy's Capitol during much of the Civil War.
Filler-Corn's move to remove the Confederate generals comes a few weeks after Virginia Gov. Ralph Northam ordered the removal of a different Lee monument — a 21-foot (6-meter) bronze equestrian sculpture on Richmond's historic Monument Avenue.
A lawsuit has delayed that statue's removal, but other Confederate monuments on the street — once one of the most prominent collection of tributes to the Confederacy in the nation — have already come down. And earlier this week, the U.S. House approved a bill to remove statues of Gen. Robert E. Lee and other Confederate leaders from the U.S. Capitol. The bill's prospects in the Senate are uncertain.
In Virginia, the Old House Chamber was where lawmakers first met when the Capitol opened in 1788 and was used as the House's meeting place for more than 100 years before the Capitol building was expanded. It is not currently used for official purposes when the legislature meets.
Virginia delegates voted in the chamber to secede from the Union in April 1861. A few days later, Lee entered the room to take formal command of the state's military.
"Trusting in almighty God, an approving conscience, and the aid of my fellow citizens, I devote myself to the service of my native state, in whose behalf alone will I ever again draw my sword," Lee said, according to an inscription on the statue.
Seven years later, after the South lost the war, it was the same room where a new constitutional convention met that included Black delegates for the first time.
Like many Confederate monuments, most of those recently removed from Virginia's Capitol were erected decades after the Civil War. They were commissioned and built during the Jim Crow era, when states imposed new segregation laws, and during the "Lost Cause" movement, when historians and others tried to depict the South's rebellion as a fight to defend states' rights, not slavery.
The Lee statue was approved in 1928 with the help of then-Gov. Harry Byrd, who would later go on to lead the state's Massive Resistance to racially integrated schools. It's $25,000 price tag (about $370,000 currently) was paid for by the state, donations and an in-kind donation from the sculptor.
Busts of Davis and Alexander Stephens, the vice president of the Confederacy, were donated to Virginia in the 1950s by Mississippi and Georgia.
Filler-Corn also announced she's appointed Del. Delores McQuinn to lead a new advisory group to advise the speaker on "possible future actions" of other historical artifacts controlled by the House.
Virginia Legislative Black Caucus Chairman Del. Lamont Bagby hailed the monuments' removal, saying "visitors from around the world have been greeted by these imposing symbols of treason and white supremacy for far too long."
Republican House Minority Leader Todd Gilbert noted the Lee statue was a "historical marker" and mocked Filler-Corn's commitment to telling the state's history.
"Another historical reality is that the Capitol building itself served as the Confederate Capitol, a fact that should no doubt force the Speaker's new Advisory Group to recommend that it be razed to the ground," Gilbert said in a statement.
The Confederate monuments are not the only tributes to losing causes in and around the Capitol, a building built with slave labor where almost every portrait hanging on the walls is of a white man.
A large statue of Byrd, the arch segregationist, sits on Capitol Square and two portraits hang prominently in the Capitol.
In the House chamber, directly behind where House speakers preside, is a plaque honoring Nathaniel Bacon. He was wealthy colonist who led a failed rebellion in the 1670s whose aims including the unfettered killing of Indians and the seizing of their lands.
An attorney in Virginia has filed a complaint against a judge who had halted the removal of Confederate statues from Richmond's Monument Avenue. The Richmond Times-Dispatch reported Friday that the complaint criticizes the judge for presiding over the statue cases despite living near the monuments. It also cites a college editorial the judge wrote in 1977 that criticized a voter registration plan and said it would "allow the parasites of this nation to become the dominating force in politics." Attorney David Baugh filed his complaint with Virginia's Judicial Inquiry and Review Commission. Richmond Circuit Court Judge Bradley B. Cavedo has recused himself from the cases. He's also defended his record as a judge.
The State Fair of Virginia has been cancelled this year because of the coronavirus pandemic. The Richmond Times-Dispatch reported Thursday that the fair's organizers were unable to find a way to pull it off safely. Pam Wiley, director of communications for the Virginia Farm Bureau, said staff spent months trying to figure out ways to make the fair work within state health guidelines. Wiley said the last time the fair was cancelled was during World War II. Before that it was during the Spanish Flu pandemic in 1918. More than 245,000 people attended the fair last year.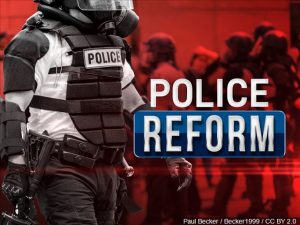 RICHMOND, Va. (AP) — Virginia Democrats say they are looking to make transformational change to the state's criminal justice system — just a few months after taking a far less ambitious approach.
The killing of George Floyd and widespread protests over police violence have prompted lawmakers and their allies to promise sweeping changes to a criminal justice system many advocates have long said doles out disparate treatment to minorities.
"I think we're all tired of the incremental change that has failed us and failed our community members for so long," Portsmouth Commonwealth's Attorney Stephanie Morales said on a conference call recently organized by Senate Democrats. "We want to do as much as possible as quickly as possible."
It's a far cry from earlier this year, when criminal justice reform supporters were disappointed when many of their proposals were put off for a year or sent to a commission for study.
Democrats controlled the Virginia's state legislature for the first time in a generation and passed landmark legislation hailed by many of their allies, including environmentalists, women's rights groups, and gun-control supporters.
But after Floyd's killing sparked nationwide protests — including in Virginia where several Confederate monuments have been taken down — lawmakers pledged to make criminal justice a key part of a special session scheduled in August. The session was initially set just to focus on state budget shortfalls due to the coronavirus pandemic.
Lawmakers recently began to hold hearings on criminal justice proposals that have been suggested by the Virginia Legislative Black Caucus, the Democratic Senate Caucus and a group of liberal-leaning county prosecutors.
Those proposals include banning choke holds, giving prosecutors unrestricted access to all reports and disciplinary records of police officers and downgrading the charge of assault on a police officer from a felony to a misdemeanor in cases where the officer is not injured. Those who want to change the law say the assault charge can be misused and overused by police, sometimes when they fear they will be accused of using excessive force. The current law carries a mandatory minimum sentence of six months behind bars.
"I'm really concerned about some of these really important issues being rushed through without due process," Jones said.
Other proposals Democrats and their allies support include requiring that most warrants are served during the daytime, and that a judge, not a magistrate, approve any no-knock or nighttime warrants, proposals that are aimed at preventing cases similar to Breonna Taylor, who was fatally shot by police conducting a no-knock warrant at her home in Kentucky earlier this year.
State Sen. Scott Surovell said some lawmakers "wanted to go a little slower and take a little harder look at things" earlier this year, but he's hopeful the events of the last few months have brought the need for immediate reform into focus.
"The pace was really more of an issue than the policy," Surovell said.
House Del. Patrick Hope, who is helping lead House committee hearings on criminal justice reform, said Floyd's death convinced him and other lawmakers that "decisive" action is needed.
"The sense of urgency is growing, and we cannot ignore these issues any longer," Hope said Wednesday at a virtual committee hearing.
The American Civil Liberties Union of Virginia is focusing on increasing police accountability, in part by establishing a set of professional standards of conduct for officers that, if violated, could result in the loss of their police certification.
Currently, police officers in Virginia can only lose their certification if they fail to complete mandatory training or are convicted of a felony or certain misdemeanors. Under the proposal, they could face the loss of their certification for misconduct, including the excessive use of force.
"Law enforcement should be treated as a profession," said Claire Gastanaga, executive director of the ACLU of Virginia. "And police — if they want to be treated like professionals — need to understand they can lose their license for misconduct."
Despite the new urgency in the need for reform, lawmakers are also trying to temper expectations that all meaningful reforms will pass this special session. They said given the state's long history of racism and inequity, the work will take some time.
"This was the capital of the Confederacy, these are not problems that materialized overnight and they will not be fixed overnight," said Sen. Mamie Locke. "We have our work cut out for us."
RICHMOND, Va. (AP) — Virginia Republicans have picked state Del. Nick Freitas as their candidate to face off against U.S. Rep. Abigail Spanberger this fall in one of the country's marquee congressional races.
News outlets report Freitas won a convention Saturday to be the GOP nominee for a Richmond-area congressional district.
Freitas, defeated state Del. John McGuire and several other candidates in a hard-fought convention that took several hours and three rounds of voting before a winner was declared.
Freitas is a libertarian-leaning former Green Beret who is backed by U.S. Sen. Rand Paul. He unsuccessfully sought the GOP nomination for the U.S. Senate in 2018 and had to mount a pricey write-in campaign to keep his state House seat last year after failing to get his campaign paperwork in on time to ensure his name was on the ballot.
He failed to get his paperwork in on time again this year for the congressional race, but a state elections board recently voted 2-1 to give him an extension.
Spanberger is a former CIA officer who is one of several freshmen moderate Democrats who flipped districts won by President Donald Trump, powered in large part by suburban voters unhappy with the president.
She defeated former U.S. Rep. Dave Brat two years ago. Brat, a tea party favorite, won a stunning primary victory over House Majority Leader Eric Cantor in 2014.
Governor Ralph Northam has called for a special legislative session next month to focus on the state budget in the wake of the coronavirus pandemic as well as criminal and social justice reform. The Richmond Times-Dispatch reported that Northam's office made the announcement Friday. Lawmakers will be due back in Richmond on Aug. 18. The Democratic governor said in a statement that he and lawmakers have a unique opportunity to invest in the state's economic recovery and "make progress" on policing and criminal justice reform.
LYNCHBURG, Va. (AP) – Liberty University has filed a lawsuit against The New York Times and one of its reporters, saying the newspaper intentionally misrepresented the impact of the COVID-19 pandemic on the Virginia college campus. The complaint filed Wednesday said the Times, reporter Elizabeth Williamson and a photographer said the school suffered a COVID-19 outbreak when it reopened after spring break and that nearly a dozen students were sick with the virus. The school said the facts were just the opposite because they were told there were no known cases of COVID-19 at Liberty. A spokeswoman for the Times didn't immediately respond to a request for comment Wednesday afternoon.