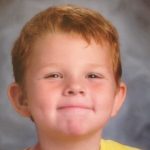 PULASKI, Va. (AP) — A wrongful death lawsuit filed in connection with the drowning of a 5-year-old Virginia boy in a septic tank has been settled with a $200,000 insurance payment to his parents and sister. The Roanoke Times reports the order entered Wednesday in Pulaski County Circuit Court resolves the last legal case connected to the boy's March 2015 death. Gary and Sharon Meadows owned the property where Noah died and were the remaining defendants in the wrongful death lawsuit. The order ending the case said that the couple admitted no liability for the boy's death.
Noah disappeared from his family's rented mobile home while his mother napped. He was found in a septic tank after a four-day search. Noah's parents, Ashley White and Paul Thomas, were convicted of child abuse and neglect.
RICHMOND, Va. (AP) – The Hershey Company has picked Virginia for a major expansion of its manufacturing operation.Gov. Ralph Northam announced Thursday that the candy maker plans a $104 million expansion at its facility in Augusta County. The expanded facility will manufacture a type of fudge and peanut cream.The new project is expected to create 65 new jobs. Northam approved a $1 million in state grants for the project.Hershey brands include Reese's, Kit Kat and Jolly Rancher.
NORFOLK, Va. (AP) – A special prosecutor in Virginia says he's presented two indictments of election fraud against a person who worked on a Republican congressman's doomed re-election campaign.Special prosecutor Donald Caldwell announced the indictment in a statement Monday. He did not identify the staffer who worked on Scott Taylor's campaign in Virginia's coastal 2nd Congressional District.A ballot-fraud scandal clouded much of Taylor's campaign last summer. Staffers were accused of forging voter signatures to place a third-party "spoiler candidate" on November's ballot.A judge ultimately removed the candidate, Shaun Brown, from the race. The judge also said there was evidence of fraud by Taylor's campaign staffers. Democrat Elaine Luria ultimately won the election.Caldwell said the investigation into election fraud is ongoing. He said some people have not cooperated with his investigation.
LEXINGTON, Va. (AP) – Virginia Military Institute isn't raising student tuition thanks to increased state funding to the country's oldest state-supported military college.The Lexington institution's Board of Visitors decided Saturday to keep annual tuition for Virginia residents at nearly $9,300, and for non-Virginia cadets at about $36,000.But fees will increase by $540 for room and board, auxiliary services, and quartermaster charges. Cadets are required to live in the VMI barracks throughout their studies, making room and board a required fee.The higher fees will generate an additional $1.6 million, added to an extra $1.9 million in state funding. VMI's budget for the fiscal year beginning in July is $96 million.
RICHMOND, Va. (AP) – Virginia Gov. Ralph Northam says he will no longer sign any legislation that imposes new mandatory minimum sentence requirements. Northam said in a news release Wednesday and in an opinion piece in the Washington Post that Virginia has "more than enough" mandatory minimum sentences in law already. He said judges need more discretion to decide punishments on a case-by-case basis. The Democratic governor said he adopted this new policy after talking to community leaders about how to make Virginia more equitable for communities of color. Northam almost resigned earlier this year over a blackface scandal. Northam also announced he was vetoing two recently passed pieces of legislation that imposed new mandatory minimums, including one related to repeat domestic abusers. Republican House Majority Leader called Northam's veto of that bill "unconscionable."
RICHMOND, Va. (AP) – A legal fight between former Virginia Gov. Douglas Wilder and a former dean at Virginia Commonwealth University is over.The Richmond Times-Dispatch reports that John Accordino dropped a lawsuit against Wilder on Tuesday. The former dean at VCU's school of government and public affairs, which is named after Wilder, had accused the former governor of defamation.Wilder initially filed a lawsuit last year, alleging that Accordino to had mistreated Wilder's personal assistant. Accordino responded with a countersuit. Wilder dropped his lawsuit several months later.Accordino said in a statement Tuesday that Wilder's lawsuit was "frivolous" but that he had no wish to prolong legal proceedings. He is scheduled to return to teaching at VCU later this year after being on paid leave.
CHARLOTTESVILLE, Va. (AP) – A Virginia judge has ruled that Charlottesville's Confederate statues are war monuments protected by state law. Judge Richard Moore's ruling came in a lawsuit filed against Charlottesville City Council members who voted in 2017 to remove a statue of Gen. Robert E. Lee. Moore cited how statues of Lee and Thomas "Stonewall" Jackson depict the men in military uniforms and on horses associated with them during the Civil War. Virginia law makes it illegal for local municipalities to remove war monuments. Moore said his ruling doesn't guarantee that the plaintiffs will win if the lawsuit goes to trial. His ruling was only on the issue of whether the statues  are considered war memorials.
RICHMOND, Va. (AP) – Virginia Gov. Ralph Northam has vetoed legislation aimed at overhauling the state's election board.The Democratic governor said Monday he opposed legislation that would have added new members to the board and limited the governor's ability to pick a commissioner of elections. Northam said it was imperative that Virginia's electoral system have steady leadership because elections are so frequent in Virginia. He said the proposed legislation could lead to the top election job going unfilled.Parker Slaybaugh, spokesman for Republican House Speaker Kirk Cox, says the governor is trying to maintain partisan control of the elections board with his veto.
RICHMOND, Va. (AP) – A Virginia winery plans to double its yearly production thanks in part to a state grant.Gov. Ralph Northam announced Monday that New Kent Winery plans to buy an extra 120 tons of Virginia grapes during the next three years to increase their output. The winery plans to spend $715,000 and create seven new jobs as part of the expansion.Northam said the winery will receive a $15,000 Agriculture and Forestry Industries Development facility grant, the first such grant he's awarded since taking office. New Kent County will match that grant with local funds.Virginia's wine scene has grown considerably in recent years. There are now about 300 wineries statewide.
FALLS CHURCH, Va. (AP) — Following an uproar over revelations that Virginia's largest university allowed the conservative Charles Koch Foundation to give input in some personnel decisions, the school is tightening its rules governing agreements with donors to ensure they don't infringe on academic freedom.
The changes at George Mason University in Fairfax come after disclosures last year that the Koch Foundation received a say in the hiring and firing of some professors under older donor agreements that provided millions of dollars to the school. University President Angel Cabrera said at the time that the agreements "fall short of the standards of academic independence I expect any gift to meet."
The new rules implement recommendations made in October after a committee reviewed hundreds of agreements and found nearly 30 containing potentially problematic provisions.
The new rules, approved this week by a task force including members of the administration and the faculty senate, will make it easier for the public to review relevant future agreements. Existing agreements, though, may still be shielded from public review.
The Virginia Supreme Court is taking up arguments later this year on whether past donor agreements are subject to disclosure under the state's Freedom of Information Act. The school has argued that those contracts are in possession of the George Mason University foundation, which argues it's a private organization exempt from the law's disclosure requirements.
Last year, the Koch Foundation revised its own policies so that all multi-year agreements with universities will be made available to the public.
Bethany Letiecq, a GMU professor who served on the task force and has been critical of the Koch Foundation's influence in certain departments at the university, said the new rules are not perfect but she believes they represent a good compromise.
"It's been a really long campaign to reach a new level of transparency," Letiecq said, noting that some students and faculty had been raising questions about the university's deal with the Koch Foundation for the better part of a decade. "It's a real win for the public, and students and faculty."
Mason Provost S. David Wu said the new rules should take effect after the Board of Visitors is briefed on the changes next month.
He said the new policies will protect academic independence "in a much more clear, explicit manner" than was previously in place.
Mason has been the biggest beneficiary in recent years as the Koch Foundation has increased philanthropy to universities nationwide. The university's relationship with the Koch Foundation faced increased public scrutiny since 2016, when the law school named itself for late conservative Supreme Court Justice Antonin Scalia in conjunction with a $10 million donation from the Koch Foundation and a corresponding $20 million anonymous donation.
Test