—Dogs in wineries: You could soon be able to bring your dog inside with you on your drinking adventure under legislation that passed both chambers by a wide margin. The bill says dog may be allowed inside breweries, wineries and distilleries as long as they're not in areas used for food production.
SEATTLE (AP) — Recent mass shootings have spurred Congress to try to improve the nation's gun background check system that has failed on numerous occasions to keep weapons out of the hands of dangerous people.
The problem with the legislation, experts say, is that it only works if federal agencies, the military, states, courts and local law enforcement do a better job of sharing information with the background check system — and they have a poor track record in doing so. Some of the nation's most horrific mass shootings have revealed major holes in the database reporting system, including massacres at Virginia Tech in 2007 and at a Texas church last year.
APPOMATTOX, Va. (AP) – Police say a woman who pulled onto a private farm road that runs over train tracks has been hospitalized after a train hit her SUV in Virginia. Virginia State Police spokeswoman Corinne Geller wrote in an email to The Lynchburg News & Advance that 20-year-old Goldie Jones was airlifted with "life-threatening injuries" Thursday morning. University of Virginia Health System spokesman Alex Prevost says she remains in critical condition.
SALEM, Va. (AP) – A statewide safety campaign called "Arrive Alive" is being offered to Virginia schools and youth groups to focus on the increased risk of teen driver crashes during the prom and graduation season.  The campaign will kick off March 19 and run through May 4. During the campaign, students will work in groups to develop programs and social media messages to influence their peers to be safer on Virginia roadways.  Statistics show that more teen drivers in Virginia will be involved in traffic crashes between the months of May and August than any other time of the year. The program is offered by Youth of Virginia Speak Out About Traffic Safety and Virginia State Police. It is funded by a grant from Virginia Department of Motor Vehicles Highway Safety Office.
FAIRFAX, Va. (AP) _ Police in northern Virginia are looking for a teenager they consider armed and dangerous in connection with social media threats directed toward a high school.
The City of Fairfax police said in a statement Saturday that warrants were obtained for 18-year-old Ishmael O'Brien Lionel Harrison for threats to commit serious bodily harm to persons on Fairfax High School property and for possession of child pornography.
City and county police tried to serve the warrants, but couldn't find him. Police say Harrison should be considered armed and dangerous.
RICHMOND, Va. (AP) — Virginia Gov. Ralph Northam told lawmakers Friday that it would be "much better" for their own interests to pass a budget that expanded Medicaid rather than forcing him to do it himself.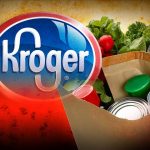 NEW YORK (AP) — Kroger will no longer sell guns to anyone under 21 at the stores it owns, becoming the third major retailer this week to put restrictions in place that are stronger than federal laws. The nation's largest grocery chain sells guns from 44 of its Fred Meyer stores in the West, but said Thursday that it's become clear that gun retail outlets must go beyond what current U.S. laws requires. In a company release, Kroger Co. said, "In response to the tragic events in Parkland and elsewhere, we've taken a hard look at our policies and procedures for firearm sales." The change comes one day after Walmart and Dick's Sporting Goods, both prominent gun sellers, tightened their company policy.Kroger ended sales of assault-style rifles at Fred Meyer several years ago in Oregon, Washington and Idaho. It will extend that ban to Alaska, where customers could get such guns via special order.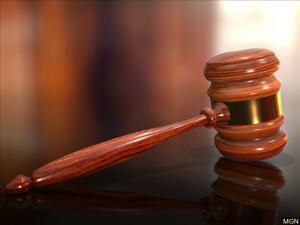 RICHMOND, Va. (AP) _ The Virginia Supreme Court has upheld the conviction of a Franklin County man who was sentenced to six months in jail for hanging a black-faced dummy by a noose in his front yard. Jack Eugene Turner of Rocky Mount was convicted in 2015 of violating a state law that prohibits hanging a noose to intimidate. Turner, who is white, was upset with his black neighbors. In his appeal, Turner's lawyer argued that the law only bars displays of nooses on public land, not on private property. But the state Supreme Court, in a ruling Thursday, found that the noose display was considered to be on a public place because it was clearly visible from a public road.
RICHMOND, Va. (AP) – The Republican-controlled Virginia General Assembly has defeated every bill the city of Charlottesville advocated for in the wake of a white nationalist rally last summer that shocked the nation.The August rally organized in part to protest Charlottesville's decision to remove a Confederate monument descended into chaos, and the day ended with three people dead. In the aftermath, two reviews recommended changes to state law to allow localities to enact limited gun restrictions. Bills that would have done so failed to make it to the floor of either chamber, as did bills intended to regulate independent militias like the ones that showed up in Charlottesville heavily armed. Measures that would allow cities to remove Confederate monuments have also been defeated.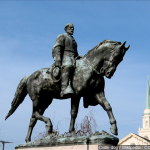 CHARLOTTESVILLE, Va. (AP) — The city of Charlottesville, Virginia, says it has complied with a judge's order to remove the black shrouds installed over two Confederate monuments after a white nationalist rally last summer. Charlottesville tweeted that city staff removed the shrouds Wednesday morning. A day earlier, a circuit court judge said they had to come down. The decision came during a hearing in a lawsuit against the city over its attempts to remove the monuments. Separately, The Daily Progress reports another city statue of a surveyor and soldier was hit with graffiti Tuesday. The graffiti said, "I can't breathe." Those were the last words of Eric Garner, a black man who died after a New York police officer's chokehold. His words have become a rallying cry in the national debate over policing, brutality and race.