The circus is coming once again to Lynchburg. River Ridge Mall officials say the Venardos Circus will perform inside its own big top tent in the mall's parking lot September 12th through 23rd. The circus was created by former Ringling Brothers Ringmaster Kevin Venardos.
River Ridge Mall News Release: The Venardos Circus, a unique, family-oriented, animal free, traveling circus, is coming to River Ridge September 12 – 23 for 16 performances. Created by former Ringling Bros. Ringmaster, Kevin Venardos, the show features a talented cast of aerialists, acrobats, comedians, juggling, balancing, daredevilry, and performers hailing from around the world. Dubbed "The American Circus with the heart of a Broadway Show," The Venardos Circus also includes Broadway-style singing and dancing. Recently featured on CBS Sunday Morning, The Venardos Circus features its own custom-made big-top, a classic red-and-white striped tent. The big-top will be set up in the parking lot of River Ridge near JCPenney. Tickets for The Venardos Circus at River Ridge go on sale Wednesday, August 22 at www.venardoscircus.com. To celebrate the opening night performance, the circus is hosting a "50% off opening night sale," through August 24.
Lynchburg City officials say there will be no attempt made to restore the College Lake dam or to refill the lake. Instead, the city will work with the University of Lynchburg to create a wetlands ecosystem at the lake site. At some point, the dam itself will be removed. City officials say the site will be transformed into a "wetland learning laboratory" for use by students, residents and tourists.
(Continue reading for the full news release.)
Lynchburg police say a 22-month old child is dead, and her mother faces additional charges as a result. Officials say 20-year-old Fantasia Lane brought the toddler to the hospital last Saturday and was subsequently charged with felony child abuse. Police say the child died from her injuries yesterday at UVA Medical Center, and more charges are pending.
From Lynchburg Police: On August 11, 2018, officers responded to the Lynchburg General l Hospital for an injured child who had been brought there by her mother. Based on initial findings, members of the Criminal Investigations Division responded and began to look into the events that preceded the child's arrival at the hospital. Due to the extent of her injuries, the 22-month-old child was then transported to UVA Medical Center in Charlottesville, VA for further treatment. Based on the preliminary investigation and the extent of the child's injuries, Detective Tucker sought charges on the child's mother for Felony Child Abuse. Fantasia Ashante Lane, a 20-year-old resident of Lynchburg, was arrested and transported to the Blue Ridge Regional Jail where she was held without bond. On August 16, 2018, the 22-month-old child succumbed to her injuries and was pronounced dead. Additional charges are now pending in this case.  This is an active and ongoing investigation. Anyone with further information related to this case is asked to contact Detective Tucker at (434) 455-6116. You may remain anonymous by contacting Crime Stoppers at 1-888-798-5900, by visiting the Crime Stoppers website at www.cvcrimestoppers.org, or by using the P3 app on your mobile device.
It's no guarantee, but winning statewide campaigns usually have plenty of money to spend on TV ads. And as we approach the traditional start of fall campaign season, there's a big money difference between the two candidates for Senate. WLNI's Evan Jones has the story:
A Vinton-area man faces multiple charges — and treatment for gunshot wounds  — for allegedly assaulting a Bedford County woman who had just taken out a protective order against him. The Sheriff's office says it happened early this morning on Shady Grove Drive in the Thaxton area. The woman and her father discovered 36-year-old Jesse Carter outside her home, and he was shot twice in the resulting confrontation. He was released after hospital treatment and is currently jailed.
News release: Just after midnight on August 15, 2018, Bedford County 911 received a call from Shady Grove Drive. The caller stated that she had heard someone outside of her residence. She then called her father, who lives next door, and advised him. When her father showed up, they both checked around the outside of the house. She said she found Jesse Carter hiding outside of the residence behind the air conditioning unit. She said he grabbed her around the neck causing her to drop the handgun she was carrying. After a struggle she was able to run away. Carter, the ex-boyfriend of the caller, then assaulted her father. Both Carter and the father entered the house, where Carter took a handgun from the caller's pocketbook. He then went back out into the yard carrying the handgun. The caller stated that when Carter walked around the house he pointed the handgun at her. Carter received two non life threatening gunshot wounds. Bedford County EMS units transported Carter to Carilion Roanoke Memorial Hospital. The father was also transported to the hospital due to having chest pains.
A Madison Heights man faces criminal charges after Amherst County Sheriff's deputies found explosives Monday in two homes. The sheriff's office says State Police bomb technicians responded and safely blew up the materials. Ronnie Lee Ramsey was arrested for possession of explosives.
News release: Amherst Deputies found explosive materials in two homes in Madison Heights Monday. We requested the VSP Bomb Techs to respond. There Bomb Techs blew up the explosive materials found in both residences. Ronnie Lee Ramsey of 114 Second Street Madison Heights was arrested for possession of explosive materials. The Monelison Fire Dept. and members of Amherst Dept. Of Public Safety assisted our Department.
A new survey finds that more than 80% of older drivers say they have never spoken with a physician — or a family member — about their safe driving ability. And far more often than not, when they do take place, it's only after something bad happens. AAA Mid-Atlantic urges older drives to begin such conversations right around the time they retire. WLNI's Evan Jones has more:
08-15 Older Drivers Wrap-WLNI-WEB
AAA has multiple on-line resources for senior drivers and their family members. Click here to access them.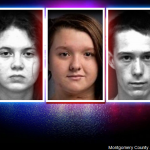 A guilty plea today from Natalie Keepers for concealing the death of Nicole Lovell, the 13-year-old Blacksburg girl who was killed more than two years ago. But Keepers still intends to go to trial next month on a separate charge — accessory before the fact. David Eisenhauer has already been convicted of Nicole Lovell's death after entering no contest pleas. He is now serving 50 years.
A 16-year-old Madison Heights girl is missing. The Amherst County Sheriff's Office is asking for help in locating Madeline Loving, who did not show up for work Monday and did not return home. Madeline was last seen dressed in her Wendy's uniform. Officials say Loving has reddish blond hair and tattoos on her wrist and left shoulder blade. Foul play does not appear to be suspected at the moment. Anyone with information about Loving's whereabouts is asked to contact the Amherst County Sheriff's Office at 434-946-9300.
Deputy Lynchburg Police Chief Ryan Zuidema (ZOO-dih-muh) has been named Interim Chief, effective September 1st. He will fill the top position until a permanent chief is selected. Current Chief Raul Diaz steps down at the end of the month.
News release: Lynchburg City Manager Bonnie Svrcek announced today, Tuesday, August 14,  that she has appointed Lynchburg Deputy Chief Ryan Zuidema to the position of Interim Police Chief effective September 1, 2018.  In June, current Police Chief Raul Diaz announced he would be retiring from law enforcement to take a position with the U.S. Air Force Office of Special Investigations in an overseas leadership role later this year.
Zuidema has been with the Lynchburg Police Department since January 1997.  In September 2016, he was promoted to the position of Major.  After the department underwent several changes, his position title became Deputy Chief.  As one of two deputy chiefs in the department, he oversees both the Investigations and Administrative Bureaus. Zuidema holds an undergraduate degree in Criminal Justice from the State University of New York (SUNY) College at Brockport, a Master of Business Administration from Averett University, a Certificate in Local Government Management from Virginia Tech, and is a graduate of the Harvard Kennedy School Senior Executives in State and Local Government Program.