Evan Jones
A guilty verdict – and five-year sentence – today in Campbell County Court for Michael Langford, charged with the Christmas night shooting death of Carlton Stratton. The jury convicted him of voluntary manslaughter, a reduction from the second-degree murder charge he had faced. Jury members then recommended a five-year sentence, which the judge then handed down. Stratton's sister, Mary Cash, was not happy with five years:
That with Reporter Andre Whitehead.  Campbell County Commonwealth's Attorney Jason Todd told Whitehead he respects the jury's decision:
Stratton was fatally shot at his Cog Lane home just outside Lynchburg city limits.
A Virginia Tech study finds that earthquakes in heavy oil production areas are getting deeper underground — and it appears directly connected to injection of oilfield wastewater into the ground. The study focused on oilfields in Kansas and Oklahoma which experienced more quakes on average after production there greatly increased in recent years. WLNI's Evan Jones reports on its key findings:
RICHMOND, Va. (AP) — Virginia Gov. Ralph Northam is struggling to raise big money in a key election year after a blackface scandal nearly ended his political career. But he's also managed to remain a major source of campaign cash for Democrats, including those who have previously called on him to resign. New campaign finance reports filed Monday show the Democratic governor raised slightly more than $300,000 between April and June. That's far below the seven-figure hauls his predecessors, former Govs. Terry McAuliffe and Bob McDonnell, raised during similar periods when they were in office. "His fundraising is weak, and he's a drag on Democrats," Republican Party of Virginia spokesman John March said.
But Northam political action committee director Mark Bergman said the governor's ability to raise that amount from more than 500 donors only months removed from a major scandal is a sign of resiliency. "We're thrilled where we are," he said.
Virginia governors cannot serve consecutive terms but are typically their party's biggest fundraisers for off-year legislative elections. All 140 seats in the General Assembly are on the ballot in November, and Virginia is the only state where Democrats have a chance of flipping control of the legislature this year.
Northam faced intense pressure to quit in February after a racist picture surfaced from his 1984 medical school yearbook page. He denied being in the picture but admitted to wearing blackface as a young man. Most Democrats initially called on Northam to resign, but many have since resumed working with him. He's attended fundraisers with Democratic lawmakers and his PAC has poured thousands into key races.
Business interests heavily affected by government spending and regulations were among Northam's biggest recent donors, including highway construction companies, gambling interests and auto dealers. He also reported spending $150,000 at the law firm that's been helping him navigate the blackface scandal.
Northam wasn't the only top Democrat to face calls for his resignation in February. Two women have publicly accused Lt. Gov. Justin Fairfax of sexual assault, which he denies. And Attorney General Mark Herring acknowledged wearing blackface a few days after calling for Northam to resign over similar past behavior. They both posted pedestrian fundraising totals Monday.
But several individual Democratic candidates, including challengers seeking to knock off GOP incumbents, reported strong fundraising totals. Seven of the top 10 fundraisers among state Senate candidates were Democrats in the last reporting period.
Virginia Democrats have scored big wins in the last two election cycles thanks to suburban voters unhappy with President Donald Trump.
"We have the momentum, the message, the resources and we are on the right side of history. November is coming," Democratic Party of Virginia spokesman Jake Rubenstein said.
But Republicans, who have been in the majority for several years, enjoy huge cash reserves they've built up over several election cycles.
"It's no secret that Democrats are going to be well funded by millionaires and outside groups," said Parker Slaybaugh, spokesman for GOP House Speaker Kirk Cox. "Despite that, we're still happy to hold a more than $1 million cash on hand advantage."
River Ridge Mall is opening a new children's play area this weekend. Mall officials say it is an ocean-themed play area that is a part of River Ridge's ongoing redevelopment plans. It opens Friday, and a ribbon cutting is set for Saturday morning near the JC Penney and T.J. Maxx stores.
NEWS RELEASE: Beginning July 19, children can spend time "Under the Sea" at River Ridge's new, state-of-the-art play area. Designed and built by Colorado-based PLAYTIME, the new play area will be located near T.J. Maxx and JCPenney, featuring ocean-themed tunnels, climbers and ramps. For the parents, there will be a stroller parking area, stools, charging stations and seating surrounding the area. "The under the sea experience allows children's imagination to explore the ocean floor," said Sunya McDaniel, retail market specialist at PLAYTIME. "They can play on the sunken ship, crawl through the coral tower and curl up with a giant octopus."
Following the opening on July 19, there will be a grand opening party on July 20 from 10 a.m. to noon. With a theme of "Shellabrate Under the Sea," the party will be filled with mermaids, Bruce the Shark from SeaQuest, a "Shellfie" station, and more for families and children to enjoy—all complimentary. "This is one of the most fun projects we have worked on," McDaniel said. "The theme is very unique and features very creative and interactive ways to play and learn."As part of the plans for a two-year redevelopment of the property announced in June, this play area will contribute to a fun and enjoyable experience for guests, including local families.
"We are thrilled to bring this play area to River Ridge," said Katie Farris, marketing manager at River Ridge. "As we go into this redevelopment, we recognize the need for more activities, entertainment and retail for children and families. Building this play area is just the beginning of what we are bringing to the property for children and families in our community to enjoy."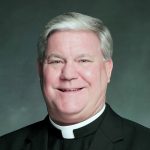 The Catholic Diocese of Richmond has suspended a Norfolk priest who once attended Holy Cross School and later served as a pastor in Farmville. Diocesan officials say the suspension of Joseph Metzgar the Third followed recent accusations that he violated the code of conduct with minors. The news release did not offer details, but it did say the violations did not involve sexual abuse. Metzgar was once pastor at St. Teresa's Catholic Church in Farmville.
From the Catholic Diocese of Richmond:
Bishop Barry C. Knestout has suspended the priestly faculties of Father Joseph H. Metzger III effective Friday, July 12, 2019.
On July 5, 2019, a complaint was sent to the Diocesan Office of Safe Environment regarding a recent violation of the Diocese's Code of Conduct with Minors. (Link to CDR Code of Conduct with Minors: https://richmonddiocese.org/mcoc).
While the complaint does not involve an accusation of sexual abuse, in accordance with diocesan policy and practice, the complaint was reported to law enforcement.  Following an inquiry into the complaint by the Office of Safe Environment and consultation with the Diocesan Review Board, Bishop Knestout met with Fr. Metzger and suspended his priestly faculties.
The suspension means Fr. Metzger cannot present himself publicly as a priest, wear clerical attire, administer the sacraments or celebrate Mass publicly, nor is he to have any interaction with minors or youth.
On December 8, 2018, Fr. Metzger was placed on temporary leave of absence from his assignment as pastor of Blessed Sacrament, Norfolk, due to previous violations of the Diocesan Code of Conduct with Minors.  On July 1, 2019, Fr. Metzger was assigned to serve as ecclesiastical notary in the Office of the Chancellor and as assessor in the Diocesan Tribunal along with the celebration of Mass at diocesan elderly housing facilities and communities of women religious in the Richmond area.  As a result of this new complaint and subsequent suspension, he is now unassigned.
The diocesan child protection policy is online at www.richmonddiocese.org.
A 2016 story in the Catholic Virginian on Metzgar's 25th anniversary in the priesthood says he attended Holy Cross School before his family moved to Roanoke. CLICK HERE to read the article.
Prosecutors in Charlottesville say they hope the sentencings of James Fields, Jr. will help the healing process move forward. Fields received a second life term yesterday on state charges, following a similar sentence last month on federal ones. More from WLNI's Evan Jones.
07-16 Fields Sentence Wrap-WLNI.-WEBwav
State officials say it is a real and growing problem — fraudulent sales of boats and watercraft that can leave victims out of thousands of dollars. A common on-line scam involves showing a nice-looking boat on-line is not actually for sale. You are urged to never put money down on a boat without seeing it first in person, and make sure a title and bill of sale come with your purchase. More from WLNI's Evan Jones:
A Henry County middle school teacher is charged with sexting a 16-year-old. The sheriff's office says 32-year-old Carlos Wade sent a sexually-explicit photo and messages to the juvenile. Neither person was on school property at the time. Wade was a teacher at Fieldale-Collinsville Middle School. He has resigned and is currently jailed without bond.
As of Friday afternoon, Wade's teacher page remains visible on the Henry County Schools' website. It says he has been teaching robotics since 2017 and is happily married with one child.
News release: On July 11, 2019, the Henry County Sheriff's Office received information that a teacher at Fieldale-Collinsville Middle School was sending sexually explicit text messages to a 16 year old juvenile.  The investigation revealed that Carlos Raphel Wade, 32, of 225 Falcon Road Martinsville, VA sent a sexually explicit photograph and messages to the juvenile.  The messages were not sent nor received while either party was on school property.
Democrats and Republicans both appear set to make gun laws a major focus in the fall General Assembly campaigns. The question now is to what extent, if any, it will make a difference in the outcome. Polls in recent years from Roanoke College suggest while most Virginians favor some of the specific proposals Governor Northam presented, a majority also remains uncertain whether such laws would actually reduce gun-related violence. WLNI's Evan Jones has more:
The General Assembly's special session on gun laws is technically not over — instead, it is adjourned until November 18. But Democrats accuse Republicans of ducking the issue at a critical moment, while the GOP says it was not going to take part in Democrat-orchestrated political theater. More from WLNI's Evan Jones.