Amid funerals for the victims and calls for government action, a local criminologist says law enforcement personnel hope to learn life-saving lessons from last week's mass school shootings — starting with understanding motives. WLNI's Evan Jones has the story.
State Police say a Gladys man died Sunday after his SUV left State Route 40 about a mile west of US 501 near Brookneal and struck a tree. Troopers say 31-year-old Landon Gilliland was not wearing a seat belt and died at the scene.
From State Police: Virginia State Police Trooper W.R. Wooding is investigating a single-vehicle crash in Halifax County. The crash occurred Feb. 18, at 1:15 p.m. on Route 40, 1.1 mile west of Route 501. A 2008 Chevrolet Tahoe was traveling west on Route 40 when it ran off the left side of the road and struck a tree. The driver, Landon B. Gilliland, 31, of Gladys, Va., died at the scene. He was not wearing a seat belt. The crash remains under investigation.
The General Assembly has already killed proposals this year to limit sales of some weapons in the state, but Wednesday's school shooting in Florida renewed the debate. On one side, some called for outlaw the sale of semi-automatic firearms. On the other are calls to arm qualified teachers and other school staffers in efforts to protect students. WLNI's Evan Jones has the story:
02-16 Gun Debate Wrap-WLNI-WEB
Welcome economic news for Pittsylvania County: Governor Northam announced today that Eastern Panel Manufacturing will expand in Chatham. The company will build a new facility in the Chatham Industrial Park and create 15 new jobs.
News release: Richmond, VA – Governor Ralph Northam announced today that Eastern Panel Manufacturing Inc. (EPM) will expand its operation in Pittsylvania county. As part of the expansion, the company will move to a 55,000 square foot facility in the Chatham Industrial Park. The expansion will create 15 new jobs and includes $1 million in capital investment.  The Tobacco Region Revitalization Commission awarded a $30,000 Tobacco Region Opportunity Fund grant to assist with this project.  Tobacco Commission member, Senator Bill Stanley said, "It is great to see a successful business expanding and adding jobs in our region. Companies like Eastern Panel show that our manufacturing workforce is second to none and I am pleased that the Tobacco Commission chose to support this project."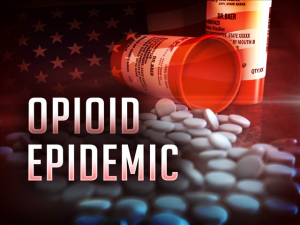 A report from the Virginia Hospital and Health Care Association indicates some progress in one front to combat the opioid epidemic — fewer prescriptions. The association had a team look a Medicaid and commercial prescription records for opioids in Virginia from January of 2015 through December of 2016, and it shows the number of such prescriptions fell by about 15% over that two-year period. More from WLNI's Evan Jones.
UPDATE: Lynchburg school officials say Crystal Edwards has been released from her current contract in New Jersey as of March 31, and she will begin her duties as Lynchburg Superintendent of Schools April 2.
PREVIOUS: The Lynchburg School Board has selected a New Jersey educator to be the city school system's next leader. Crystal Edwards becomes the first African-American woman to head the Lynchburg school system. Reporter Andre Whitehead was there when Board Chairman Michael Nilles announced the decision late Thursday afternoon at a special board meeting.
Crystal Edwards has 31 years of education experience. She is currently superintendent for Lawrence Township Public Schools in New Jersey. Until she arrives in Lynchburg, Larry Massie will continue to serve as Interim Superintendent through the end of March.
From Lynchburg City Schools:  At a special called meeting of the Lynchburg City School Board, the School Board announced the appointment of Dr. Crystal M. Edwards as the 13th Superintendent of Lynchburg City Schools. Dr. Edwards is currently serving as the Superintendent for Lawrence Township Public Schools, NJ. Dr. Larry A. Massie will continue to serve as Interim Superintendent, under a month-to-month contract through March 31, 2018.
The Nelson County Sheriff's Office has released the names of the two women found dead yesterday in a Lovingston Apartment, but there is no word yet on what may have caused their deaths. The two are identified as 60-year-old Deborah Bruce and 38-year-old Patricia Bruce. Officials say foul play is not evident, but investigators have more work ahead to determine what happened.
Kroger stores are taking a new direction in changing the traditional grocery shopping experience. First, it was on-line ordering and pickup, and now, a new way to shop inside the store, as WLNI's Evan Jones reports.
The General Assembly has moved one step closer on a bill to permit many first-time marijuana offenders to have the chance to have that charge later expunged from the record. Critics say the bill does not decriminalize such possession and therefore does not go far enough. More from WLNI's Evan Jones:
Lynchburg's next fire chief is no stranger to the department. Gregory Wormser will be sworn in to his new duties a week from Wednesday. He was named acting chief when Brad Ferguson retired last year. Wormser has served with the city's fire department since 1995.
News release: Lynchburg City Manager Bonnie Svrcek announced today that following a nationwide search, she has appointed internal candidate Gregory (Tex) Wormser, to the position of Lynchburg Fire Chief.  Wormser was appointed Acting Chief upon the retirement of Fire Chief Brad Ferguson.  He will assume Fire Chief duties on February 21. Wormser began working for the Lynchburg Fire Department in 1995 as a Firefighter Paramedic and has continuously been promoted through the ranks, having served in several leadership roles including Battalion Chief, Fire Marshal and Deputy Fire Chief.  He completed his undergraduate work from Lynchburg College in 1994 and received his Master's in Public Administration from Old Dominion University in 2016.