The Bedford County School Board plans to address that viral photograph taken last week at Jefferson Forest High School. The photo shows some students holding up Confederate flags in school. Board members are scheduled to take the matter up at their next regular meeting February 21st.
From Bedford County Public Schools:  In light of recent events the Bedford County School Board will address this topic later this month at its regularly scheduled meeting. In the meantime, our staff at Jefferson Forest High School, as well as the rest of our schools, will use this incident to examine historical practices around spirit week and other school activities, to make sure that we steer clear of situations that may unintentionally encourage learners to engage in behavior that others may find offensive. Perhaps most importantly, we also have the opportunity to focus even more intently on conversations with our young learners and staff about respect, empathy, and understanding how images can mean very different things to individuals based on their own unique circumstances. Though these conversations can be awkward, we have an obligation to facilitate them as best we can and also encourage parents and community members to have the same difficult conversations with our young learners and each other.
Lynchburg Police say a woman has minor injuries after driving a van into the side of the CVS store at Langhorne and Atherholt this afternoon. Police say it appears the driver stepped on the accelerator instead of the brake pedal. Reporter Andre Whitehead spoke with Lynchburg City Building Official Doug Saunders:
For now, the CVS on Langhorne near LGH is closed.
It's no secret that you are not permitted to carry a firearm onto an airplane, but the number of guns found at airport screening continues to rise. The trend continued last year nationwide and statewide, but in Lynchburg, it held steady as WLNI's Evan Jones reports.
02-08 Airport Guns Wrap-WLNI-WEB
Click here for TSA information on transporting firearms and ammunition.
Virginia Tech Professor Bob Denton and WLNI Political Analyst Bob Denton says the state's three Democratic leaders are largely caught in a crossfire of their party's own creation: the "me too" movement and identity politics largely intended to be used against Republicans. WLNI's Evan Jones has the story:
Eastern Virginia Medical School is hiring an outside law firm to lead an independent investigation into past practices involving the school's yearbooks. College President Richard Homan acknowledges the photo on Governor Northam's 1984 page is not the only racist one found in their yearbooks over the years. WLNI's Evan Jones has the story:
02-06 EVMS Response Wrap-WLNI-WEB
RICHMOND, Va. (AP) — The president of a medical school in Virginia has apologized for the pain inflicted on African Americans by a racist photo that appeared on a yearbook page belonging to Gov. Ralph Northam. Dr. Richard V. Homan told reporters Tuesday that Eastern Virginia Medical School takes full responsibility for the image and others that appeared in the 1984 publication. A photo on Northam's yearbook profile shows a man in blackface standing next to someone in a Ku Klux Klan robe and hood. At least two other photos in the yearbook show people in blackface. Northam has denied he's in the photo or that he submitted it for publication. Homan said an independent investigation will try to get to the bottom of how the images got there and will review all yearbooks.
A bill is half-way through the General Assembly bill this week to prohibit reduced charges — and any chance of a reduced sentence — for anyone accused of capital murder of a law enforcement officer. The charge carries a mandatory sentence of life in prison or the death penalty. This follows emotional testimony before a committee that first considered the measure, as WLNI's Evan Jones reports:
A controversial Virginia abortion bill may be dead for the year, but the political uproar surrounding it remains very much alive. Democrats say Republicans are trying to play political games, but GOP lawmakers say this is an example of what is to come if Democrats gain General Assembly control in November's elections. WLNI's Evan Jones has more:
Among the emerging mobility technologies Virginia lawmakers are grappling with this winter are rental motorized skateboards and foot-scooters. More from WLNI's Evan Jones: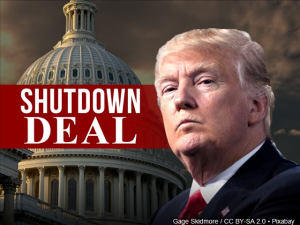 Our representatives in Washington from both parties are sounding relieved that the partial government shutdown is over — at least until February 15th. But that is where the agreement between President Trump and congressional leaders ends for now, as WLNI's Evan Jones reports.
01-28 WarnerShutdown Wrap-WLNI-WEB