UPDATE: The Campbell County Sheriff's Office reports that the stolen box truck mentioned in yesterday's press release has been recovered.
PREVIOUS NEWS RELEASE: The Campbell County Sheriff's Office is in search of a white 2014 Chevrolet Box Truck 3500 model – VA Tag T/X175-205. Photos are attached. This vehicle was stolen from the Timberlake Road area in the early morning hours on Tuesday, May 22. Anyone with information regarding this incident is asked to contact Investigator Stuart Herndon at (434) 332- 9574 or call Crime Stoppers at 1-888-798-5900. Visit the Central Virginia Crime Stoppers website at www.cvcrimestoppers.org. Enter a tip ONLINE at http://p3tips.com or use the P3 app on your mobile device. In recent weeks the Sheriff's Office has seen an increase in stolen vehicles. Residents are reminded to remove keys and valuables from their car/trucks and properly secure them to reduce the risk of theft.
Listen to The Morning Line interview with Galbreath here:
From Lynchburg Police: On May 20, 2018 at 10:24 p.m., officers of the Lynchburg Police Department were called to 131 Timber Ct. for
a reported malicious wounding.
When officers arrived on scene, they located a male subject suffering from a single gun-shot wound to the
upper torso. LFD medics responded to the scene and transported the victim to Lynchburg General Hospital
where he is currently being treated for non-life threatening injuries and is listed in stable condition.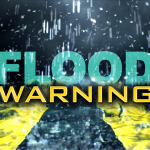 The National Weather Service in Blacksburg has issued a Flood Warning until 11:15 pm for Roanoke County, Campbell County, the City of Salem, northeastern Floyd County, the City of Roanoke, Bedford County, Southern Botetourt County, the City of Lynchburg, central Franklin County and Eastern Montgomery County.
At 5:19 PM EDT, Doppler radar showed showers and a few thunderstorms with locally heavy rain moving into the region from the south. This rain will be falling on ground that is already saturated from heavy rain that fell yesterday. Runoff from new heavy rainfall will likely cause flooding of streams and creeks as well as poor drainage areas.  Some locations that will experience flooding include Roanoke, Lynchburg, Salem, Christiansburg and Vinton. This includes The following Locations: Liberty University, The Salem Fairgrounds, The National D-Day Memorial, Lynchburg Airport, and Roanoke Regional Airport. When it is safe to do so, please send your reports of flooding, including mudslides or flooded roads, to the National Weather Service by calling toll free at 1-866-215-4324. Reports and pictures can also be shared on the National Weather Service Blacksburg Facebook page and on Twitter.
The National Weather Service has issued a Flash Flood Warning for Appomattox County, Craig County, Campbell County, Bedford County, Botetourt County, and the City of Lynchburg until midnight EDT
At 606 PM EDT, Doppler radar indicated a developing line of nearly stationary line of thunderstorms producing heavy rain across the warned area. Up to two inches of rain has already fallen in some areas. Flash flooding is expected to begin shortly.  Some locations that will experience flooding include Lynchburg, Bedford and Altavista. Additional rainfall amounts of between two and four inches are possible, in the warned area which will lead to flash flooding of small streams and creeks and areas of poor drainage. This includes the following Locations Liberty University, The National D-Day Memorial, and Lynchburg Airport.
PRECAUTIONARY/PREPAREDNESS ACTIONS: Turn around, don`t drown when encountering flooded roads. Most flood deaths occur in vehicles. Be especially cautious at night when it is harder to recognize the dangers of flooding.
Atlantic Sun Conference news release:  The ASUN Conference announced today the induction of Liberty University into the league after a unanimous vote by the ASUN Presidents Council. The Flames will become a member of the ASUN Conference starting with the 2018-19 season alongside the University of North Alabama, bringing the ASUN membership up to nine. "This is a very proud day for the ASUN as we begin a partnership with the entire Liberty University community," said ASUN Conference Commissioner Ted Gumbart. "Together, we play a role in higher education and providing a lifelong learning experience to university students. We call it Building Winners for Life. As we celebrate this new relationship, we salute the alumni, the faculty, the donors, the parents, the coaches, all the teammates who contribute to the athletic, academic, and ultimately, the lifelong success of our graduates."
Reporter Andre Whitehead spoke with Liberty Athletic Director Ian McCaw:
Wayne Gannaway visits The Morning Line to talk about Jefferson and the exciting event happening at this historic property in our area.
The event takes place on Saturday, May 26 and benefits go toward a children's facility in Kenya.  Listen to the full interview from The Morning Line here:
Lynchburg Captain Trey Jones visits The Morning Line to talk about the community events.
Camp Director, Kenny Lane, stops by The Morning Line to tell us about CrossRoads Camp and Conference Center in Lowesville.