UPDATE from the Bedford County Sheriff's Office: The missing 6 year old boy has be located by a search team. He appears to in shape with no injuries.
Previously: At 12:53 p.m. today, Bedford County 911 dispatchers received a report of a missing 6-year- old boy from his home on Dowdy Rock Road. The caller said the boy had been missing since around 10:00 a.m. this morning and was last seen with his black and white border collie named Muffin. The boy's name is Samuel Welch and he has blonde hair. He is wearing long pants and a blue hoodie.  Anyone with information on Samuel is asked to call 586-7827 or 911.
Dr. Chris Swanson, conductor and artistic director, talks about A Family Holiday Extravaganza on the Morning Line.  This holiday performance will be held this Sunday, December 17th at the E.C. Glass High School Civic Auditorium at 3:00 P.M.
Lynchburg Symphony DR CHRISTOPHER SWANSON
News release: Cooper Steel Fabricators Inc., the nationally-recognized, Nashville steel fabrication and contracting firm, announces the official opening of it's newest subsidiary "Cooper Steel of Virginia" (formerly Lynchburg Steel). The location marks Cooper's fourth company expansion from their original base of operation in Shelbyville, TN, and while small structural and aesthetic improvement plans are in place, the buildings will remain located at 275 Francis Ave. Monroe, VA, just north of downtown Lynchburg. Serving as a valuable piece in the company's fabrication operations, Cooper Steel of Virginia will celebrate an official grand opening on Tuesday December 12th with a ribbon-cutting ceremony to include Cooper Chief Executive Officer and Chairman Gary Cooper, President and Chief Operations Officer W. Duff Zimmerman, Chief Administrative Officer Jordan Cooper, Vice President Cory Cooper, and other key staff. "It's a win-win and a very exciting time for us to be in Virginia," said Gary Cooper, CEO and Chairman of Cooper Steel. "Cooper Steel has always prided itself on being like family, and today our family is officially getting a little bigger".
From Lynchburg City Schools: The December 9th administration of the ACT, scheduled to be given at Heritage High School, has been canceled due to inclement weather. The rescheduled test date will be posted at www.actstudent.org as soon as it is set. Registered examinees will receive official notification from ACT.
UPDATE from Lynchburg Police: On December 7, 2017 at 2123 hrs, three male subjects were detained and identified as suspects in the  armed robbery at Fast Mart # 5. The following individuals have been arrested and charged with Robbery and Use of a Firearm in the Commission of a Felony:
Suspect 1: Darius Marquiese Dukes, 20 year old male resident of Lynchburg.
Suspect 2: Ronnie Robert Peterson, 22 year old male resident of Lynchburg.
Suspect 3: Malcom Elijah West, 19 year old male resident of Lynchburg.
(Continue reading for the earlier Lynchburg Police news release.)
Campbell County News Release: On December 6, Campbell County Sheriff's deputies responded to the 300 block of Collins Ferry Road, Gladys, regarding reports of a shooting. Responding units arrived on the scene at 9:38 p.m. and discovered John Wesley Staples II, age 40, deceased from multiple gunshot wounds. Evidence gathered at the scene led to the arrest of Tyler Wesley Staples, age 19, also of Collins Ferry Road, Gladys. Staples is the son of the deceased. Staples was transported to the Campbell County Adult Detention Center where he is being held without bond on charges of second degree murder and use of a firearm in the commission of a felony. Any questions regarding this information may be directed to Major L.T. Guthrie at 434-332-9580.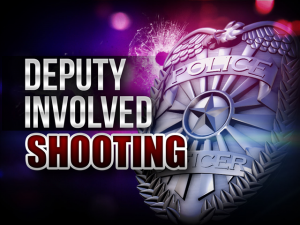 UPDATE: State Police have identified the man shot and killed by a Henry County sheriff's deputy after he fired into a home, then at law enforcement vehicles.  Police say 24-year-old Johnnie Carter of Henry County had tried to force his way into a home before deputies arrived.
PREVIOUSLY: SALEM, Va. – At the request of Henry County Sheriff Lane Perry, the Virginia State Police is investigating a fatal, officer-involved shooting that occurred early Tuesday morning (Dec. 5, 2017) in the community of Bassett. The incident began around 4 a.m. Tuesday when the Henry County Sheriff's Office received a 911 call about a male subject trying to force his way into a residence in the 3300 block of Philpott Drive.  When the male subject was unable to make entry, he began firing a handgun outside the residence. As soon as the Henry County Sheriff's Deputies pulled up to the scene, the male suspect began firing at their vehicles.  One of the sheriff's deputies returned fire and the male suspect was wounded. The male subject was transported to Sovah Health in Martinsville, where he succumbed to his injuries.
No residents or sheriff's deputies were injured during the incident. The Virginia State Police Bureau of Criminal Investigation's Salem Division is at the scene conducting its investigation into the incident. State police are also in the process of confirming the identity of the male subject and will then notify his next of kin.
News release: On November 30, 2017, members from the local American Legion, Post 16, presented Chief Diaz and the Lynchburg Police Department with 120 stuffed animals.  The animals are intended to be handed out to child victims of domestic violence, vehicle crashes, and other similar incidents during the Christmas season, and beyond. Representing the American Legion Post 16 were:  Post Commander – Gordon Farmer, 1st Vice Commander – Otto Davis, Auxiliary President – Lynn Hawkins, and Past Auxiliary State President – Bonnie Crews.  The Lynchburg Police Department and the City of Lynchburg are grateful for the kind actions of those that supported this effort, especially those from the American Legion Post 16.
From Lynchburg Police: On November 23, 2017 at approximately 8:51 p.m., Officers with the Lynchburg Police Department responded to the Carter Bank and Trust located at 3515 Campbell Avenue (in the City of Lynchburg) for a report of a robbery. As a bank employee was getting into his car, two suspects approached him. One pointed a handgun at him and demanded property. Shortly thereafter, the suspects ran to a nearby vehicle and left the scene.
From the Amherst County Sheriff's Office: We are attempting to identify suspects involved with stolen credit cards. On 10/07/2017 and 10/08/2017 a male and female used  a stolen credit card at (3) three Madison Heights businesses.  One of those transactions occur red at Walmart and they were captured on store cameras. If you know anything about this incident you can contact the Sheriff's Office via Facebook Messenger or you can also remain anonymous by contacting Central Virginia Crimestoppers at 1-888-798-5900 or texting your message to 274637.