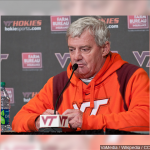 From Virginia Tech: The National Football Foundation (NFF) & College Hall of Fame announced Monday that longtime Virginia Tech head coach Frank Beamer has been selected to the College Football Hall of Fame's Class of 2018. Beamer was in his initial year of eligibility on the Hall of Fame ballot. He will participate in the coin toss at tonight's College Football Playoff National Championship Game at Mercedes-Benz Stadium in Atlanta. The 2018 class officially will be inducted during the 61st NFF Annual Awards Dinner on Dec. 4, 2018, at the New York Hilton Midtown. The inductees will be permanently enshrined at the College Football Hall of Fame in Atlanta later that December and honored on the field during the 14th Annual National Hall of Fame Salute during the Chick-fil-A Peach Bowl. They also will be honored at their respective schools at an NFF Hall of Fame On-Campus Salute, presented by Fidelity Investments, during the 2018 season. "I'd like to thank our administration and former Virginia Tech players, coaches and support staff," Beamer said. "Without them, we wouldn't have enjoyed the success we did as a football program."
A coach becomes eligible three full seasons after retirement or immediately following retirement provided he is at least 70 years of age. Beamer more than met the criteria of having been a head coach for a minimum of 10 years and coached at least 100 games with a .600 winning percentage. The winningest coach in Virginia Tech history, Beamer's 280 victories rank sixth overall in FBS history and are the 13th most by a college football coach at any NCAA division. He led the Hokies to their first ever national title game appearance as part of an impressive streak of 23 consecutive bowl berths in his final 23 seasons.
Beamer began his 35-year head coaching career at Murray State from 1981-86, where he ranks fourth in school history in wins after leading the Racers to a 42-23-2 record in six seasons. In 1986, he guided the team to a share of the Ohio Valley Conference title and a trip to the FCS Playoffs. In 1987, Beamer became the head coach at his alma mater Virginia Tech, where he would win a school-record 238 games in 29 seasons (1987-2015). Arguably, his best season came in 1999 when he earned consensus National Coach of the Year honors after leading Virginia Tech to an appearance in the BCS National Championship at the Sugar Bowl following the program's first 11-win season and first undefeated regular season in school history.
Under Beamer, the Hokies posted five top-10 finishes and became one of only six programs in college football history to go to a bowl game in at least 20-straight seasons. After just one win in six bowl games prior to his arrival, Beamer would win 11 of his 23 appearances, including marquee wins in the 1995 Sugar Bowl, the 2009 Orange Bowl and the 2009 Chick-fil-A Bowl. His Hokies are also one of just four teams in Division I history to produce 10 wins in eight or more consecutive seasons (2004-11), and his 23-straight seasons of seven or more wins are a school record.
A five-time conference Coach of the Year, Beamer won three BIG EAST titles and added four ACC titles in five conference championship game appearances. Overall, he coached 16 first-team All-Americans, two NFF National Scholar-Athletes, 79 first-team all-conference selections, three ACC Players of the Year, three BIG EAST Offensive Players of the Year, two BIG EAST Defensive Players of the Year and two BIG EAST Special Teams Players of the Year. One of his lasting legacies is "Beamerball," the name given for the Hokies' ability to make big plays and score on offense, defense and special teams. Beamer's teams blocked more kicks in the 1990s than any other FBS program, helping him earn BIG EAST Conference Coach of the Decade laurels.
Beamer started three years as a cornerback at Virginia Tech for College Football Hall of Fame coach Jerry Claiborne. Before becoming a head coach, he served as an assistant coach at Maryland, The Citadel and Murray State. A member of the Virginia Tech Sports Hall of Fame, Beamer's No. 25 jersey was retired by the school in 2002, and his name adorns the Hokies' locker room and the street in front of Lane Stadium, the Hokies' football home, is known as Beamer Way.
Prior to his retirement in 2015, Beamer was the winningest active coach in FBS history at the time of his retirement, having tallied an impressive career record of 238-121-2 at Virginia Tech. Under Beamer, Virginia Tech football enjoyed unprecedented success, with 23 consecutive bowl appearances, a mark that the Hokies extended to 25 straight under head coach Justin Fuente in 2017. A member of the College Football Playoff Selection Committee, Beamer continues to serve Virginia Tech as an ambassador for athletics and the spokesperson for the Drive for 25 campaign that seeks to increase membership in the Virginia Tech Athletic Fund (aka the "Hokie Club") to 25,000 members.
"I know firsthand from both my experience as a player and from coaching just how important scholarships are to young people here at Virginia Tech," Beamer said. "Scholarships change lives, and that's why Cheryl [his wife] and I have always been willing to give to help these student-athletes not just to play sports, but also to be a part of such a special place and get a degree. Many of my former players wouldn't have received that opportunity otherwise."
A member of the Virginia Tech Sports Hall of Fame, Beamer has also been inducted into the Virginia Sports Hall of Fame and the Chick-fil-A Peach Bowl Hall of Fame. He was also recently honored as a Sun Bowl Legend.