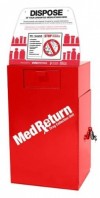 There's a new way for Bedford County residents to get rid of unwanted, unused or expired medications any time of the day or week. It's a red and white collection box in the front lobby of the sheriff's office. WLNI's Evan Jones has the story.
11-18 Drug Takeback Wrap-WLNI-WEB
Click here for the full Bedford County Sheriff's news release.