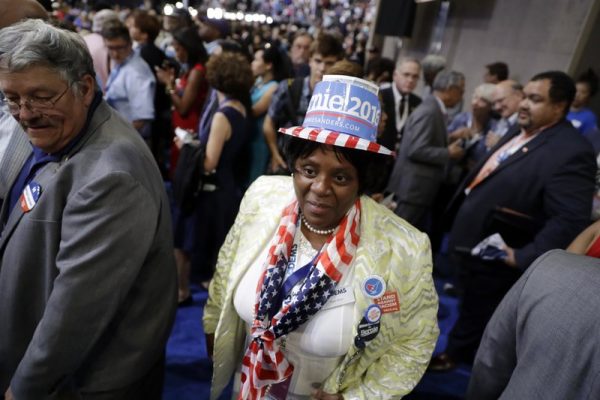 NORFOLK, Va. (AP) — A black woman who's running for Congress in Virginia has accused the state's Democrats of reverting to their old ways of disenfranchisement by trying to remove her from the ballot, according to a legal motion filed Friday.
Shaun Brown is a former Democrat now running as an independent in the hotly contested 2nd Congressional District on Virginia's coast.
Democrats are suing state elections officials to end Brown's candidacy. They've cited allegations of forged signatures and other mistakes on petitions that were collected to place Brown on the ballot.
Democrats also claim that dozens of the allegedly fake signatures were turned in by campaign staffers working for Republican incumbent Congressman Scott Taylor.
The Republican effort to help Brown is widely seen as strategy to split the Democratic vote in a race that could help Democrats retake the U.S. House.
Brown's filing made clear her intention to fight the Democratic lawsuit. She also rebuked the Democrats' legal arguments and invoked the party's past in Virginia.
"Shaun Brown is a black female citizen of the Commonwealth of Virginia and the United States of America," the filing stated.
"(The Democratic Party of Virginia) has a long history of racism and disenfranchisement of black people in this Commonwealth," the document added, citing poll taxes and literacy tests.
Brown also accused Democrats of machine party politics by hand-picking Democratic candidate Elaine Luria before the June primary and "dumping scads of money in her lap."
The Virginia Democratic Party did not immediately return a message seeking comment.
Brown was the Democratic candidate in Virginia's 2nd District in 2016. She lost to Taylor by nearly 23 percentage points.
Brown faces trial in October on charges that she defrauded the federal government through a summer meal program for children.
Political observers say Brown's candidacy still poses a threat to Democrats in what could be a war of attrition for votes. The race between Taylor and Luria has been listed as either a toss-up or as leaning Republican.