Three different statewide polls were released yesterday, and while they combine to show the race tightening for Virginia governor they differ by who will win — and by how much. That is no surprise to our political analyst, as WLNI's Evan Jones reports.
According to a Roanoke College poll released this morning, Democrat Ralph Northam maintains a six-point lead over Republican Ed Gillespie. Libertarian candidate Cliff Hyra holds 2 percent of likely voters. The margin of error is 4 percent. The poll also found voters believe economic issues and healthcare are the most important issues in this campaign.
The Wason Center for Public Policy has released its second tracking poll of voters for next month's election for governor. While Democrat Ralph Northam is still leading, Republican Ed Gillespie has jumped three points since last month's benchmark poll. Northam holds 48% while Gillespie holds 44% — Libertarian Cliff Hyra polled at 3%, while 5% remain undecided. The poll has a 4.2% margin of error.
It's been more than seven weeks since Hurricane Harvey made landfall in Texas, disrupting oil production and distribution and noticeably raising gasoline prices. Analysts say while the price declines since have been slow, they are far from over, as WLNI's Evan Jones reports.
UPDATE FROM STATE POLICE: Miss Aguilar-Cruz has been safely located in Prince William County; the suspect was also located and taken into custody.
PREVIOUSLY: Virginia State Police have issued an Amber Alert for 16-year-old Sinahi Aguilar Cruz, who they say was abducted early Sunday morning from Prince William County in northern Virginia. An Amber Alert is issued when authorities believe the victim is in extreme danger. Police are looking for a dark Honda Civic and 21-year-old Roberto Medrano Segovia.
(Continue reading for the full Amber Alert)
RICHMOND, Va. (AP) — A divided panel of federal regulators granted approvals Friday evening for the Atlantic Coast and Mountain Valley natural gas pipelines, major East Coast projects. The Federal Energy Regulatory Commission's authorization had been widely expected by both supporters and opponents of the pipelines. The certificates granted by the commission came with dozens of conditions, and other necessary permits for both projects are still pending. Both pipelines would start in West Virginia, carrying gas from the Appalachian basin to U.S. markets. Prominent business and political leaders in all three affected states back the projects, saying they will lower energy costs and boost economic development. But opponents, including environmental groups and landowners, say the projects will infringe on property rights, damage pristine areas and commit the region to fossil fuels for decades.
5th District Republican Congressman Tom Garrett says President Trump has every reason to take steps that may effectively disable the Affordable Care Act, or "Obamacare". Critics say ceasing federal subsidy payments to health insurers will cause a spike in premiums, but Garrett says the ACA has crippled and disabled itself through increasingly high premiums and deductibles:
Garrett spoke live this morning on Roanoke radio station WFIR. Listen to the full conversation:
RICHMOND, Va. (AP) _ Virginia officials plan to pitch 10 sites to Amazon next week in an intense competition to get the online retail giant to build its second North American headquarters in the state. The Richmond Times-Dispatch reports that three of the properties are located in the Richmond area, including a scenic farm overlooking the James River, a pocket of undeveloped land in the heart of the regional expressway system and a swath of city-owned land at an interstate gateway into the city. State and regional officials have identified three potential sites in Hampton Roads and four potential sites in northern Virginia. Seattle-based Amazon announced its plans to build a second headquarters last month. The site would employ 50,000 people.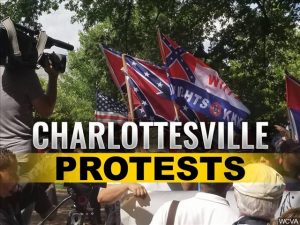 CHARLOTTESVILLE, Va. (AP) – The city of Charlottesville will join a lawsuit that seeks to prevent the heavily armed bands of white nationalists and militia groups that descended on the Virginia city for a violent summer rally from returning. The City Council held a special meeting Thursday morning, where they voted to join the lawsuit. Mary McCord of Georgetown Law's Institute for Constitutional Advocacy and Protection told the council the lawsuit doesn't seek monetary damages. Instead, she says it seeks a court order prohibiting future "paramilitary" activity. The lawsuit was being filed later Thursday. Separately, the Washington Post reports 11 residents injured in the August violence are suing a number of rally leaders and organizers in a lawsuit filed Thursday morning in federal court in Charlottesville.
Virginia State Police have been instructed not to cover their name tags after some troopers violated policy by putting black tape over their tags during a pro-Confederate rally in Richmond last month. State police superintendent Col. W. Steven Flaherty said in an Oct. 3 letter to the Virginia American Civil Liberties Union that intentionally covering name tags is against department policy. He said "appropriate action" has been taken and supervisors have been told to ensure name tags are not covered again. A photo of a trooper with his name tag covered during the Sept. 16 rally, which included counterprotesters, prompted questions on social media. The ACLU sent a letter to Flaherty saying that officials performing their duties in public should be readily identifiable by members of the public.