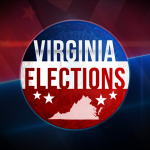 RICHMOND, Va. (AP) _ The Latest on Election Day in Virginia, including the races for governor, lieutenant governor and attorney general :
Democrat Ralph Northam has won Virginia's race for governor. Virginia's hard-fought race was closely watched as a swing-state test of President Donald Trump's popularity. Northam, a pediatric neurologist and the state's lieutenant governor, repeatedly tried to tie Gillespie to the president during months of divisive campaigning overshadowed by racial overtones and attack ads. Northam's victory was in large part due to a surge in anti-Trump energy since the president took office. Democrats said they had record levels of enthusiasm heading into the race. Gillespie kept Trump at a distance throughout the campaign but tried to rally the president's supporters with hard-edge ads focused on illegal immigration and preserving Confederate statues.
Democrat Justin Fairfax has been elected Virginia's next lieutenant governor, a position that often serves as a springboard for future gubernatorial candidates. Fairfax, a former federal prosecutor won Tuesday over Republican Jill Vogel, a Republican state senator from Fauquier County. Fairfax has never held elective office before. He made his first run for office four years ago, narrowly losing the Democratic nomination for attorney general
to Mark Herring. The lieutenant governor post is considered a part-time job and receives a salary just above $36,000 a year. While there are few official duties, the lieutenant governor can cast tiebreaking votes in Virginia's closely divided state Senate.
Democratic incumbent Mark Herring has won Virginia's attorney general race, beating back a challenge from Republican John Adams. Herring won his second term Tuesday. During the campaign, Herring was sharply criticized by Adams for his refusal to defend Virginia's 2006 constitutional amendment banning same-sex marriage. Herring said his position was vindicated by the U.S. Supreme Court's ruling striking down same-sex marriage bans as unconstitutional. The race was the only attorney general contest in the country this year and drew national interest.