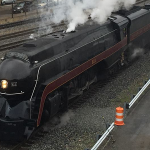 Virginia Museum of Transportation Executive Director Bev Fitzpatrick says the Norfolk and Western  611 steam locomotive will no longer be able to lead passenger excursions in the manner it has since its restoration. As a result, he says, its future is not clear, but he is hopeful — and expects — they can continue under the Amtrak umbrella.  Speaking live this morning on Roanoke radio station WFIR, Fitzpatrick said Norfolk Southern is no longer permitting the 611 to operate excursions on its own — an operational practice that placed NS with a great potential liability risk if anything went wrong.
12-2- Fitzpatrick-611-WLNI-WEB
As a practical matter, it means the museum must partner with Amtrak for any future excursions, and even then, Norfolk Southern would have to permit the steam locomotive on its tracks.