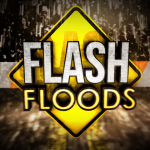 Very heavy rain possible this afternoon and evening. Scattered to numerous thunderstorms will develop this afternoon ahead of a cold front.
FLASH FLOOD WATCH IN EFFECT UNTIL MIDNIGHT EDT TONIGHT. The National Weather Service in Blacksburg has issued a Flash Flood Watch for portions of central Virginia, south central Virginia, southwest Virginia, and west central Virginia, including the following areas, in central Virginia, Amherst. In south central Virginia, Bedford and Henry. In southwest Virginia, Bland, Carroll, Craig, Floyd, Giles, Grayson, Montgomery, Patrick, Pulaski, and Wythe. In west central Virginia, Alleghany VA, Bath, Botetourt, Franklin, Roanoke, and Rockbridge. Until midnight EDT tonight.
Scattered to numerous thunderstorms may produce heavy rain this afternoon and evening. Rainfall rates in some of the slower moving stronger storms will approach 2 inches per hour. 1 to 2 inches of rain are expected along the Blue Ridge and the foothills of Virginia into the New River Valley. Localized rainfall amount may reach 3 to 5 inches.
Poor drainage areas and urban areas may flood. Small streams and creeks may overflow their banks, potentially flooding nearby roads
Recommended actions: A Flash Flood Watch means that conditions may develop that lead to flash flooding. Flash flooding is a VERY DANGEROUS SITUATION. Remember…TURN AROUND…DON`T DROWN! You should monitor later forecasts and be prepared to take action should Flash Flood Warnings be issued.