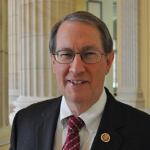 Republican Congressman Bob Goodlatte took national center stage today as Chairman of the House Judiciary Committee as he and other committee members questioned Deputy Attorney General Rob Rosenstein. Goodlatte pointed to newly-released text messages from two people who had been part of Special Prosecutor's Robert Mueller's team looking into President Trump, saying the messages show extreme bias:
Committee Democrats say the hearing is part of G-O-P efforts to discredit and undercut the investigation's eventual outcome.
Click here to see Goodlatte's full opening statement.