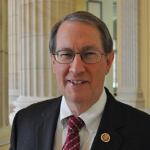 From Congressman Bob Goodlatte:  Last night, the United States Senate failed to reach 60 votes to pass legislation to extend funding for the federal government. Congressman Bob Goodlatte (R-Va.) released the following statement on the federal government shut down:
"Senate Democrats had two choices last night: Vote to keep the government open, allow important discussions to continue, ensure our troops are paid, and accept another opportunity to fund the Children's Health Insurance Program for 66,000 Virginia children, or vote to shut down the government. It's disappointing that they chose to stand in the way of military readiness and children's health coverage all because they have not yet gotten a deal on DACA. It defies logic.
"By forcing this government shutdown, Senator Schumer and his colleagues are putting unlawful immigrants before America's lawful citizens, children, and our troops. No discussions on including DACA in this funding bill should be on the table while Senator Schumer and his allies hold the American people and our government hostage. Reopen the government so that these important conversations can continue.
"Meanwhile, the House passed a long-term funding package and reauthorized CHIP months ago. And again this week the House passed a bill to fund the government and ensure CHIP continues. The Senate needs to act. Senator Schumer, stop the politics and fund our government."