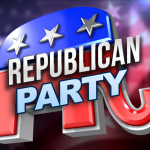 RICHMOND, Va. (AP) — Virginia voters will make their pick in the U.S. Senate Republican primary contest Tuesday. Polls will be open 6 a.m. to 7 p.m. Each voter will need to bring a photo ID. Valid forms of identification include a driver's license, passport or student ID. A voter who forgets ID can cast a provisional ballot but will have to complete follow-up steps to ensure that it's counted. Anyone not already registered won't be able to vote. Virginia doesn't allow same-day registration. Here's a look at the one statewide race:
Republican voters will choose among three candidates to replace incumbent Sen. Tim Kaine, a former governor and vice presidential candidate now seeking a second term in the Senate. They are Corey Stewart, chairman of the Prince William Board of County Supervisors; Nick Freitas, a state delegate; and E.W. Jackson, a minister.
Stewart and Freitas amped up attacks on each other in the closing days of the race. Stewart is a die-hard supporter of President Donald Trump and has criticized Freitas as being insufficiently loyal to the president. Freitas has accused Stewart of showing poor judgment because of past associations with "hate mongers." Several high-profile Republicans who had expressed interest in running took a pass after an anti-Trump wave crushed Republicans in state-level elections last year. All three Republican candidates have struggled to raise money, putting the winner at a serious cash disadvantage against Kaine, who is expected to raise about $25 million for this election.