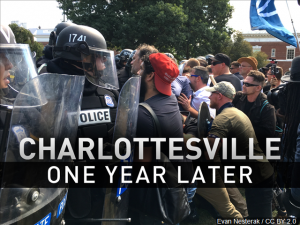 Businesses are opening in downtown Charlottesville, where visitors trickling in are being met by heavy security on the one-year anniversary of white nationalist violence in the Virginia city.
Around 10 a.m. Saturday, when many shops were beginning to open, law enforcement officers outnumbered visitors in the popular downtown shopping district. Concrete barriers and metal fences had been erected, and police were searching bags at two checkpoints where people could enter or leave.
Lara Mitchell, a sales associate at Ten Thousand Villages, a shop that sells artwork, jewelry, and other items, said the security seemed "a little bit over the top." But she added she doesn't fault authorities for taking such strict measures.
She says, "It's nice that they're here to protect us."
Saturday marks a year since white nationalists marched through the University of Virginia campus with torches, clashing with a group of counterprotesters. The following day, a much larger gathering of white nationalists near a downtown park erupted into violence.
___