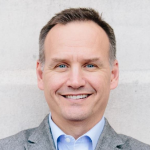 There will be at least three names on the ballot this fall for U.S. Senate. The Libertarian Party has nominated Matt Waters as its candidate, and Waters promises a well-organized, well-funded campaign to better compete with the major parties. One key campaign point: he wants to eliminate the federal income tax as a key way to reduce the size and role of government. He spoke with WLNI's Evan Jones:
03-22 Libertarian Senate Wrap-WLNI-WEB
Click here for the Waters for Senate website.