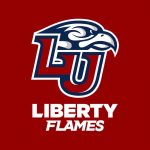 From Liberty University:
All gates open two (2) hours prior to kickoff.  All other ticketed guests can enter through Gates 1, 4, 7 and 9
Magnetometers will be used at all gates. Guests are subject to inspection and search for prohibited items. All guests entering Williams Stadium will be required to pass through a metal detector.  We will be continuing our clear bag policy.
Fan Fest & Kids Zone in IPF this year:  Get pumped for every home game at Flames Fan Fest, presented by Food Lion – a new pregame tradition featuring food and fun at the Liberty University Indoor Practice Facility (behind the north end zone of Williams Stadium). This free event is open to all ticket holders and will feature music, the pregame radio show, cornhole, and other tailgate games. Have a blast with your family in the Kids Zone and take pictures with Sparky and the LU cheerleaders. Doors open two hours before kickoff, and the fun winds down 30 minutes before the game begins. After entering Williams Stadium with a game ticket, make your way over toward Section 109 and Gate #7, and follow the signs down to the Indoor Practice Facility. We hope you will join us in our newest pregame tradition!
West Side of the Stadium is all reserved.  General Admission Seating will be on the East Side. Season ticket sales all-time high; already surpassed last year's final total. Single game sales are really starting to take off. Price points to meet every family budget.
No Field Access Post game.  Fans may watch the post-game press conference/LFSN show from the seating area.  Football players will meet their family members at the top of the hill between the FOC and Liberty Baseball Stadium.