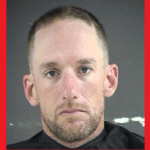 A Vinton-area man faces multiple charges — and treatment for gunshot wounds  — for allegedly assaulting a Bedford County woman who had just taken out a protective order against him. The Sheriff's office says it happened early this morning on Shady Grove Drive in the Thaxton area. The woman and her father discovered 36-year-old Jesse Carter outside her home, and he was shot twice in the resulting confrontation. He was released after hospital treatment and is currently jailed.
News release: Just after midnight on August 15, 2018, Bedford County 911 received a call from Shady Grove Drive. The caller stated that she had heard someone outside of her residence. She then called her father, who lives next door, and advised him. When her father showed up, they both checked around the outside of the house. She said she found Jesse Carter hiding outside of the residence behind the air conditioning unit. She said he grabbed her around the neck causing her to drop the handgun she was carrying. After a struggle she was able to run away. Carter, the ex-boyfriend of the caller, then assaulted her father. Both Carter and the father entered the house, where Carter took a handgun from the caller's pocketbook. He then went back out into the yard carrying the handgun. The caller stated that when Carter walked around the house he pointed the handgun at her. Carter received two non life threatening gunshot wounds. Bedford County EMS units transported Carter to Carilion Roanoke Memorial Hospital. The father was also transported to the hospital due to having chest pains.
On Monday August 13, 2018, the caller obtained a protective order on Jesse Carter. On the evening of August 13, 2018, deputies served Carter with the protective order ordering Carter to have no contact with her.
Jesse Carter, age 36, of Vinton, was released from the hospital this morning. He was arrested and charged with two counts of assault and battery, brandishing a firearm, possessing a firearm and violating the protective order. Carter is being held in the Bedford Adult Detention Center without bond.
The investigation of this incident is ongoing and further charges are possible.