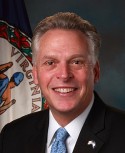 RICHMOND, Va. (AP) _ Virginia Gov. Terry McAuliffe is directing the review of new abortion clinic regulations and appointing new members to the state Board of Health.  McAuliffe also announced plans Monday that aim to reduce the cost of drugs at women's health clinics and expand access to testing and treatment of sexually transmitted diseases. The actions highlight National Woman's Health Week. McAuliffe says he's concerned that the regulations jeopardize the ability of most women's health centers to stay open and place the health and reproductive rights of Virginia women in jeopardy. The regulations adopted last year require existing facilities to meet the same building standards as newly constructed hospitals. Supporters say the regulations are intended to protect women's health, but opponents say the aim is to put clinics out of business.
(Continue reading for Governor McAuliffe's full news release.)
Today, Governor Terry McAuliffe kicked off National Women's Health Week with four significant announcements demonstrating his commitment to protecting Virginia women's rights to make their own healthcare decisions.  "This is not just a health issue – it's an economic issue," McAuliffe said during his announcement at the state Capitol. "In order to grow and diversify our economy, Virginia needs to be open and welcoming to all, and we need to ensure that all Virginia women have access to the healthcare resources they need."   The governor highlighted three initiatives he is pursuing to meet that goal:
Board of Health directive. McAuliffe issued a directive asking members of the Board of Health to immediately begin a review of last year's regulations on women's health centers to ensure that those regulations guarantee Virginians' access to the centers' services.  "I am concerned that the extreme and punitive regulations adopted last year jeopardize the ability of most women's health centers to keep their doors open and place in jeopardy the health and reproductive rights of Virginia women," McAuliffe said.
Board of Health appointments. The governor also announced the appointment of new members to the Board of Health who share his commitment to women's health and support his plan to review the health center regulations. Governor McAuliffe noted that he has "a right and a responsibility to have reasonable people of my own choosing at the table for that review." The new board members are as follows:
Dr. Benita Miller, DDS — Dr. Benita Miller is a Richmond dentist who practices Periodontics. Dr. Miller has been a member of the American Dental Association since 1980 and has held many leadership positions in the Richmond Dental Society and the Virginia Dental Association since 1986.  Dr. Miller was inducted as a Fellow to the International College of Dentists in 2000 and previously served as an Assistant Clinical Instructor at the Department of Peridontics at the VCU School of Dentistry. Miller received a B.S. from Duke University and a D.D.S. degree from VCU/MCV School of Dentistry.
Faye O. Prichard, Ashland —  Faye O. Prichard is the mayor of Ashland. She has been serving the residents of Ashland on the Town Council since 2002. Ms. Prichard earned her master's degree in literature from Virginia Commonwealth University and has taught composition there for approximately 15 years. Currently, she is the Director of Writing at the Honors College at VCU.  Before her entry into academia, she held certification and state licensure in respiratory care and worked in a number of Richmond hospitals and for several local home health care companies.
James Edmondson, McLean — Mr. Edmondson, principal of E&G Group, has been in the real estate business as consultant, developer, property owner and manager since 1972. He has served as vice chair of the Health Systems Agency of Northern Virginia for many years. Gov. Mark Warner appointed him to the Virginia Board of Health in 2005. He was re-appointed to the board in 2009 by Gov. Tim Kaine. Edmondson has an A.B. in economics from Princeton and an M.B.A. from the University of Virginia's Darden School.
Linda Hines, RN, MS, Chester — Ms. Hines earned her bachelor of science degree in nursing and her master of science in executive nursing administration from Virginia Commonwealth University. She currently serves as the vice president of medical management for Virginia Premier Health Plan, Inc. Ms. Hines has worked in managed care for more than 17 years and brings a strong clinical, administrative and management background to her work in managed care.  She is active in a variety of professional activities, including the Virginia Maternal and Child Health Council and Leadership Metro Richmond. She is a task force member to Gov. Kaine's health care policy committee and a member of the American College of Healthcare Executives. Ms. Hines has served as adjunct faculty for the VCU School of Nursing.
Tommy East, Salem — Tommy East is the president and chief executive officer for American HealthCare, LLC in Roanoke.  American HealthCare is the management company for 17 Heritage Hall Healthcare and Rehabilitation Centers throughout the commonwealth.  Mr. East, who has served as the company's chief executive officer since 2012, is a 30-year veteran of eldercare, having managed nursing facilities and assisted living facilities, and worked in home health and hospice. The Salem native is an accomplished businessman who has served on the board of directors and the executive board for the Virginia Health Care Association.
Discounted drug pricing program. The governor announced that he is directing the Virginia Health Commissioner to register and enroll Virginia's eligible women's health clinics in the 340B Drug Pricing Program, which allows eligible clinics to obtain pharmaceutical drugs from manufacturers at a significant discount.
Expanded access to testing and treatment for sexually transmitted diseases. The Virginia Department of Health will also sign a Memorandum of Agreement with Virginia's four Planned Parenthood affiliates to provide free HIV testing to more than 1,800 women and men by the end of 2014. The initiative is part of a directive from the governor to pursue programs that expand access to testing and treatment for sexually transmitted diseases, the leading cause of infertility in women.
###