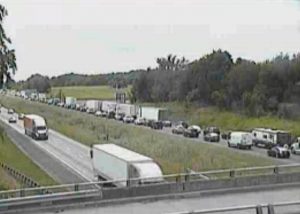 There are miles of slowdowns this afternoon on southbound Interstate 81 a little north of Lexington. State Police report one confirmed fatality after two tractor trailers collided this morning — and VDOT says the southbound highway will remain closed between Fairfield and Lexington through the afternoon commute, with a detour is in place. VDOT traffic cameras show miles of backups before vehicles get off the highway and very slow going after that on US 11 until traffic re-enters the interstate. There are no problems reported if you are heading north.
From State Police: At 6:30 a.m., Thursday (Aug. 2), Virginia State Police are investigating a two-vehicle crash on Interstate 81 in Rockbridge County. Two tractor-trailers collided in the southbound lanes of I-81 at the 196 mile marker. There is one confirmed fatality at this time. The crash remains under investigation.
From VDOT: Southbound Interstate 81 in Rockbridge County is expected to remain closed through the evening commute on Thursday (August 2), due to a tractor trailer crash near mile marker 196 in the Lexington area. I-81 is closed to southbound traffic at exit 200 (Fairfield). Drivers will detour at exit 200, turn left on Route 710 (Sterrett Road), right on Route 11 (Lee Highway) and rejoin the interstate at exit 195 (Lexington).