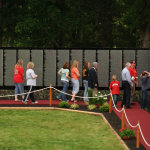 "The Moving Wall" is making a five-day visit to the region starting tomorrow. It is a half-size replica of the Vietnam Veterans Memorial in Washington, and organizers say it continues to deliver an important message decades after the war ended. More from WLNI's Evan Jones.
09-26 Moving Wall Wrap-WLNI- WEB
You can visit The Moving Wall Thursday through noon Monday at Franklin County Recreation Park on Sontag Road south of Rocky Mount. Click here for full information.