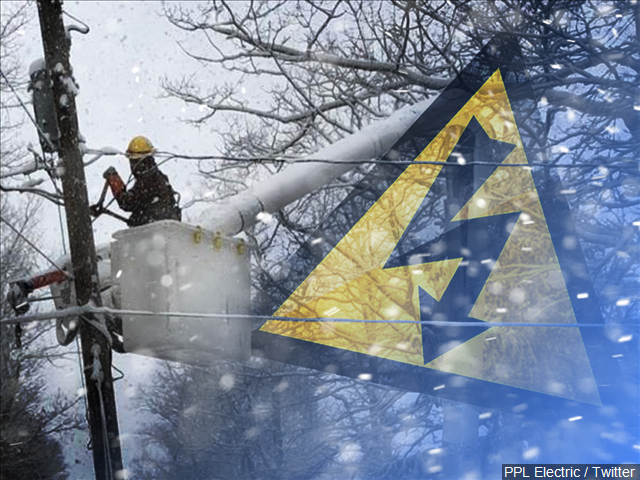 Appalachian Power says some New River Valley customers are unlikely to get their power back for another three days. More than 40,000 Virginia customers were still in the dark mid-afternoon Monday, and the utility says getting to each of the many scattered outages is a slow process. The utility says almost all Roanoke City and County customers should have service restored by late afternoon Monday. In Franklin County, the goal is midnight Monday. For Floyd County customers, midnight Tuesday is the best estimate, and in Montgomery County, some Apco customers may be without power through much of Thursday.
 From Appalachian Power 10:00 am Monday: Progress is being made to restore electric service following a snow storm that hit Appalachian Power's southern West Virginia and southwest Virginia service territories Saturday night. As much as 15" of heavy, wet snow fell in some areas causing trees and limbs to buckle under the weight, leading to mass outages. It was the most significant snowstorm to hit the area since Superstorm Sandy in West Virginia in 2012. With sunny weather and temperatures in the 50s, crews expect to make some headway throughout the day. But road access issues still remain, especially on secondary roads, which could hinder restoration efforts.
Outages
Nearly 58,000 customers are currently without power. Most of those customers, around 50,000, are in Virginia. Areas of Virginia with large numbers of customers affected by the storms include:
| | |
| --- | --- |
| Counties | # of Customers Out |
| Bland | 2,732 |
| Carroll | 1,276 |
| Floyd | 2,334 |
| Franklin | 3,104 |
| Giles | 5,531 |
| Henry | 3,961 |
| Montgomery | 10,864 |
| Patrick | 1,935 |
| Pulaski | 11,778 |
| Tazewell | 733 |
| Wythe | 5,358 |
Storm Restoration Efforts
While progress continues in areas with less damage and less snowfall, there is still a great amount of damage to assess and repair. More than 1,000 workers, including local line employees, tree crews and contractors, are working to restore electric service.  Today, additional workers from outside Appalachian Power's service area will arrive in the most heavily damaged areas.  Line crews are working on outages that affect large numbers of customers. At the same time damage assessors are physically patrolling lines, identifying damaged areas and determining the resources needed to make repairs. Crews are utilizing multiple helicopters to help with line assessments.
Restoration Estimates
In some areas, restoration will be slow because of issues related to secondary road access. About 95 percent of customers are expected to be restored along the estimated times below, but scattered outages where damage is most severe could remain into Friday. In Virginia, areas with estimated restoration dates/times are:
Today by 4 p.m.
City of Roanoke
Roanoke County
Tazewell County
Today by midnight
Franklin County
Tuesday by midnight
Henry County
Patrick County
Wednesday by midnight
Carroll County
Floyd County
Thursday by midnight
Bland County
Giles County
Montgomery County
Pulaski County
Wythe County