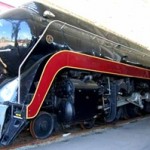 The iconic 611 steam engine will not lead any passenger excursions this year — that word over the weekend from the Virginia Museum of Transportation. But the museum is not ruling out a return in 2019. The VMT says 611 remains in working order, and there will be special events this year to allow you to see it.  WLNI's Evan Jones has more:
06-18 611 Excursions Wrap-WLNI
News release: ROANOKE, Va. (June 16, 2018) – The Virginia Museum of Transportation, Inc. announced new community events today for its iconic 611 Class J locomotive and plans to continue working to explore new opportunities for 611. 611 will not be operating public excursions in 2018, but will be participating in special events. "We are very pleased to announce that we are engaged in substantive conversations about exciting potential 2019 excursions and special appearances for 611. We will continue to seek opportunities for the public to experience a pivotal piece of American history firsthand, under steam", according to Virginia Museum of Transportation FORWARD 611 Committee Chairman, Trey Davis.
Despite the changes, annual maintenance to keep the famed locomotive operational is ongoing and expected to be finished later this summer at the North Carolina Transportation Museum (NCTM) in Spencer, NC. Upon completion, the 611 will be put back into service.
"We're working hard to ensure the public continues to have opportunities to engage with 611 and are planning unique events to provide opportunities to experience 611 under steam in 2018," said VMT Board President Will Harris. "The Virginia Museum of Transportation and NCTM are both planning special events with the locomotive in Roanoke and Spencer NC, respectively. In addition, 611 is slated to again be the highlight of Roanoke's Big Lick Train Tug on September 29, 2018."
As is the case for all mainline steam locomotives, PTC (Positive Train Control) is very likely to be a central issue in determining where and how 611 may operate in 2019 and beyond. The FORWARD 611 team at VMT has been studying potential solutions and participating in discussions with other mainline steam operators.