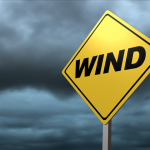 The National Weather Service has issued a wind advisory for the parts of the region from 8:00 tonight through noon tomorrow. Forecasters say gusts could reach 50 miles per hour, and that could increase chances of trees and power lines coming down, especially after the heavy wet snow of the last 24 hours. In our area, the advisory includes Bedford and Amherst Counties.
Weather Statement: The National Weather Service in Blacksburg has issued a Wind Advisory, which is in effect from 8 PM this evening to noon EDT Thursday. Locations: The New River Valley, the Blue Ridge Mountains between Carroll and Amherst Counties, the southern Shenandoah Valley, Alleghany Highlands and eastern Greenbrier County.
Hazards: Strong wind gusts, downing trees and power lines weighed down by significant accumulation of wet snow.
Winds: Northwest 15 to 25 mph with gusts up to 50 mph.
Timing: Northwest winds will increase this evening. Peak winds are expected to occur between midnight and mid-morning Thursday. Wind gusts then begin to abate by late morning Thursday.
Impacts: As snow weighs on trees and power lines, they are more vulnerable to being downed.