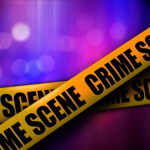 A 19-year-old Pittsylvania County man is in custody, suspected of killing his mother, sister and her young child at their Keeling-area home between Chatham and Danville. Matthew Bernard was arrested early this afternoon after running naked past reporters who were staged nearby. County Sheriff Mike Taylor spoke at an afternoon news conference:
08-27 Taylor Bite-WEB
Taylor says close to 100 law enforcement personnel were involved in the search for Bernard. Schools in the area were placed on lockdown for several hours until he was arrested.
Reports and an ABC13 photo from the scene indicate Bernard was naked shortly before and during his apprehension.