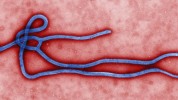 A new statewide poll shows less than half of Virginians believe the Centers for Disease Control and Prevention when it says the Ebola virus can be spread only by coming in contact with bodily fluids. The Roanoke College poll finds 31% don't believe that at all, and 24% are unsure. WLNI's Evan Jones has the story.
10-29 Ebola Poll Wrap-WLNI-WEB
Click here for full poll results and methodology.