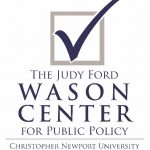 The latest Wason Center Poll released this morning shows Democrat Ralph Northam at a 7-point lead over Republican Ed Gillespie. It finds that Northam is favored among men and women, young and old, and among African-American voters while Gillespie leads among white voters. It's the final Christopher Newport University poll before next month's election.
NEWPORT NEWS, Va. — Democrat Ralph Northam broke the 50% mark and extended his lead over Republican Ed Gillespie as the race to be Virginia's next governor entered its final weeks, according to a tracking poll released today by the Wason Center for Public Policy at Christopher Newport University. Northam, now lieutenant governor, is the choice of 50% of the likely voters surveyed, while former Republican National Committee Chair Gillespie is the choice of 43%.
Libertarian Cliff Hyra polled at 3%, with 4% undecided. The survey's margin of error is +/- 3.8%.
Northam has led Gillespie throughout the Wason Center's tracking series. In the benchmark poll, released September 25, Northam's lead stood at 6% (47% to 41%). It grew to 7% (49% to 42%) in the first tracking poll,
released October 9, then shrank to 4% in the second tracking poll, released Oct. 17. The current survey is the third in the series. One Wason Center tracking survey remains before Election Day, November 7.
Support in Northern Virginia, Richmond-Central and Hampton Roads gives Northam widespread strength in Virginia's most populous regions, while voters in the more rural Southwest and Southside Virginia favor Gillespie. Northam's demographic support is also broad, as he leads among men and women, young and old, and African-Americans. Gillespie leads among white voters. Independents and moderates break for Northam, which may  indicate a voter reaction to President Donald Trump in the Democrat's favor.
"As we approach Election Day and the structure of the likely electorate becomes clearer, the advantage appears
to be opening up for the Democratic ticket," said Rachel Bitecofer, assistant director of the Wason Center.
"We're also seeing mounting evidence of a Trump Effect at the top of the ticket."
Down-ticket, the Democratic candidates continue to lead their Republican rivals, but the gaps have narrowed in
this latest tracking poll. In the race for lieutenant governor, Democrat Justin Fairfax leads Republican state Sen.
Jill Vogel, 47% to 44%, as Vogel gained to within the survey's margin of error. Seeking a second term as attorney general, incumbent Democrat Mark Herring leads John Adams, 49% to 44%.
The full report is available here.