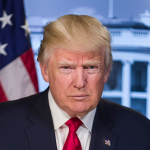 A new statewide poll suggests while most Virginians disapprove of President Trump's job performance, the vast majority of those who do approve are looking at what he does, not what he says. The Roanoke College Poll finds that 53% of likely voters questioned disapprove of the president's job performance, but among those approving, 86% say it is for those things Trump has done in office — and not what he says. WLNI's Evan Jones has the story:
08-24 Trump Support Wrap-WLNI-WEB
Click here for full poll results and methodology.