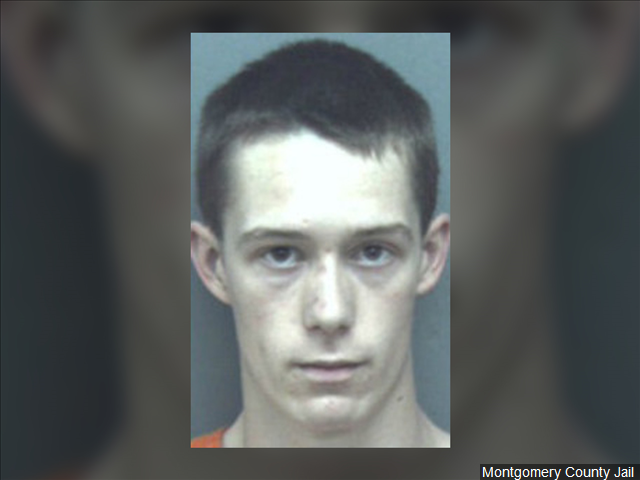 RICHMOND, Va. (AP) — It's been just over two years since 13-year-old Nicole Lovell was found stabbed to death after climbing out her bedroom window in Blacksburg, Virginia, to meet a much-older teenager whom she thought of as her boyfriend.
Prosecutors say the teen was David Eisenhauer, an 18-year-old Virginia Tech student from Columbia, Maryland, who had met Lovell through social media.
With Eisenhauer's first-degree murder trial set to begin Monday, a key question remains largely unanswered: Why?
Why would Eisenhauer, a high school track star and freshman engineering student at a highly ranked university, kill a 7th-grade girl? And what role did his friend, Natalie Keepers, also a Virginia Tech engineering student, play in the killing?
Lovell's family, the Virginia Tech community and the town of Blacksburg are hoping the trial provides some answers.
Jury selection begins Monday in Montgomery County Circuit Court in Christiansburg.
During her short life, Lovell had endured multiple health problems, including a liver transplant and lymphoma. Her mother said she was bullied because of her weight and a tracheotomy scar.
"Of all the children for a predator or predators to betray, it really is grotesque for Nicole Lovell to have been betrayed because she was such an innocent," said Jane Lillian Vance, a local artist who got to know Nicole as a teaching assistant at Blacksburg Middle School.
"She was such a kind, tender-hearted little girl."
Vance recalled being in Nicole's science class one day as students watched a film. In the background, two dogs were fighting, a scene that horrified Lovell, Vance said.
"She turned to me and said, 'Miss Jane, I can't stand it when things are hurt,' " Vance recalled.
Court documents and testimony during pretrial hearings have painted only a vague picture of the relationship between Eisenhauer and Lovell.
Investigators have said they believe they first communicated through the online instant messaging app Kik.
Bryce Dustin, a friend of Eisenhauer, told The Roanoke Times that Eisenhauer texted him about meeting a teenage girl at a party and later learning she was underage. Dustin said Eisenhauer was afraid the girl would "expose" him and asked if he knew where he could hide a body.
A neighbor told The Associated Press in 2016 that Nicole told friends she planned to sneak out to meet her 18-year-old "boyfriend" named David.
A Blacksburg detective testified that Eisenhauer said he talked to a girl online who confided in him that everyone hated her and asked to meet him. He told police he arranged to pick up Lovell outside her apartment, but left after he saw how young she was.
But Keepers told police Eisenhauer told her he met Lovell at a party and worried that he might have had sex with her. She said Eisenhauer claimed he could not remember because he blacked out and woke up the next morning in a ditch.
Eisenhauer feared Lovell could be pregnant and claimed she had threatened to kill herself if he broke off contact with her, Keepers told police.
Detective Ryan Hite testified that Keepers said she and Eisenhauer discussed several ways to kill Lovell, then agreed on a plan to "grab her from behind, cover her mouth and slit her throat."
The next morning, she said, Eisenhauer texted her: "It's done."
Keepers insisted she was not present for the killing, but acknowledged helping Eisenhauer clean Lovell's body and dump it just over the state line in North Carolina.
"She referred to Eisenhauer as a sociopath and to herself as a sociopath in training," Hite testified.
Blacksburg, a town of about 45,000 tucked between the Blue Ridge and Alleghany mountains, has dealt with tragedy before, notably the mass shooting at Virginia Tech in 2007 that left 32 people dead.
Lovell's killing hit the town and Virginia Tech hard.
"It was devastating for the community," said Blacksburg Vice Mayor Susan Anderson, who has taught mathematics at Virginia Tech since the 1980s.
"To have a middle school student murdered is horrific. It had an impact on the students who knew her in middle school. And the accused were students at Virginia Tech, and so, of course, that had a very horrific impact on the university community."
Kristi Snyder, administrator of the Rainbow Riders Child Care Centers in Blacksburg, said local parents were stunned by Lovell's killing.
"It really shook us to the core," she said.
"The fear of, how could this happen to someone in our small community? It was overwhelming."
After details emerged about Lovell meeting Eisenhauer through social media, Snyder asked the Blacksburg police to conduct informational forums on internet safety for both children and their families. Sessions have been held each year since Lovell's death.
Snyder said she expects local residents will closely follow Eisenhauer's trial, as well as Keepers' trial, now scheduled to begin in September. Keepers, of Laurel, Maryland, has pleaded not guilty to being an accessory before the fact and concealing a dead body.
"I think people want to see justice and closure," Snyder said.
"It was such a horrifying event that it's hard to imagine. We as a community really want to embrace the family and show our support."