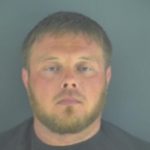 UPDATE: On June 21,2020, The Bedford County Sheriff' Office obtained warrants on and arrested the following:
Dustin R. Holdren 34yoa of Roanoke Va. for:
Aggravated Malicious Wounding
18.2-51.2
Aggravated Malicious Wounding in Virginia (Va. Code §18.2-51.2) is the malicious shooting, stabbing, cutting, or wounding of another person with the intent to maim, disfigure, disable or kill resulting in severe injury and permanent and significant physical impairment.
Holdren is being held at the BRRJA under no bond.
This incident is still under investigation and more charges may be pending.
PREVIOUS: On Saturday, June 20, 2020, at 1:53pm, the Bedford Emergency 911 Dispatch Center received a call from a person stating they had been assaulted.
The victim was a Realtor showing an open house at Mariners Landing Subdivision [along Smith Mountain Lake] in Huddleston VA.  
Victim was transported to the hospital.