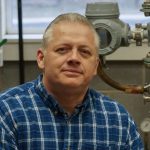 LOVINGSTON, Va. (AP) — Republicans selected distillery owner Denver Riggleman on Saturday as their nominee for Virginia's 5th Congressional District to replace outgoing U.S. Rep. Thomas Garrett. After several rounds of balloting by a 37-member committee, the race became a showdown between Riggleman and Cynthia Dunbar, who last month unsuccessfully sought the GOP nomination in the 6th District, where she actually resides. Some analysts had expressed doubt that Dunbar, who made her name with social conservatives during a tenure on the Texas State Board of Education, would be viable candidate in a general election. Riggleman trailed Dunbar in all three preliminary rounds. He trailed 15-6 after the first round. He won the final ballot 19-18.
In a phone interview, Riggleman acknowledged he did not expect to be nominated after seeing the first-round results. But he said that would he would not have been particularly perturbed to have lost, given that he has never had a burning desire for a career in politics. "Was I worried? No. Did I think I was going to win? No," Riggleman said. He said that "anger" is his primary motivation for running. As a business owner, he said he became increasingly frustrated at the regulations and taxes imposed by government. "If you don't get involved, other people get involved for you," he said.
Riggleman said his overarching concern is minimizing government intrusion into people's lives. His stances on social issues including gay marriage and abortion have placed him at odds with elements of the GOP. Riggleman said he has no qualms about gay marriage and that he believes abortions should be permitted in cases of rape, incest and when a mother's health is in danger. Riggleman, a former Air Force intelligence officer who made an aborted run for governor last year, faces Democrat Leslie Cockburn in November.
The district stretches from Fauquier County in northern Virginia down to the North Carolina border. It last elected a Democrat to Congress in 2008. Riggleman said he does not expect to have a problem uniting Republicans behind him after the drama of Garrett's sudden departure and Saturday's crazy nomination battle. He said the greater challenge is raising money from scratch with a general election just five months away. Garrett, a freshman Republican, announced Monday he will not seek re-election to focus on a recovery from alcoholism.