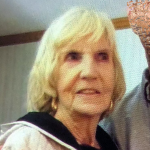 WEDNESDAY UPDATE: Searchers have found the body of an 83-year-old Bedford County woman who had been missing for five days. The body of Lina Toot was discovered this morning in a creek not far from her Moneta-area home. Sheriff Mike Brown made the announcement this afternoon:
Brown says investigators still have some work ahead in efforts to determine the exact circumstances surrounding the death, but he did not suggest there was anything suspicious. Lina Toot had last been seen alive last Thursday night, and the search began the next afternoon.
SUNDAY UPDATE from the Bedford County Sheriff's Office: The search for Lina "Pat" Toot continued on Sunday with no success. Over 130 searchers were involved on Sunday. Effective tomorrow, Monday, search efforts will be scaled back, however K-9 searches and air searches will continue. The ground search will continue based on the results of the next several days. Family members advise that Mrs. Toot answers to middle name "Pat".
SATURDAY: The search continues for Ms. Toot. Plans are to continue searching until 10:00 p.m. tonight. Over 100 people have been involved in the search today. Search will resume first thing in the morning in the event she is not located this evening.
FRIDAY:  At 1:35 p.m. today, Bedford County 911 received a call reporting Lina Toot, a 83 year old female missing from Toot Boulevard in Moneta. The caller stated that when he arrived at the home the door was standing open. He also said the woman lives alone and she was last seen at 8:00 p.m. last night. She is a white female, 5' 3", 113 lbs. and has gray hair. Bedford County Sheriff's deputies, a K-9 from the Franklin County Sheriff's Office along with volunteers from Bedford County fire and rescue are on the scene searching at this time. Anyone with information on her possible whereabouts is asked to call 911 or 586-7827.