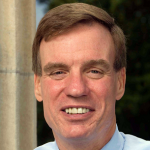 Senator Mark Warner will visit Bedford and Lynchburg this week as part of a three-day swing from the New River Valley to Lynchburg. Warner will meet Bedford community leaders Wednesday afternoon before visiting the Lynchburg Boys and Girls club. Thursday morning, the senator visits Central Virginia Community College.
From Senator Mark Warner's office: Beginning Tuesday, March 27, U.S. Sen. Mark R. Warner (D-VA) will travel to the New River Valley for three days of events with community and local leaders.
On Tuesday, March 27, Sen. Warner will hold an employee town hall at NanoSonic, Inc. in Giles County. Sen. Warner will deliver brief remarks about his work in Washington, highlighting his new bill to help local communities in Appalachia expand economic opportunity, and take questions from employees.
On Wednesday, March 28, Sen. Warner will host an employee town hall at the First Freedom Credit Union to provide a legislative update and discuss how the regulatory relief legislation that recently passed the Senate 67-31 will help local credit unions and bolster the Commonwealth's economy.
Also on Wednesday, Sen. Warner will visit Ferrum College for a demonstration on how unmanned aerial vehicle technology — drones — can help farmers increase productivity and reduce costs.
Later that afternoon, Sen. Warner will host a town hall meeting with community leaders in Bedford, followed by a visit to the Boys and Girls Club of Greater Lynchburg.
On Thursday, March 29, Sen. Warner will visit Central Virginia Community College to discuss ways to make higher education more accessible to more Virginians. CVCC is one of 42 sites nationwide participating in an experimental pilot program​ that allows low-income high school students to use federal Pell Grants to take courses for college credit.